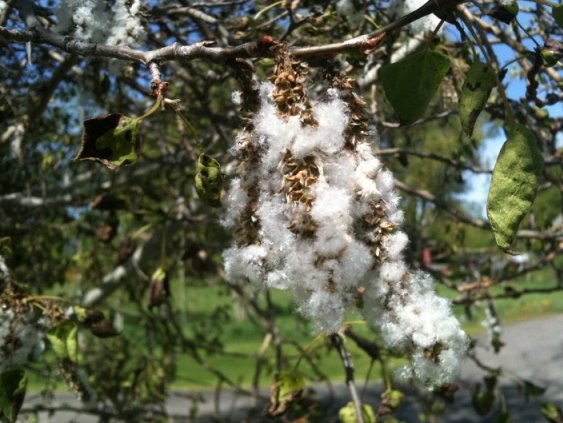 May Nature News from The Hole Hiking Experience
The Hole Hiking Experience offers naturalist-guided hiking and wildlife excursions in Jackson Hole, Grand Teton and Yellowstone National Park. To book a tour with The Hole Hiking Experience, call Jackson Hole Central Reservations at 888-838-6606! Owner and naturalist, Cathy Shill, gives us an update on what is happening in our natural world:
Spring provides such joy. You can't help notice the changes and the increased energy in the natural world. As I hike my favorite trails, I see new blossoms each day.
One of my favorites is meadow rue, Thalictrum occidentale. The way the plant matures by peeling each leaf separately. They open one at a time, slowly unfolding. They remind me of an ornamental fan. This species is dioecious so separate male and female plants. The males resemble chinese lanterns with clusters of anthers hanging down dancing in the wind. The female plants are less descriptive but resemble star bursts with maroon tips.
Aspen trees are also dioecious, so the entire grove/group is male or female. Aspen is in the willow family so they sexually reproduce with catkins. Male catkins mature before the leaves form. Since snow is still melting in the high country, you can still look for these catkins.Female catkins are produced after the leaves and are "cottony" which is common in willows. You might be more familiar with the cotton in cottonwoods which are in the same family. In the valley, female catkins are now maturing.
Spring is birthing time. Newborn bison calves can be seen near Kelly, Wyoming or in Yellowstone. Moose calves are also born in May and near water is always a good place to look. Be careful since female moose are VERY protective of newborn calves. Always make noise while hiking and they will move away to avoid an encounter.
The growing season seems ahead of schedule. Last weekend, we had rain and snow which helped. Afternoon showers are important to prolong the growing season. Drought is predicted in many parts of the state.
What's in the woods:
5/2- bald eagle soaring over flat creek
5/2- snow king- pasque, buttercup, bluebells, and phlox, leaves developing on chokecherry, lots of moose browse and scat
5/4- rainy, low cloud cover
5/9-Bald Eagle over town
5/9- Grand Teton Park- numerous migrating elk, moose, pronghorn, orange-crowned warbler, mountain bluebirds, kestrels,
5/12- beautiful weather continues, valerian root in Game Creek
5/13-5/22-Dayton, Ohio- blooming catalpa, great blue herons, house wrens, cardinals, ravens, crows, red tail hawks- warm, humid
5/23- high school butte- chipping sparrow, vesper sparrow, blooming long leaved phlox, bluebells, arrowleaf balsamroot, clematis, wallflower, geranium, flax, serviceberry
5/25- Cache Creek- clematis, sugar bowls, dwarf waterleaf
5/26- rain, snow in mountains
5/27- Granite Hot Springs- herd of mule deer, snowing
5/29-Snake River- silvery lupine- lots
5/31- cache creek- valerian, geranium, holly, butterflies- tiger swallowtail, sara orange tip
Tour Suggestion:
Cache Creek is a spring favorite. Being near town, it is quite accessible and the trails open early. To reach the trailhead, you drive east on Broadway to Redmond Street near the hospital. Turn right, continue a few blocks and turn left on Cache Creek. There is some road construction so follow signs if there is a detour. You can easily walk up the road and just enjoy the creek and nature. The road is closed to traffic. There are trails on both sides of the drainage. The north side is sunny so trails are less muddy. I start on this side and contour up the drainage, cross the road at some point, then come back down the south side. There are many options and quite easy to navigate. Have fun and enjoy the spring blossoms.