Guide to Spring Skiing in Jackson Hole, WY
Home to multiple ski resorts that offer terrain perfect for beginners and experts alike, Jackson Hole is a paradise for skiing and snowboarding not just in the winter, but in spring as well.
Spring in Jackson Hole marks the opening of park roads for Grand Teton and Yellowstone National Parks, the return of annual events and music festivals — such as the annual Jackson Hole Rendezvous Festival — and some of the most favorable conditions for skiing and snowboarding on the mountains and cross-country trails surrounding Teton Village and the town of Jackson. The fleeting season presents the optimal pairing of warmer weather, longer days and optimal snow conditions, in addition to discounts on lift packages and fewer crowds on the slopes.
Looking to hit the slopes of Jackson Hole in the spring? Utilize the information and tips below to plan a memorable spring skiing adventure.

What is spring skiing?
Spring skiing (and snowboarding) is exactly that — skiing during the warmer spring months. Though the conditions of the snow and recommended outerwear vary from winter skiing, many of the same slopes and cross-country routes available in the winter can also be enjoyed during early spring.
When does spring skiing season start and end?
While there is no official start date, spring skiing season serves as a "last call" of sorts before the slopes for area resorts close for the summer, typically enjoyed from late February to early April when temperatures begin to warm. The resorts in and around Jackson Hole — Jackson Hole Mountain Resort, Grand Targhee Resort and Snow King Area & Mountain Resort — tend to offer lift tickets at lower rates during this time, as compared to prices during the busy winter season. Lodging and airfare rates also tend to be lower during the spring season.
Save on Skiing and Snowboarding
What are the advantages of spring skiing?
Spring skiing and snowboarding present a few distinct advantages over winter adventures. For one, the weather is warmer and the days are longer, meaning there is more time to spend on the slopes and trails. Plus, you'll find fewer crowds in the spring, meaning you can have more of any given trail or mountain to yourself.
The real benefit to spring skiing is the development of "corn snow" or "hero snow." The season's perfect combination of warm, sunny days followed by freezing conditions in the evening creates an optimal melt-freeze cycle of the snowpack. This produces a firmer pack in the mornings, with a consistent top layer of coarse crystals that softens as the sun rises in the sky and temperatures climb throughout the day. This type of snow is coveted among professional and amateur skiers alike, as it allows for more faster, more aggressive skiing, smoother turns, and is forgiving of mistakes — technical or major. The softer upper layer also lessens the impact of any spills that occur during your downhill run.
It is recommended to time your spring skiing descent for midday as to allow the top layer to sufficiently soften prior to it becoming sloppy and refreezing later in the afternoon. An added bonus of midday starts: more time for your morning, perhaps spent enjoying breakfast or brunch from one of Jackson Hole's local restaurants.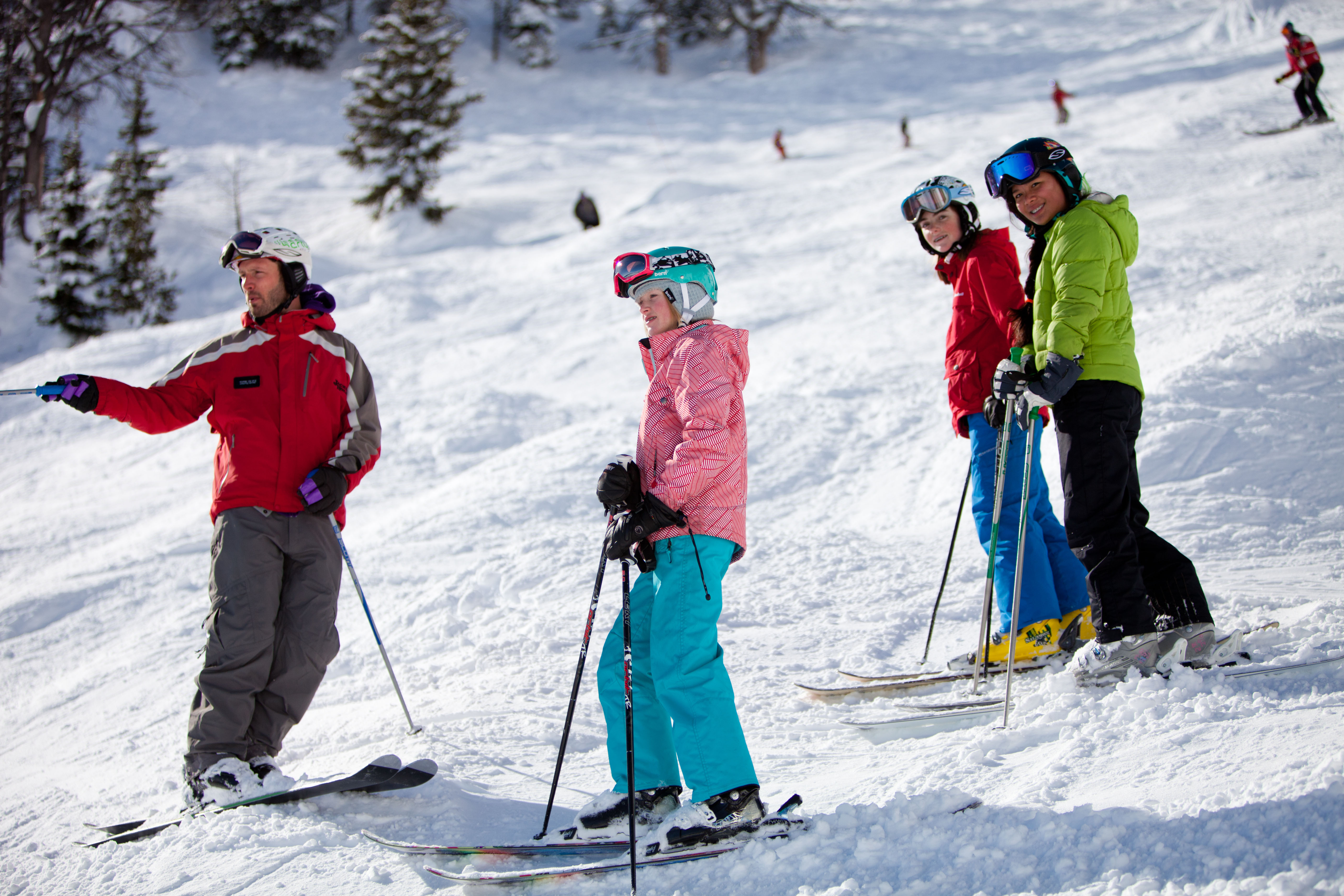 Other tips for spring skiing
Before hitting zipping down the slopes in the spring, there are a few additional things to consider:
The weather is warmer and the sun is brighter, meaning you can exchange the heavy winter coat for a lighter insulator layer topped with a hard shell jacket with proper ventilation. Waterproof spring gloves are also recommended as opposed to thicker winter options. Local outfitters can offer further advice, with equipment available to buy or rent.
Even with fewer layers and proper ventilation, it is still possible to overheat in the spring. Drink plenty of water before, during and after your session.
Remember to shield your eyes from the wind, snow and sun. Goggles can often become uncomfortable in the warmer weather, so some skiers opt for polarized sunglasses in the spring. It is worth noting that sunglasses expose your eyes to more air, so consider starting with goggles with a pair of sunglasses handy should you need to switch on the go.
Longer, sunnier days inherently increase your exposure to the sun, so be sure to apply — and reapply! — sunscreen throughout the day.
Be on the lookout for obstacles, such as rocks, branches, or even clumps of messy, cement-like snow that may have been uncovered as a result of melting.
Save Up to 50% Off Lodging & Lift Ticket Packages
Contact us today to begin planning your spring skiing adventure in Jackson Hole, Wyoming, and take advantage of a special air credit savings offer of $200-$400 dollars per person when you book your roundtrip flights, lodging, and lift tickets.
3300 Ski Hill Road
Alta, WY 83414
Learn More
Grand Targhee Resort3300 Ski Hill Road
Alta, WY 83414

400 E. Snow King Ave.
Jackson, Wy 83001
Learn More
Snow King Resort Hotel and Luxury Residences at Grand View400 E. Snow King Ave.
Jackson, Wy 83001