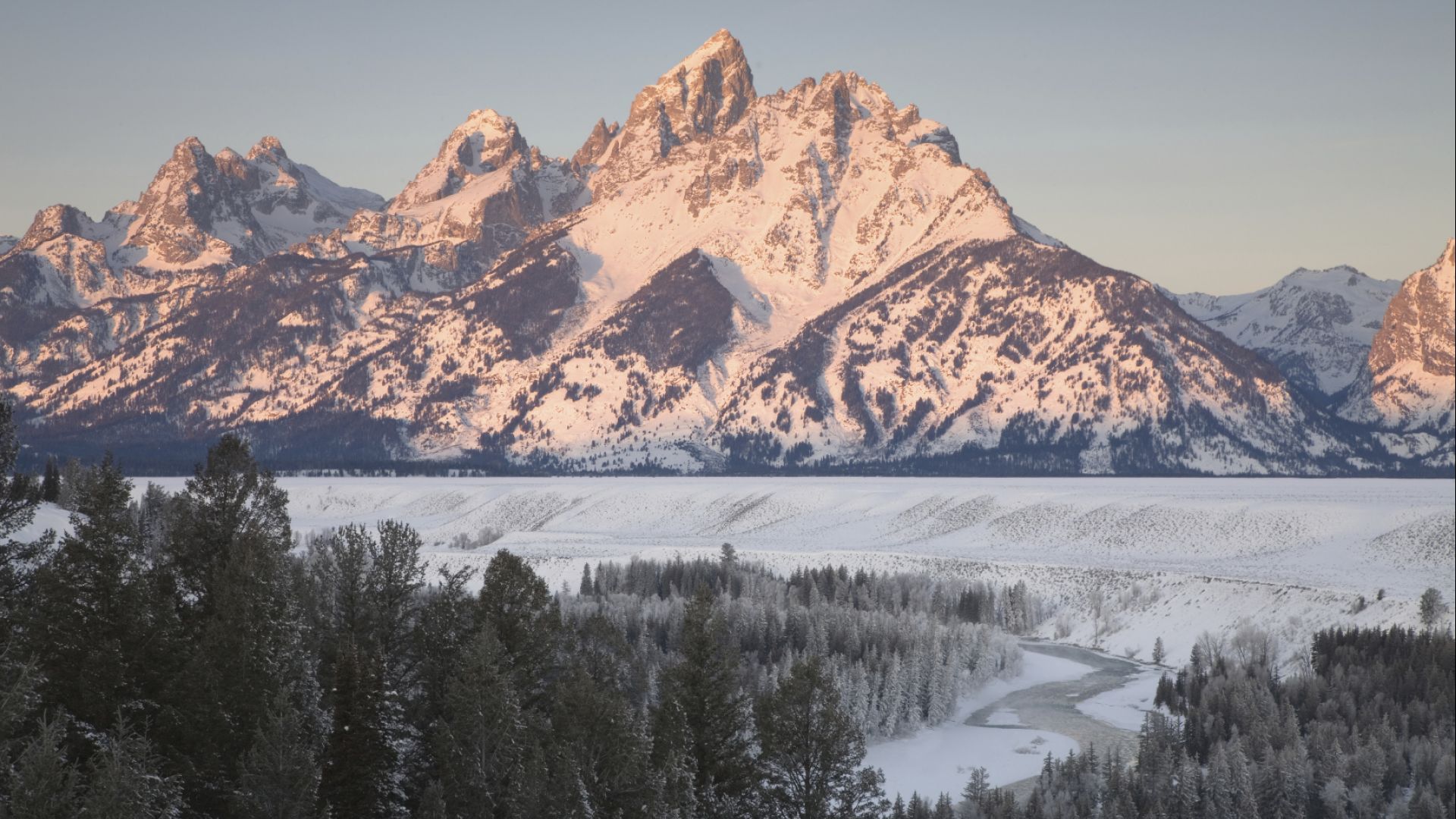 Grand Teton National Park
When you visit Jackson Hole be sure to check out Grand Teton National Park, which is less than five miles away. Here are some of the top questions we receive about visiting the park, which should help you plan your visit
When is Grand Teton National Park open?
The park is open year-round, twenty-four hours a day, although many facilities close during the winter season.
The winter months are a special time to visit Grand Teton National Park. Snow blankets the Teton Range, the hustle and bustle of summer visitors quiets and peace and tranquility settle into the valley. Popular with artists and athletes alike, the park becomes a wonderful place to explore the wintry landscape by foot or with a camera lens.
Much of the road is closed during the winter, but the park's main highways US 89 and 26 are plowed and open from the Town of Jackson to south of Yellowstone at Flagg Ranch. This route offers amazing, sweeping mountain vistas and plenty of opportunities for viewing wildlife.
The inner park road is plowed from Moose to the Taggart Lake Trailhead parking area. From here, you can park your car and explore the area on the groomed cross country ski trails or on snowshoes.
What is there to do in the park?
There are many trails for hiking and fantastic sightseeing to do throughout Grand Teton National Park. Many visitors like to begin their trip to the park at Jenny Lake. The beautiful hiking near the lake can take you the 7.5 miles from the Jenny Lake Trailhead to various gorgeous vantage points, such as Symmetry Spire and Cascade Canyon, and back again.
There's also the 1.5 mile trip to Hidden Falls, if you want to make your time at Jenny Lake just one part of the day before exploring other parts of the park. Jenny Lake, along with Jackson Lake, allows for motorboats on the water for travelers in search of some vroom for their visit. Jenny might be a better spot for hiking, but Jackson is the lake to try your hand at fishing.
With more than a dozen islands, notably Elk Island, Jackson Lake is also a gorgeous spot to do some sailing. Both lakes offer camping options for guests who want to take their time in the area before moving on to more of Grand Teton National Park. In addition, guests can also take to the water on a 10 mile long float trip down the Snake River within the park.
How long will I need to explore the park?
Visitors can spend days taking in the beauty of Grand Teton National Park. There are many locations to explore and the time allotted to each endeavor can depend on how you and your group want to engage with nature, be it via feet or fishing rod. However, a one day visit is sure to leave guests satisfied with the glorious views of the region they were able to take in. It'll leave you eager to make a return visit to observe more of Grand Teton's splendor!
Where can I stay near Grand Teton National Park?
The travel experts at Jackson Hole Central Reservations can help you find the perfect place to stay in Jackson Hole and Grand Teton National Park, as well as recommend the best things to do in Jackson Hole and Grand Teton National Park to fit your unique travel style.
What kind of wildlife is in Grand Teton National Park?
The neighboring National Elk Refuge, at almost 25,000 acres, serves as a home and a sanctuary to some of the country's largest number of migrating elk and bison. The lower elevation is appealing to these creatures and the refuge is also home to animals like deer and bighorn sheep. In Grand Teton itself, moose are a common sighting, as well as further bison, elk, and black-tailed deer. There have also been sightings of mountain lions, wolves, and bears (both black and grizzly) around the park, although it's rarer.
It's important for visitors to remember to keep a safe and respectful distance from any wildlife they do see, whether observing from a vehicle or in the midst of a hike. 25 yards is a good rule of thumb for most creatures you might encounter in Grand Teton, while any predatory animals should be observed from a distance of at least 100 yards.
Is the park friendly for pets?
The general rule regarding any animals that have accompanied you to the park is that if it's cool for a car (like campgrounds or roads), it's cool for a canine. Among the other creatures that reside in the park and the winding layout of Grand Teton, pets could easily be in danger if given much room to explore. For this reason, there are no pets allowed in the backcountry or on the park trails. All pets must be appropriately restrained or contained, and you must clean up after your pet.
Is the park family friendly?
Very much, with ranger-led programs and hikes offering the perfect starting point for your family. These programs (with different options in the summer and winter) are a great opportunity for kids to learn about Grand Teton. Find more family-friendly activities here.
What is the history of Grand Teton prior to being named a National Park?
Humans have explored Grand Teton National Park for at least 11,000 years. Archaeological evidence suggests they used the area encompassed by the park from spring to fall, based on what resources were available. People of European descent began exploring the area in the early 1800s, following wildlife and Native American trails through Jackson Hole and Grand Teton National Park.
When was the park established?
Establishing Grand Teton National Park was much more difficult than the relatively easy establishment of neighboring Yellowstone National Park. The original Grand Teton National Park, encompassing only the Teton Range and six lakes at the base of the mountain, was established by an act of Congress in 1929. The park was expanded in 1943 with a presidential proclamation by FDR and a donation of 35,000 acres by John D. Rockefeller. In 1950, the original 1929 park and the lands set aside in 1943 were combined, creating what we know today as Grand Teton National Park.
What mountains make up the range?
The Teton Range, mostly contained within Grand Teton National Park and to the south of nearby Yellowstone National Park, is made up of two divisions along a fault line, each known as a block. There is the east block, which fell along the range, now referred to as Jackson Hole. This has become a popular spot for tourists in search of some mind-blowing sights and pulse-pounding skiing.
The west block rose and created the famed Rocky Mountains. Although Mount Elbert is the highest point of the Rockies, Grand Teton is the highest point of the Teton Range, rising to 13,770 feet and towering more than a mile above the valley of Jackson Hole.

Ready to book your Jackson Hole vacation or have some additional questions? Feel free to contact one of our local travel experts!
Current Section
You May Also Like