Featured Dining & Restaurants
With all the exciting outdoor activities and fun things to do in Jackson Hole, you're sure to work up an appetite.
Featured Partners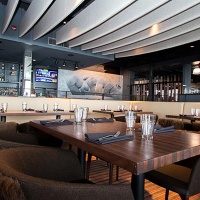 02/04/2020
Find the best places to eat while skiing the Tetons.
More Info
Featuring a wide variety of dining options throughout the valley, there's always something tasty nearby.
From family-friendly to formal, the wide variety of restaurants and cuisine types in Jackson Hole offers a delicious option for everyone.
Casual Dining
As a fantastic family vacation destination, Jackson Hole offers countless casual restaurants to please everyone in your group. Ranging from diners to steakhouses to cafés, the dining options in Jackson, Teton Village, and everywhere in between will accommodate everything from a sit-down family dinner to a quick meal on the go. Whether you're grabbing a bite to eat before heading out for a day on the slopes or recharging after shopping downtown Jackson with its many boutiques, galleries, and specialty shops, Jackson Hole restaurants offer something for everyone.
Fine Dining
Perfect for couples on a romantic getaway, Jackson Hole fine dining provides five-star fare and impeccable service to make a special breakfast, lunch, or dinner unforgettable. A nice change of pace from informal restaurants, cafés, and bars, fine-dining restaurants in Jackson offer world-class cuisine and elegant ambiance in a stunning Rocky Mountain setting. Savor a fabulous meal while enjoying alpine views, sipping a glass of local Wyoming wine, and planning your next outdoor adventure.
On-Mountain Dining
Ideal for hungry skiers and snowboarders who don't want to stray too far from the slopes, on-mountain dining in Jackson Hole is a feature offered at Grand Targhee and Jackson Hole Mountain Resort – two of the area's most celebrated Wyoming ski resorts. Quick and convenient, winter sports enthusiasts can grab a drink and a bite to eat and be back on the lifts in no time. From snack bars to more formal sit-down dining, on-mountain restaurants in Jackson Hole offer an array of appetizing options.
No matter what you're craving, there's a restaurant in Jackson Hole that has just what you're looking for. Make sure to stop by some of these outstanding Jackson Hole restaurants during your visit.