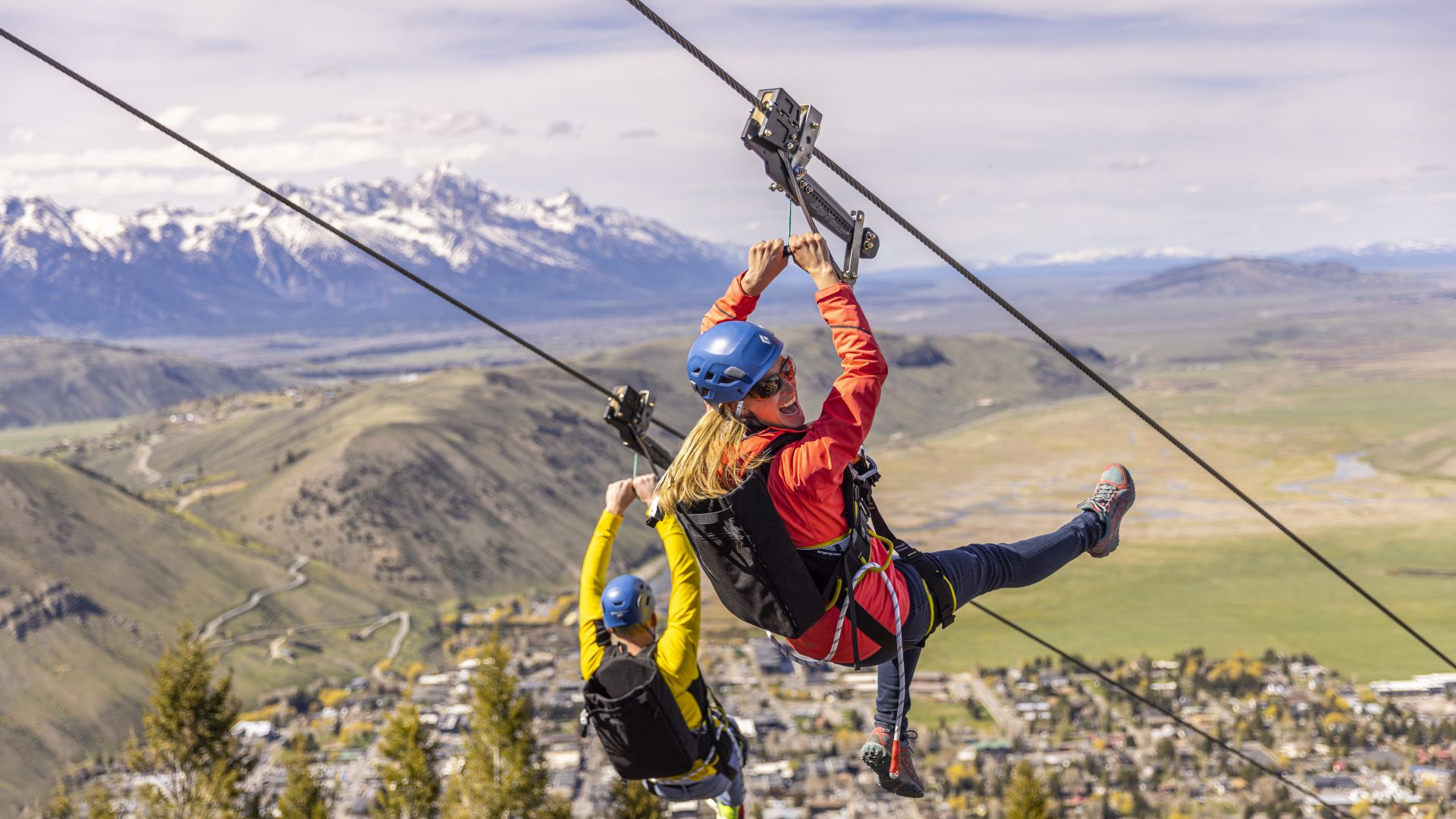 Ziplining in Jackson Hole
Soar through picturesque mountains and admire the scenery of the Old West with family and friends on one of Jackson Hole's newest and most thrilling experiences.
Last updated: July 15, 2022
Known for its snowy slopes and all ages winter experiences, Snow King Mountain Resort is also home to a near-endless array of summertime fun. Whether you're cruising through hair-raising turns as you ride the popular Cowboy Coaster, gliding down the mountain on Jackson's only Alpine Slide, or climbing from tree-to-tree on their Treetop Adventure Course, Snow King Mountain Resort offers families no shortage of exciting experiences and memorable adventures to add to their summer itinerary.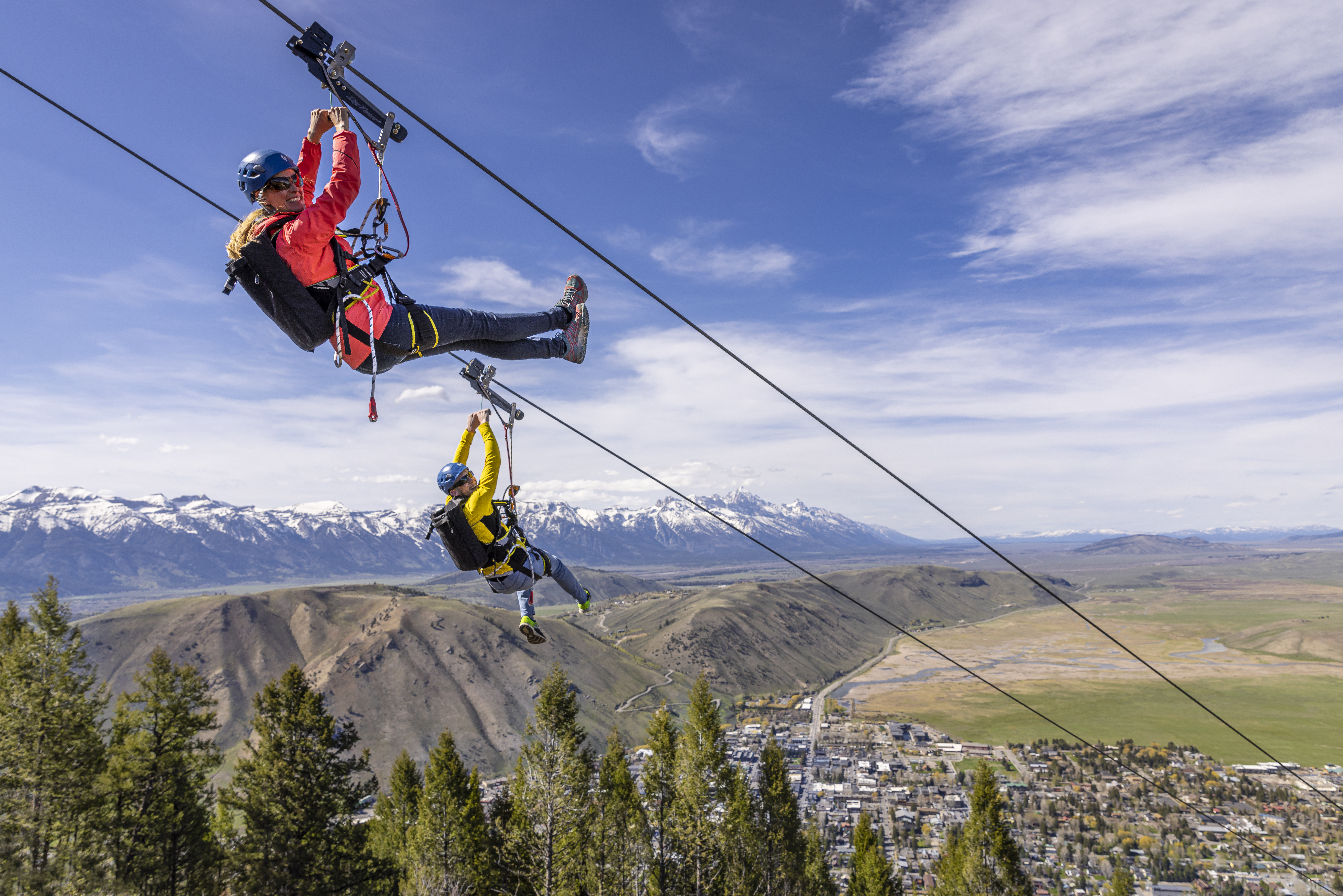 Zipline at Snow King Mountain Resort
One of the resort's newest attractions is also its most daring — a nearly 1,300-foot-long zipline that guides riders down Snow King Mountain at speeds up to 60 miles per hour. Known as the Zip Tour, this heart-pounding activity is ideal for those looking to infuse a bit of action into their Jackson Hole sightseeing experience.
The Zip Tour consists of three separate sections with two ziplines each, allowing you to race down the mountain side-by-side with family and friends. As you fly down the mountain, you'll enjoy unparalleled, panoramic views of the Grand Tetons, National Elk Refuge and the trees, slopes and attractions of Snow King Mountain as they rush by some 480 feet beneath your feet.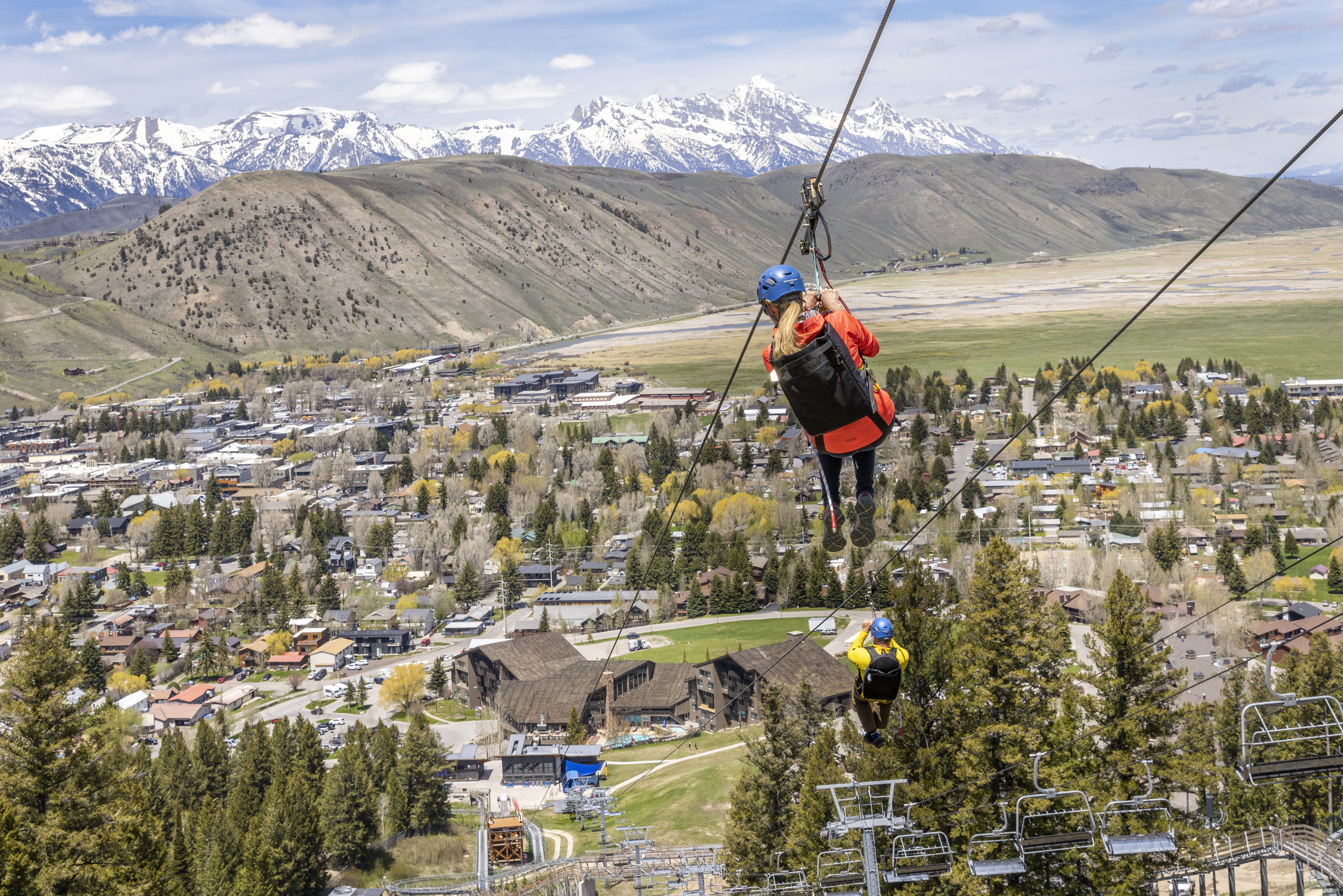 The experience on the steepest zipline in North America is divided into three segments, the first of which eases riders into the experience, tests their skills, and equips them with safety training. From there, things quickly pick up speed as you reach the zipline's steepest span, descending rapidly at a 36% grade and passing over — and through — trees. The grade decreases to 31% as you soar over the Cowboy Coaster and come in for a soft landing at the base of the mountain, where you can catch your breath and refuel at one of the local restaurants, make your way into Jackson's Town Square, or move onto the next adventure.
Featured Partners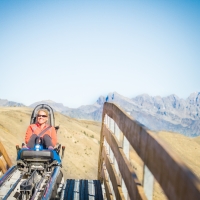 Summer at Snow King means nonstop fun! Ride the Cowboy Coaster and Alpine Slide. Get the best views of Jackson and the Tetons from…
Book
Zipline Fast Facts
Price:

Starts at $110 per person, price fluctuates depending on season and day selected
Season Pass holders can receive a 20% discount on the zipline for themselves

Dates & Times:

Early summer: May 27-June 17, 10 a.m.-5 p.m.
Peak summer: June 18-August 21, 10 a.m.-7 p.m.
Late summer: August 22-September 5, 10 a.m.-5 p.m.
Early fall (weekends only): September 6-October 2, 10 a.m.-5 p.m.

Rules & Restrictions:

Riders must be ages 12 and older (riders ages 12-15 years must be accompanied by an adult and must be able to ride independently)
Minimum Weight: 50 pounds
Minimum Height: 48 inches
Maximum Weight: 260 pounds
Maximum Height: 82 inches
All riders must wear closed toe shoes. Necklaces, lanyards or loose-fitting clothing is not permitted.
It is advised that pregnant individuals not ride

Each zipline ticket includes a Scenic Gondola ride up Snow King Mountain, presenting stunning views of the Grand Tetons
All riders must sign a Release of Liability prior to ziplining

A signature by a parent or legal guardian is required for any riders under the age of 18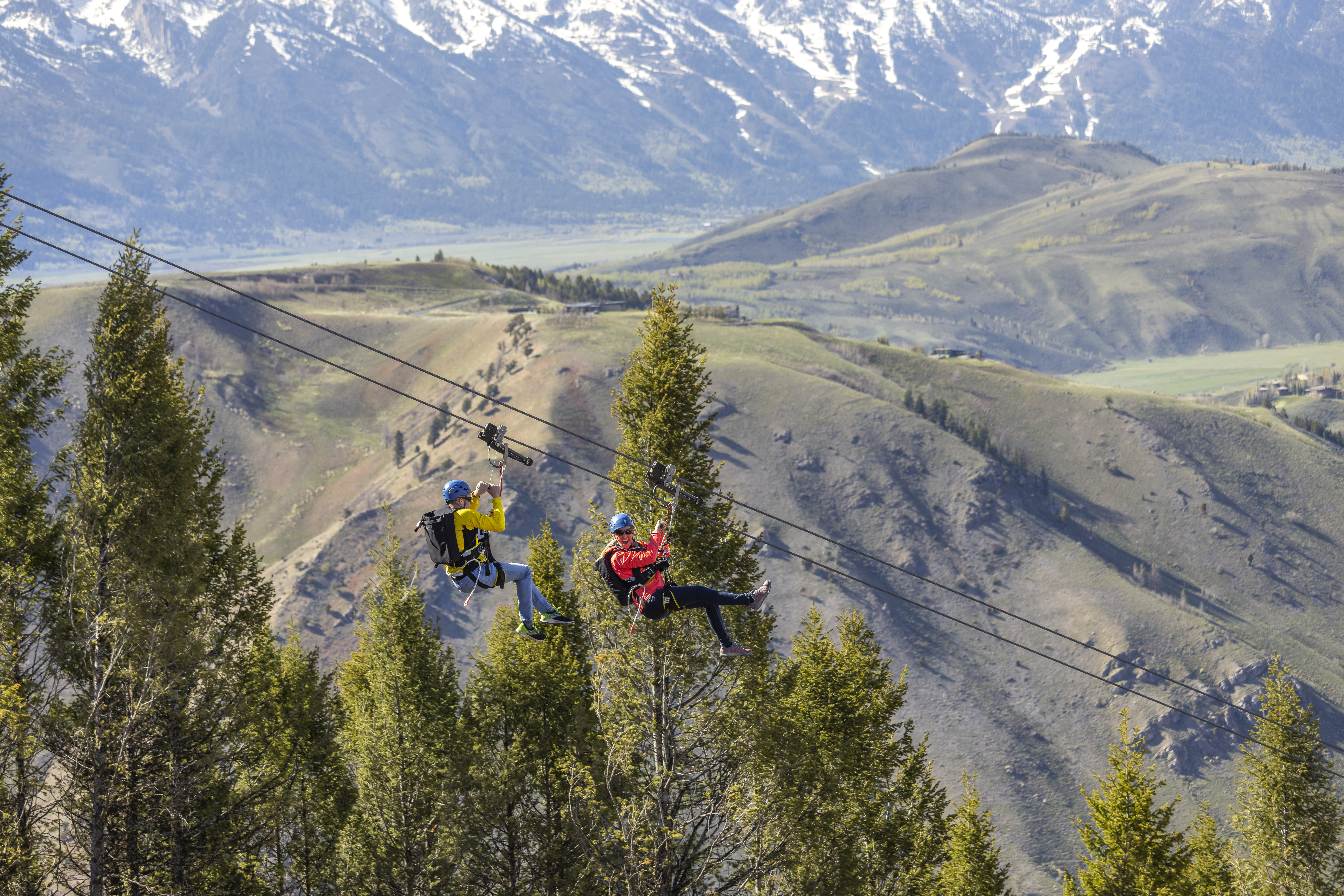 Contact our team of experts today at (888) 838-6606 to book your zipline experience and for assistance with rounding out your thrilling Jackson Hole summer itinerary with other exciting experiences, like whitewater rafting, scenic wildlife tours or ATV excursions. Complete your planning by browsing our list of area resorts, hotels and vacation rentals, and view available vacation packages — like our Thrills Package — filled with exclusive savings and thrilling adventures.
Subscribe to our e-newsletter for the latest updates on attractions and experiences in Jackson Hole.
06/01/2022
As the weather warms up, Jackson Hole becomes the heart of summertime adventure.
More Info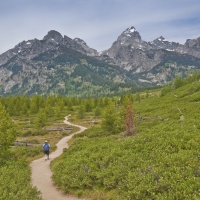 04/29/2022
Our staff of locals weighs in on some of their favorite places in Jackson Hole, some of which may not be in your guidebook!
More Info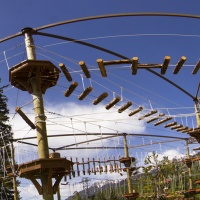 06/22/2018
The whole family will enjoy ropes courses, climbing walls, a mountain coaster and more!
More Info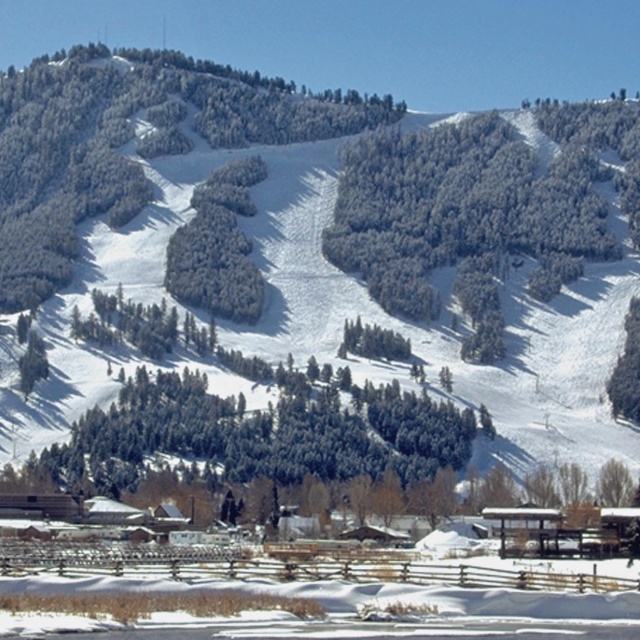 Snow King Ski Area & Mountain Resort
Snow King, commonly know as "the town hill", rises up from the south edge of Jackson and offers convenient recreation for locals…
More Info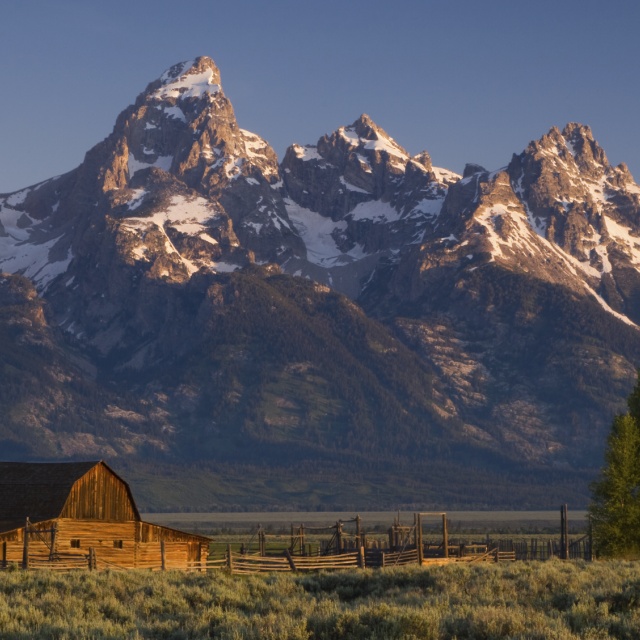 Summer Packages
Jackson Hole is the perfect place to base your summer adventures. With close proximity to Yellowstone National Park, Grand Teton…
More Info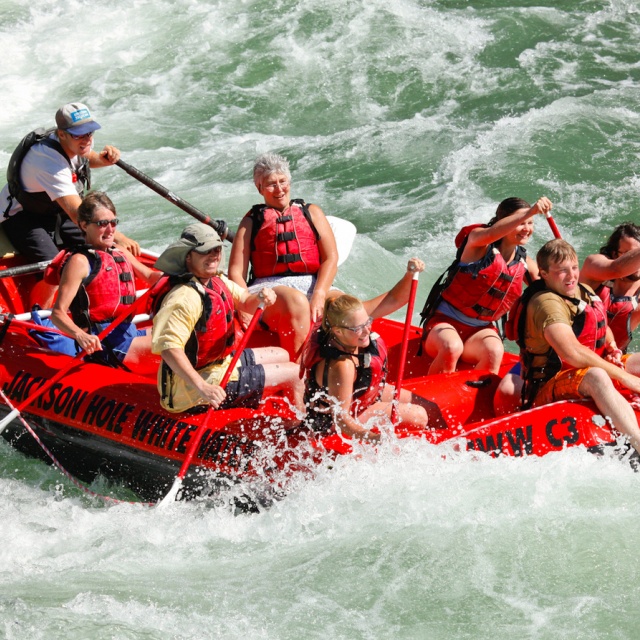 Whitewater Rafting & Scenic River Trips
Try whitewater rafting or a scenic river trip in Jackson Hole.
More Info