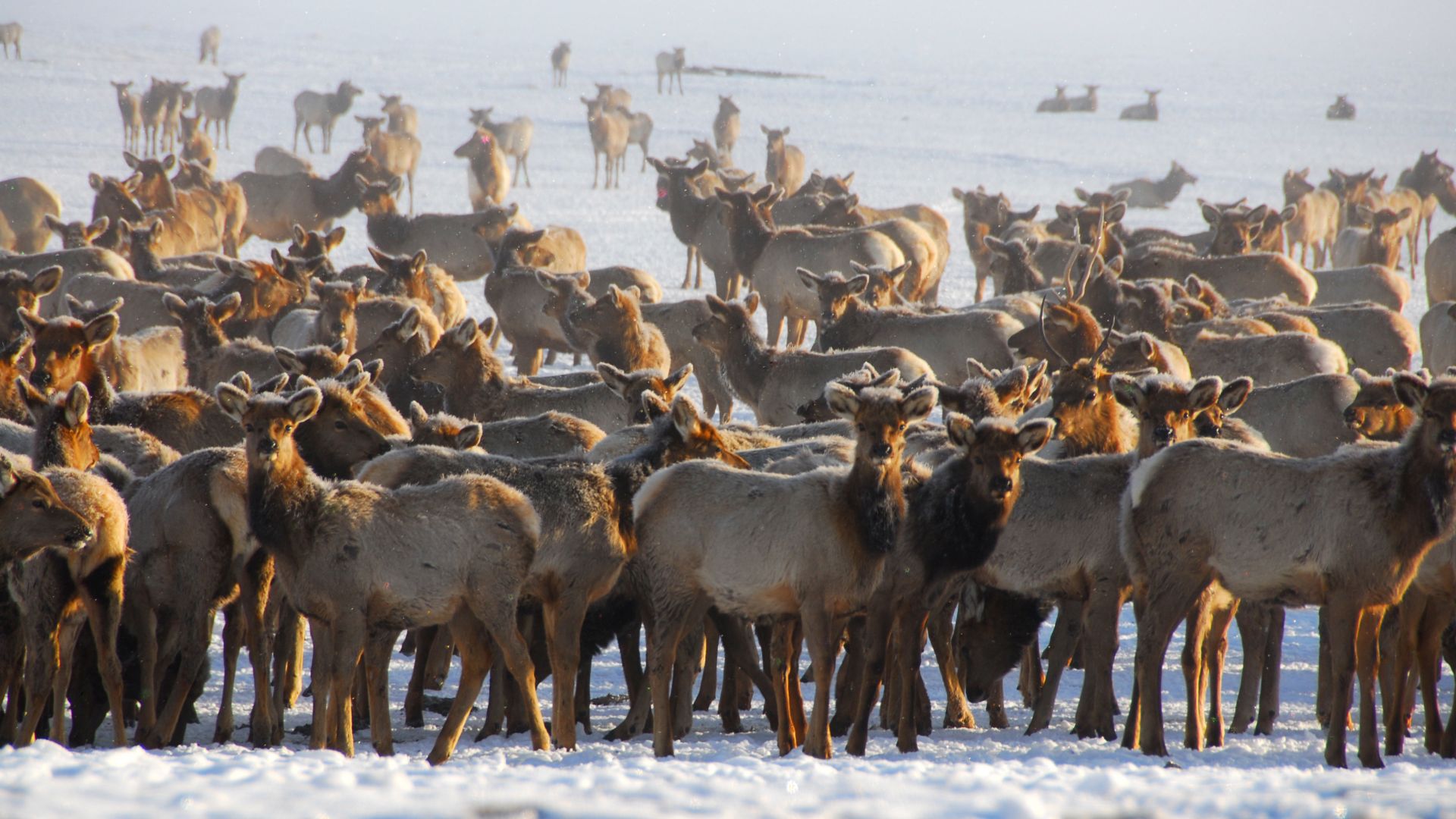 Visit the National Elk Refuge Near Jackson Hole
Visit the National Elk Refuge for an unforgettable wildlife experience: a horse-drawn sleigh ride through an elk herd, with elk numbering in the thousands!
National Elk Refuge near Jackson, Wyoming
Hundreds of years ago, elk roamed much of what was now North America, grazing in grasslands, valleys, and foothills all across the continent. As their lands were settled, their numbers were reduced, and the remaining elk gradually migrated to the mountainous west. People living in Jackson Hole in the late 1800s and early 1900s became aware of the nearby elk herd and began using sleighs to travel to their feeding grounds to see them. Interest in the animals grew, and the refuge was officially established in 1912. The sleigh rides became so popular that in 1965, the refuge began offering sleigh ride tours to the public.
Today, the refuge encompasses 25,000 acres of elk winter range, the only winter range remaining for elk near Jackson Hole.
Tour the Elk Refuge by Sleigh!
At the National Elk Refuge, sleigh tours are available to winter visitors from mid-December through early April. The season is scheduled through the end of March/first weekend of April, tentatively, weather and herd conditions permitting,
Elk Refuge Sleigh Ride Booking & Tickets
Sleigh rides are available on a first-come, first-served basis. Reservations are available for everyone, but not required. However, we strongly recommend reservations during holidays and for large groups. To make a reservation, click here. Tickets can also be purchased directly from 9:00 am – 4:00 pm during sleigh ride season at the Jackson Hole & Greater Yellowstone Visitor Center at 532 N. Cache St. at the north end of Jackson. Look for the white trailer in the parking lot.
How to Dress for Your Sleigh Ride
Your sleigh ride will last approximately 45 minutes to 1 hour, so please dress warmly. Appropriate dress for your sleigh ride includes a warm coat, hat, gloves, and warm boots. Surprisingly, the temperature can feel significantly colder on the sleigh ride compared to in town. Chilling winds often blow up the valley, and snowstorms can happen anytime. Warmly-dressed visitors can take all of this in stride.
Tour Departure Location & Information
Tours depart from the Jackson Hole and Greater Yellowstone Visitor Center, where a shuttle bus picks up sleigh ride participants and takes them to the boarding area for sleighs. Accommodations exist for visitors with disabilities. Sleigh rides last 45 minutes to 1 hour; the total time for the tour is 1 1/2 hours including shuttle bus pick up and drop off.
The Visitor Center hours are 9:00 a.m. - 5:00 p.m. during sleigh ride season. Elk Refuge sleigh rides depart 3-4 times per hour, 10:00 a.m. - 4:00 p.m. daily.
Can I Drive Into the Refuge?
Yes! It's easy to drive into the Refuge by taking (the aptly named) Refuge Road. During the winter months access is limited to only the first 3.5 miles so you don't disturb the herd beyond. Be sure to check the winter weather conditions before you make the trek. Refuge Road can get a little icy following snowstorms.

Alternatively, there are great bike and walking paths that parallel the road if you prefer a more eco-friendly route.
How Many Elk Are There?
On average, there are roughly 5,000 elk that migrate to the Refuge during the winter months. If you're lucky you may even see more (herds of up to six to eight thousand have been reported!) Elk are usually seen on the Refuge December to April. In late spring, elk begin migrating off the Refuge toward their summer ranges. Between October and December, heavy snow push the elk down from high elevation summer ranges to lower elevations in Jackson Hole in search of food and shelter.
What Other Animals Can I Find?
The Refuge is a haven for a variety of wildlife in the area including bison, pronghorn, bighorn sheep, trumpeter swans, bald eagles, cutthroat trout, wolves, mountain lions, and grizzly bears.
Do's and Dont's When Visiting the Refuge
Do: Bring Your Camera
The sight of these majestic animals in their natural Wyoming habitat is breathtaking. Be sure to bring your camera and capture the memories of the scenic views. Note: photography and filming that takes place in areas closed to the public requires a permit.
Don't: Take a Souvenir
Be advised, it's illegal to take, collect, retrieve, possess, or transport any natural product, including shed antlers, from the Refuge at any time of the year. The purpose of the refuge is to preserve the natural landscape for the elk during migration. Be mindful and respectful when visiting these wild places.
Do: Stay on the Path
Limiting access to certain areas is critical to protect the wildlife on the Refuge so be aware of any road or path closures while visiting.
Featured Partners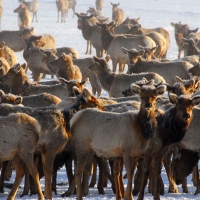 Imagine taking a horse-drawn sleigh ride among an elk herd numbering in the thousands. At the National Elk Refuge, such an…
Book