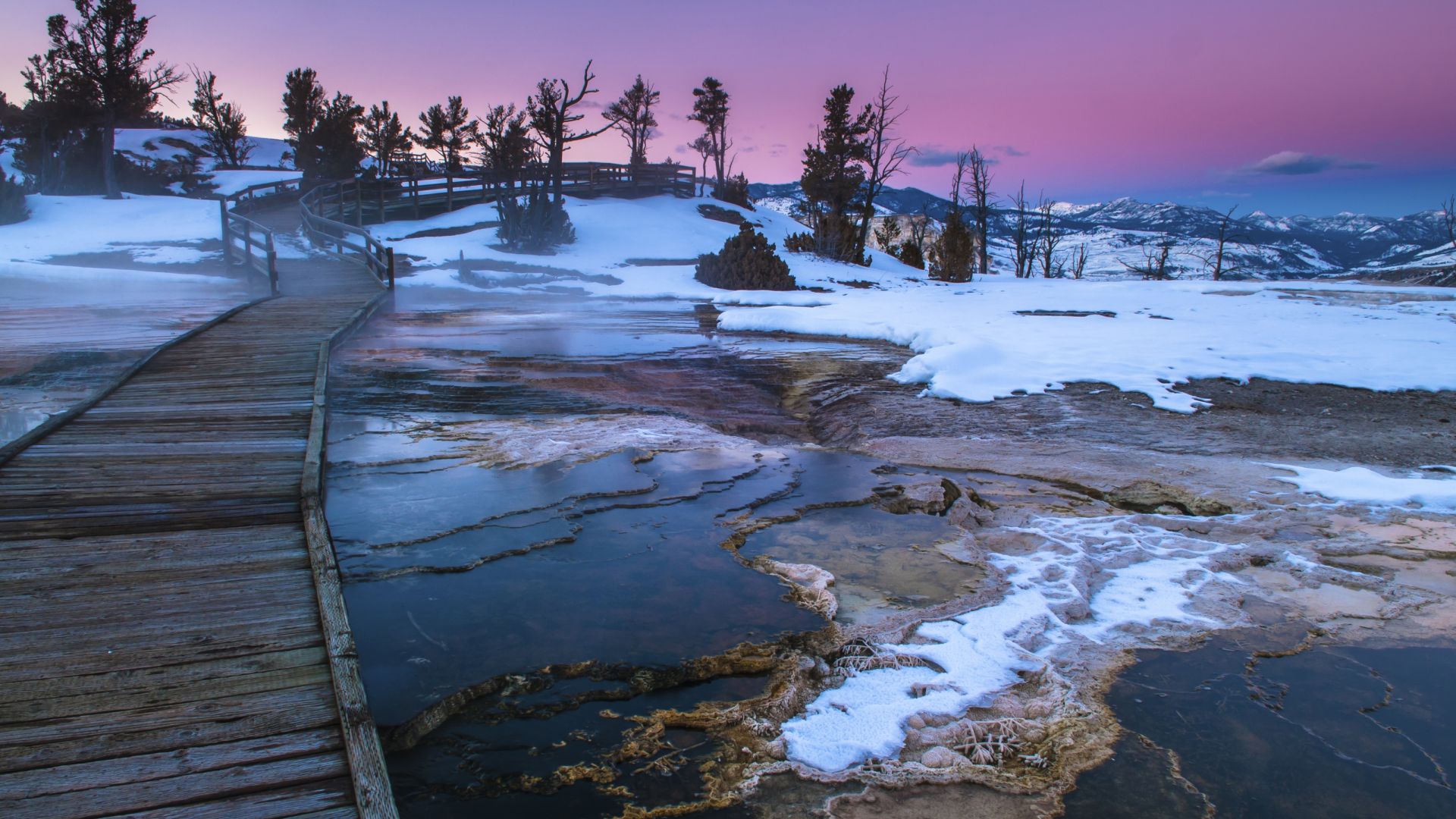 Yellowstone National Park
Jackson Hole is just 60 miles from the South Gate of Yellowstone.
Established on March 1, 1872, Yellowstone National Park is the first and oldest national park in the world. It is known for its famous geysers and abundant wildlife, and is one of the largest intact temperate zone ecosystems remaining on the planet.
Preserved within Yellowstone National Park are Old Faithful Geyser and some 10,000 hot springs and geysers, the majority of the planet's total. These geothermal wonders are evidence of one of the world's largest active volcanoes; its last eruption created a crater or caldera that spans almost half of the park.
America's first national park, Yellowstone National Park was established in 1872 to preserve these geysers, as well as the incredible wildlife and landscape it encompasses. Visitors can enjoy the park on their own from the third Friday in April through the first Monday of November. During the winter and spring months, roads and entrances are closed to motor vehicle traffic, but visitors can still enjoy Yellowstone National Park by joining snowcoach tours offered by licensed tour operators.
An outstanding mountain wildland with clean water and air, Yellowstone is home of the grizzly bear and wolf, and free-ranging herds of bison and elk. It is the core of the Greater Yellowstone Ecosystem, one of the largest intact temperate zone ecosystems remaining on the planet.
The human history of the park dates back 12,000 years. Native Americans made the park their home for thousands of years, and a little over 200 years ago, when the first people of European descent found their way into the park. Today, park visitors can enjoy a wide variety of activities in this protected park, from hiking and camping to bicycling and boating.
Jackson Hole is located just 60 miles from the South Gate of Yellowstone National Park, making Jackson an ideal base from which to explore the park's incredible natural landscape, expansive backcountry, and wide variety of activities. Visitors looking to get away from it all will find plenty of camping and hiking opportunities. The Grand Canyon of Yellowstone is just one of many such areas, boasting stunning vistas of the Upper and Lower Falls of the Yellowstone River and providing plenty of opportunities to view the wildlife native to Yellowstone.
Anglers will find ample opportunities to fish throughout Yellowstone National Park. The fishing season begins the Saturday of Memorial Day weekend, which typically falls on the last weekend in May. Park visitors can enjoy fishing throughout the summer through the first Sunday in November, when the park roads close to motorized vehicles.
Anglers can catch cutthroat trout in many of Yellowstone's lakes and streams, but keep in mind fishing is only allowed in certain areas and with permits. For example, Fishing Bridge was a popular fishing spot until 1973 as it spans a cutthroat trout spawning area. Fishing from the bridge is now prohibited, although it is a popular spot to observe the fish below. Most importantly, know the rules and regulations before fishing in Yellowstone National Park. Guides are available to answer all your questions and make sure you're properly prepared for fishing in Jackson Hole and Yellowstone National Park.
Kayaking is also a popular activity in Yellowstone. Professional guides will teach you kayaking techniques, and take you on tours on Yellowstone Lake, including up-close views of geysers. This is a fun way to get a close-up view of the geysers and other types of geothermal features that are so prevalent in Yellowstone National Park. The experts at Jackson Hole Central Reservations can help you plan kayaking in Jackson Hole and Yellowstone National Park, plus provide recommendations on ways to enjoy all the park's features.
More on Old Faithful
Named in 1870 by the Washburn-Langford-Doane Expedition, Old Faithful was the first geyser in the park to receive a name and has since become one of the most iconic landmarks in National Park history. Described by the team at first sight as, "the perfect geyser" Old Faithful became somewhat of a washing machine for early expeditions and traders who would put their clothes in and let the force and heat of the water spouting rid their garments of dirt.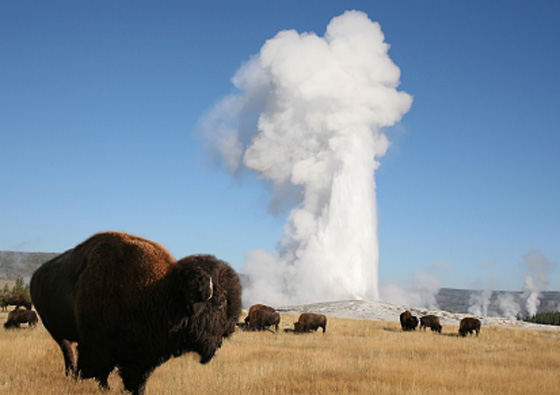 Eruptions of Old Faithful can shoot 3,700 to 8,400 gallons (14,000 - 32,000 litres) of boiling water to a height of 106 - 185 feet (30 - 56 m) in a blast that can last from one and a half to five minutes. Despite National Park lore that the geyser shoots steaming water every hour, eruptions usually occur about 90 minutes apart, but intervals can vary from 45 to 125 minutes. Old Faithful is also not the tallest or largest geyser in the park. Steamboat Geyser garners this title.
Current Section
You May Also Like