How to Choose Between Yellowstone & Grand Teton National Parks
Many people ask us which national park they should visit while vacationing in Wyoming: Yellowstone or Grand Teton National Park. The short answer is, time permitting, you should visit them both! But if you must choose, here is some information to help you understand the similarities and differences between these two amazing national parks.
History & Size
First, Yellowstone National Park is the older sibling of the parks. In fact, Yellowstone was the nation's very first national park, established in 1872, while Grand Teton National Park was established later, in 1929. In terms of size, Yellowstone is again Grand Teton's "bigger" sibling, encompassing around 3,500 square miles and extending beyond Wyoming into Idaho and Montana. In contrast, Grand Teton's terrain is 484 square miles and located solely in Wyoming. Yellowstone has 300+ miles of paved roads, while Grand Teton only has around 152. So yes, you do have a lot more wilderness to explore in Yellowstone than in Grand Teton.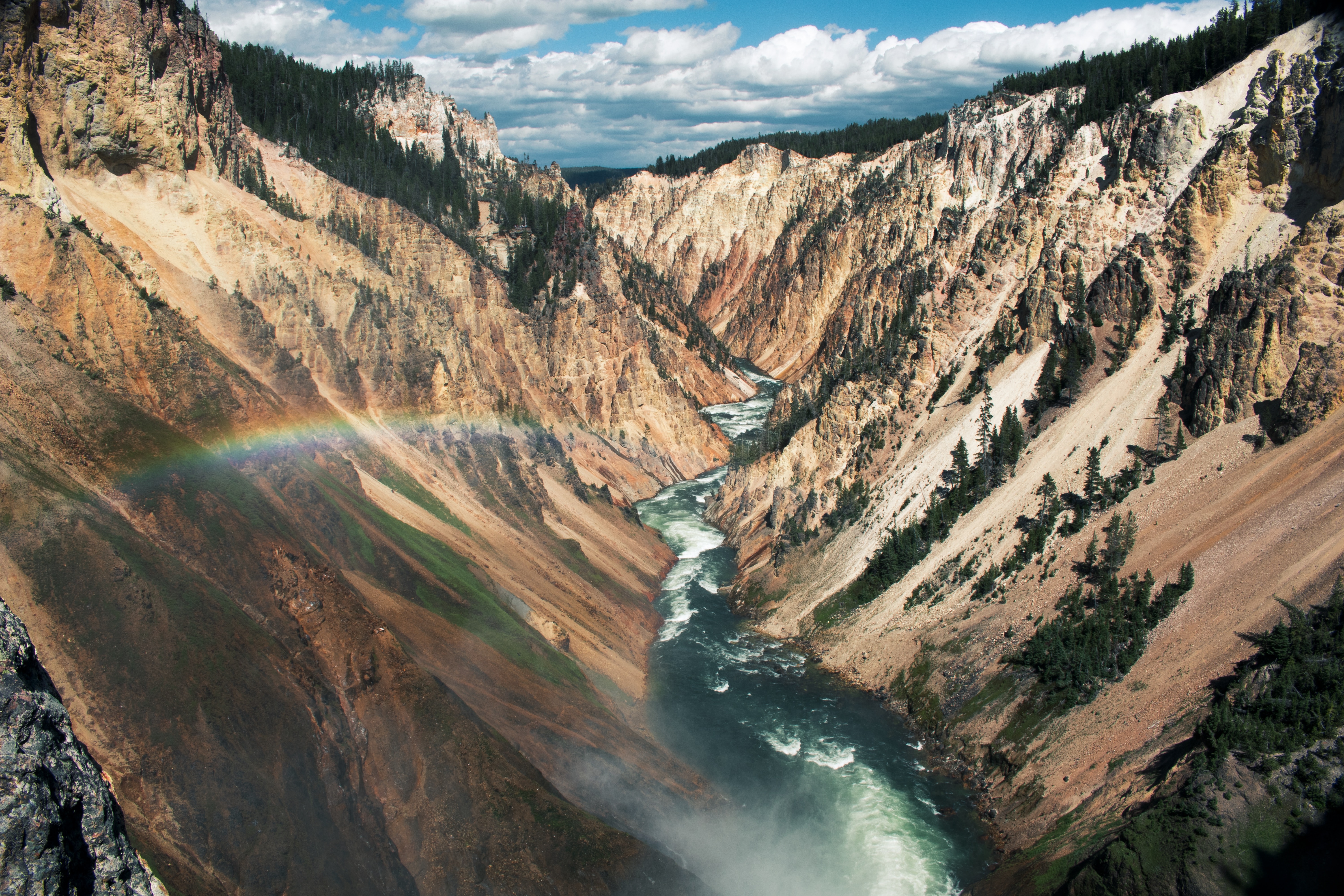 But bigger isn't always better. In Yellowstone, you might spend hours just driving from one attraction to another. In Grand Teton, you can drive from one end of the park to another in less than an hour and tour the highlights of the park in a mere 42-mile scenic loop. Spending less time in your car can mean more time on the trail, if that's your thing!
---
Terrain
When it comes to terrain, our two parks are both similar and incredibly different. Both parks have forests, grasslands, and mountains, but the most striking features in Yellowstone are the geothermal ones.
Yellowstone has the most celebrated geyser in the world, Old Faithful, and hundreds of lesser-known geysers along with steaming hot springs, bubbling mud pots, and even an active, sweetly sleeping volcano. In some of the park's geothermal areas, the interplay of light, water, and microbial mats results in vivid gradients of color that radiate out from the center of the springs. And that's not all! Yellowstone also has whitewater rivers, waterfalls, and even its very own Grand Canyon.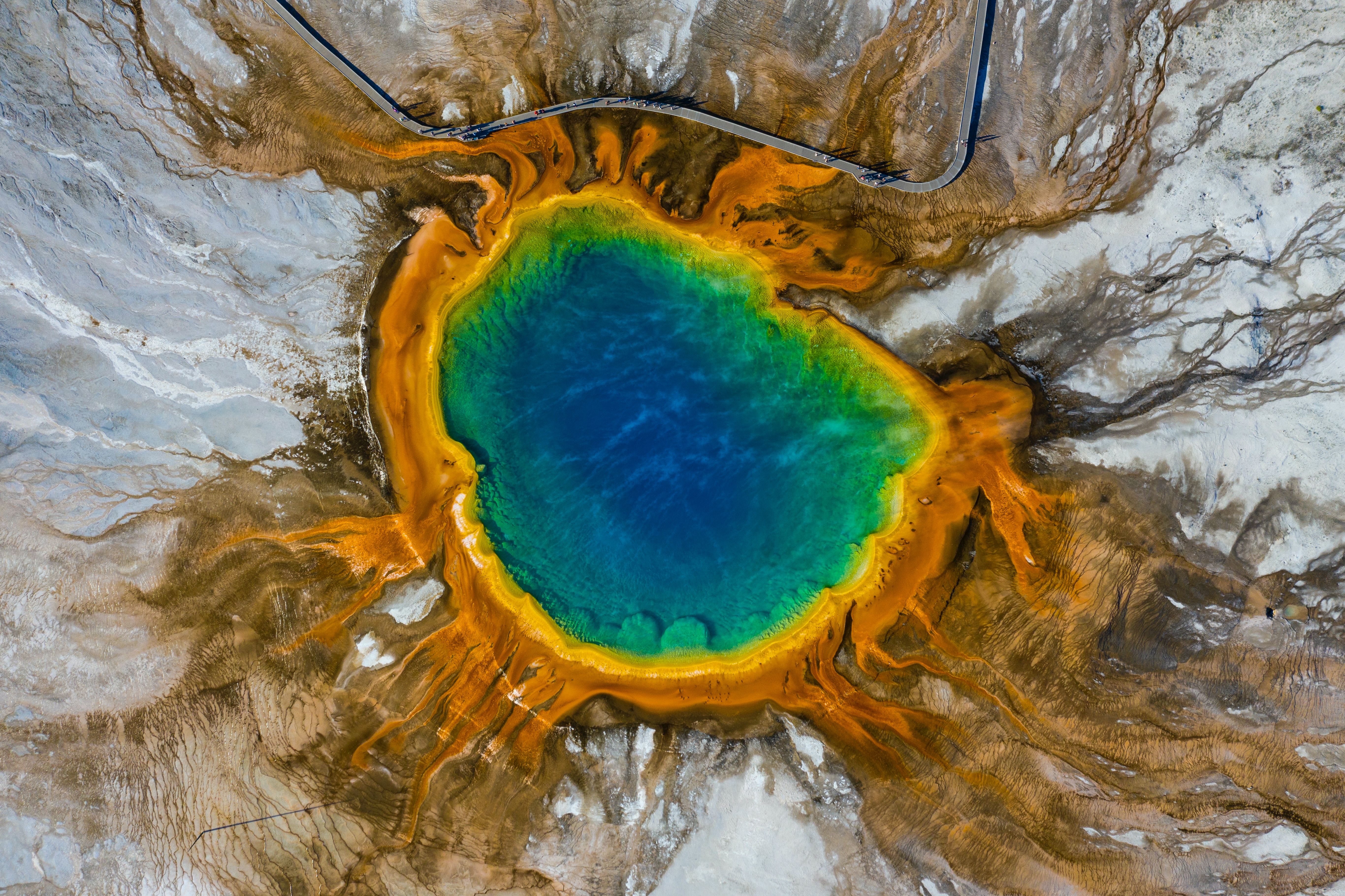 Grand Teton, on the other hand, is mostly known for its craggy, snow-capped mountains and crystal-clear glacial lakes. While we admit that Yellowstone's geothermal features are pretty cool (well, ok, pretty hot), the absence of gushing geysers in Grand Teton National Park does not make it any less worthy of exploration. Few who have seen the razor sharp, snow-streaked edges of the Tetons jutting into an impossibly blue Wyoming sky will forget this breathtaking sight.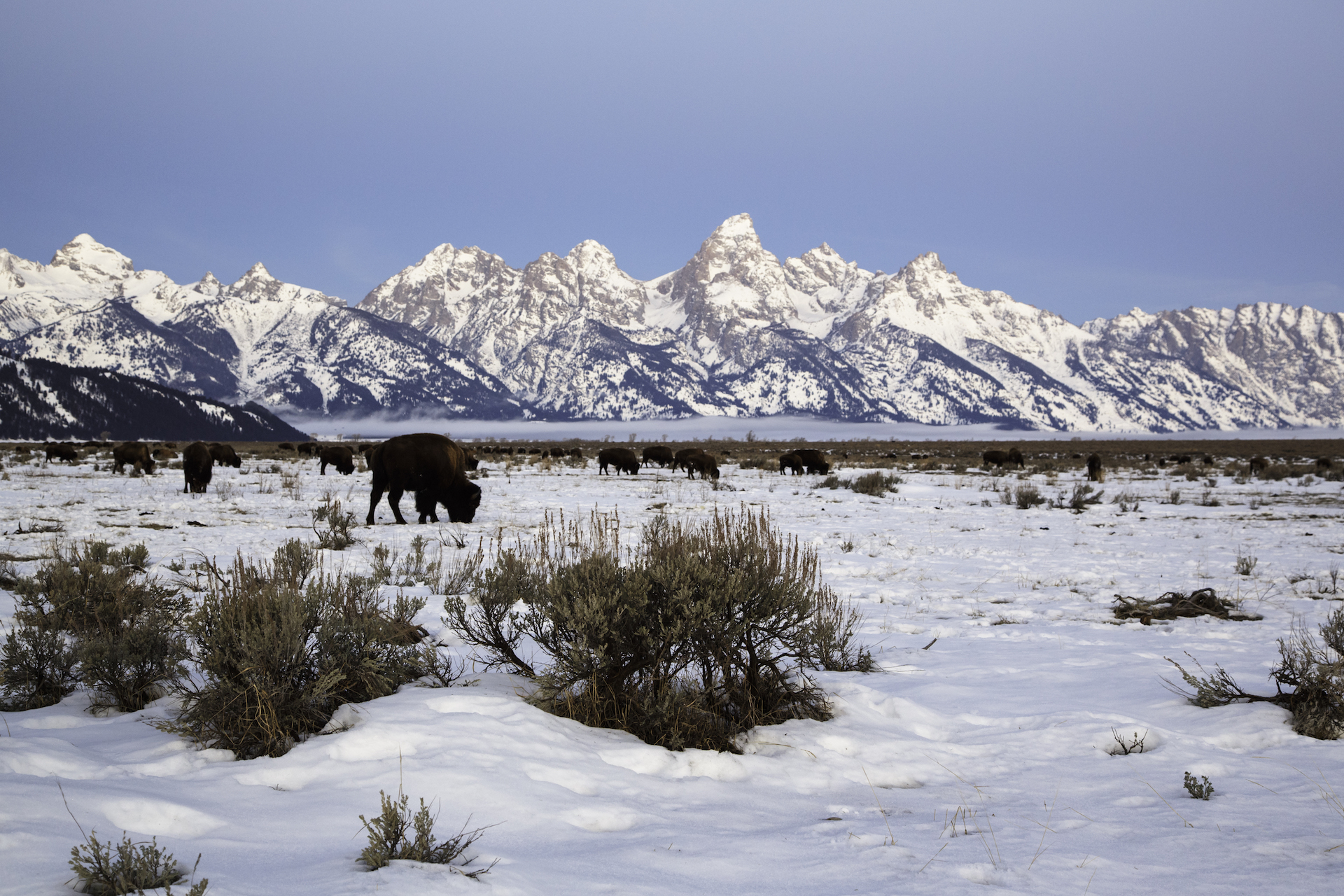 And getting up close and personal with the mountains by hiking on their vast network of trails—200 miles of them to be exact—is even better than viewing them from afar. What's more, Grand Teton National Park boasts 12 active glaciers and a series of magnificent turquoise glacial lakes, which adorn the mountainsides like sparkling jewels. The most famous of these are Jenny Lake—some call it the visual centerpiece of Grand Teton National Park—and Jackson Lake, Jenny's ever-popular and handsome cousin. At these two lakes, you can take a boat ride, go fishing, and even enjoy a beach day. Top that, Yellowstone!
---
Wildlife
Both parks offer tremendous and comparable opportunities for wildlife viewing. The "big five" animals that many visitors dream of seeing—bison, elk, gray wolves, grizzly bears, and moose—regularly roam through both parks. One difference between the parks is that, technically, you could cover more ground in Yellowstone, as the park is larger and the road network more extensive, so you'd have more opportunities to spot wildlife from your vehicle. Another feather in the cap for Yellowstone is that it has the oldest and largest bison herd in the US. Viewing these majestic creatures grazing freely in their natural habitat, one can catch a misty-eyed glimpse of the untamed spirit of the true Old West.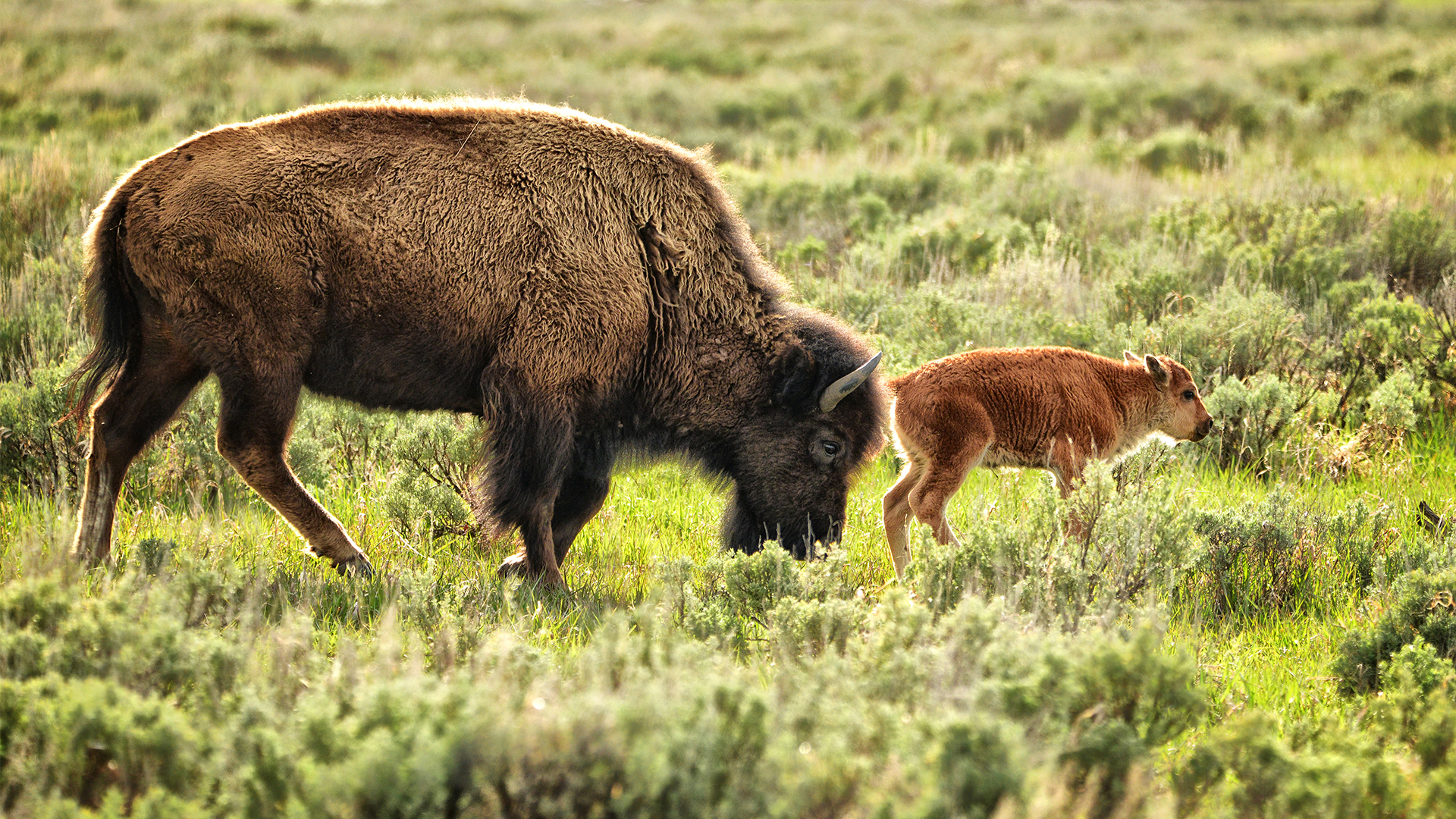 Attractions & Things to Do
One way to sum up the differences between things to do in Yellowstone vs. those in Grand Teton National Park is that Yellowstone is more about sightseeing, often from the roadside or your vehicle. There are just so many amazing things to see in Yellowstone, and so little time to see them! Grand Teton, on the other hand, is more about doing and interacting. And by interacting we do not mean petting bears and other wild animals that have large teeth (or even small teeth for that matter). What we mean by interacting is engaging with the natural landscape by hiking on alpine trails, summiting craggy peaks, kayaking on glacial lakes, rafting the Snake River, and the list goes on. For more detailed information on top attractions in Yellowstone, please check out our Yellowstone page. For information on the top things to do in Grand Teton National Park, check out our dedicated Grand Teton page.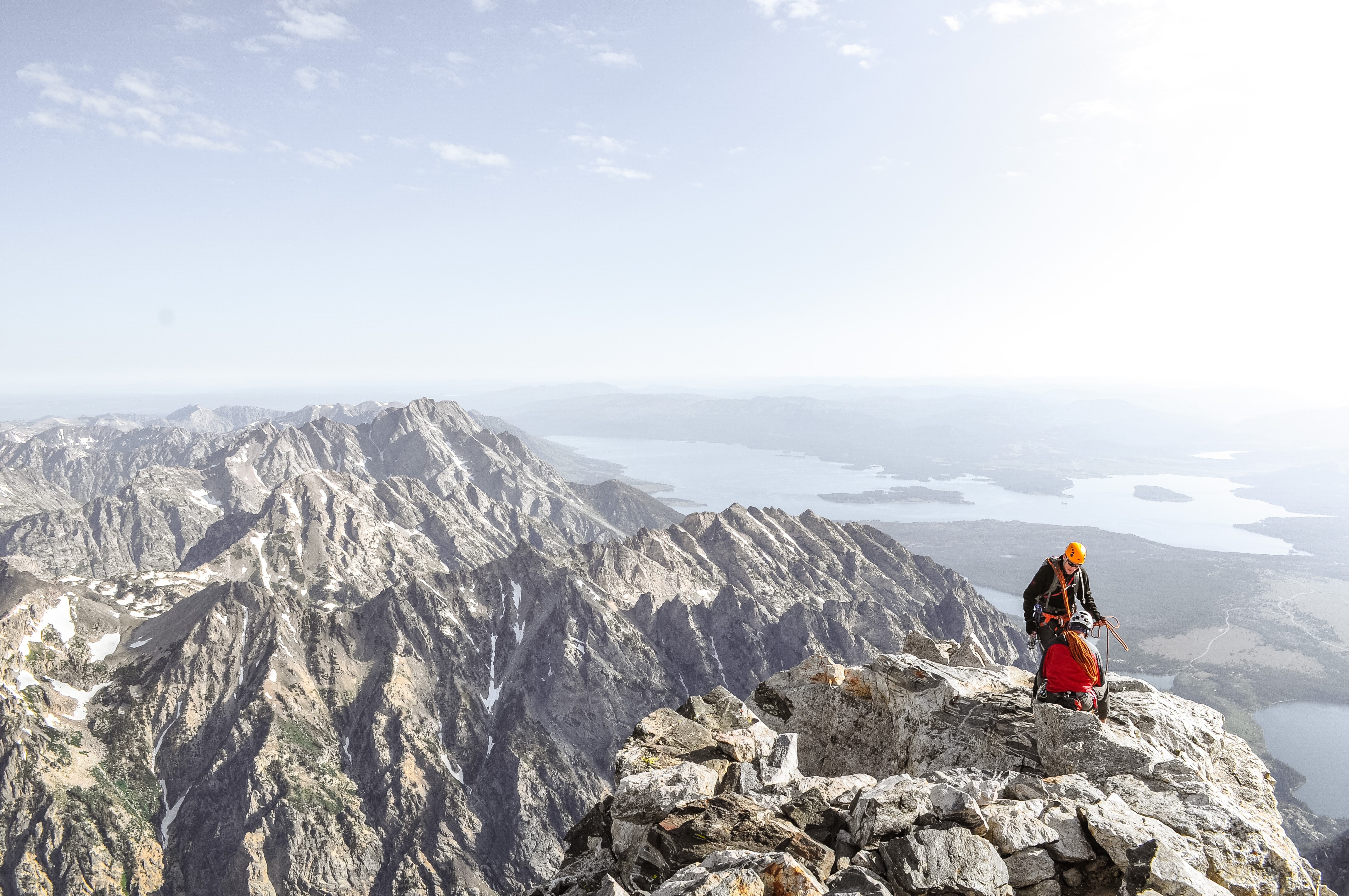 Accessibility
Distance from Jackson
The two parks are both situated north of Jackson Hole, about 30 miles apart from each other. In terms of driving distance, the Moose Entrance of Grand Teton National Park is about a 10-minute drive north of Jackson Hole, and the South Entrance to Yellowstone National Park is another hour's drive north of Grand Teton's Moose Entrance.
Season
Both parks' busy season is from May through September, when all roads and facilities are open. In the off-season, some roads in both parks remain open, while others are closed. You can still visit the parks in the off-season—when, frankly, it's much more peaceful— but some roads and facilities will be closed. If you plan to visit Yellowstone in winter, check this page to find out which park entrances and roads are currently open.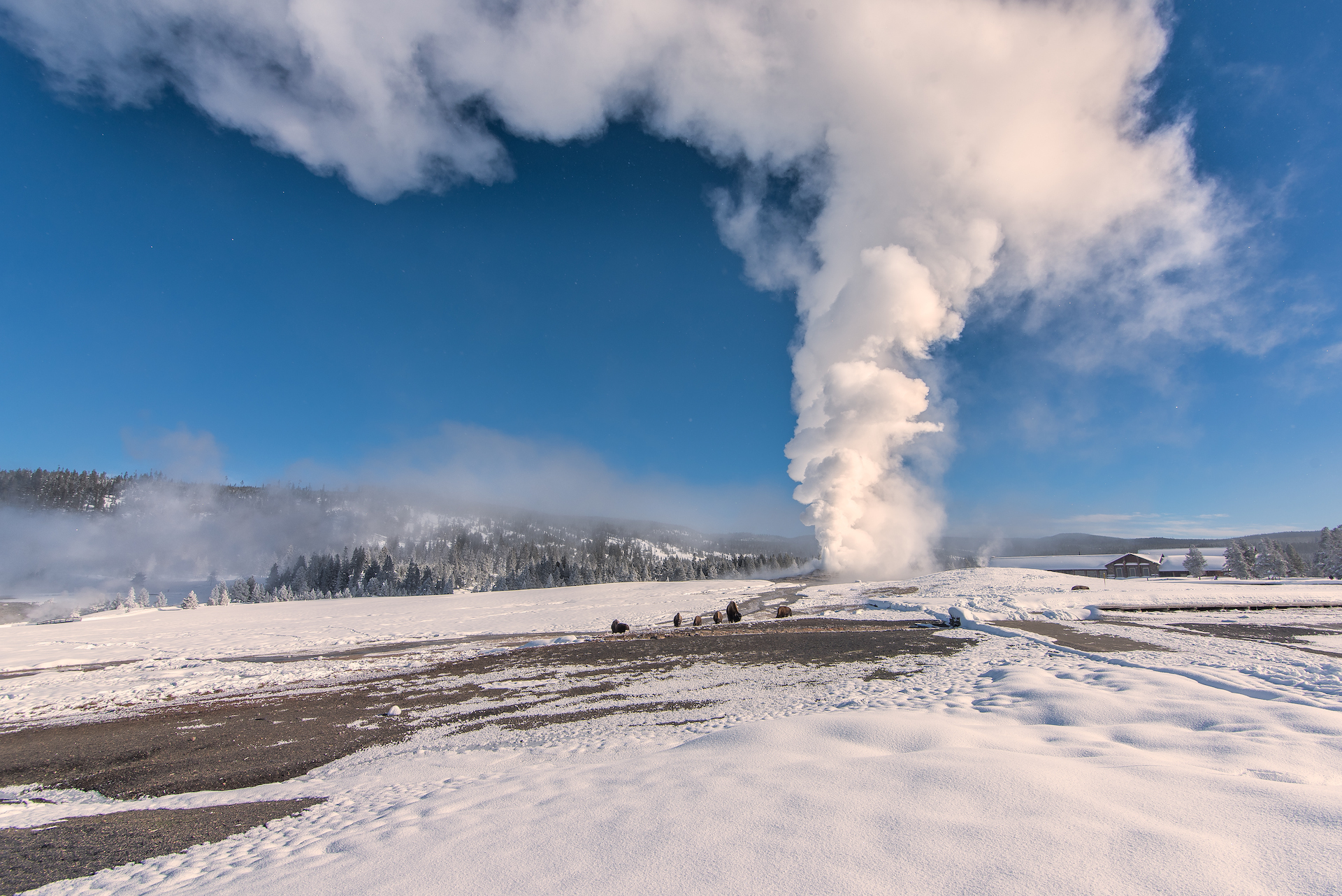 Entrance Fees
Both parks are open 7 days per week, year-round. Park passes are available online and at all entrance stations to the parks. The entrance fees to the two parks are the same, but unfortunately, you have to purchase separate passes for each park. Those interested in visiting both parks should check out the America is Beautiful Pass, a more economical option if visits to other national parks are anticipated. The fees for a 7-day pass to either park are as follows:
$35.00 per vehicle
$30.00 for motorcycles
$20.00 for visitors entering by foot, on a bike, or on skis
Annual Passes for either park are $70.00 and valid for one year through the month of purchase. The annual pass grants entrance to the park for the pass holder and their passengers in single (non-commercial) vehicles.
---
Services & Accommodations
Both parks offer dining and accommodations. Not surprisingly since it's the bigger park, Yellowstone has a few more options in both categories, with 9 lodges, 12 campgrounds, and a bevy of restaurants. Yellowstone's dining and lodging options are limited in winter, except at Mammoth Hot Springs and the Old Faithful Snow Lodge. Alternatively, Grand Teton National Park boasts 7 lodges, 5 campgrounds, and some lovely restaurants. Dornan's Pizza and Pasta Co. is the only restaurant that operates for most of the year (except November). Staying in Jackson Hole is another great option when visiting the parks, as it gives you access to a wider variety of hotels, restaurants, and attractions. We would love to help you plan your visit to Yellowstone and/or Grand Teton National Park. Please contact us to learn more.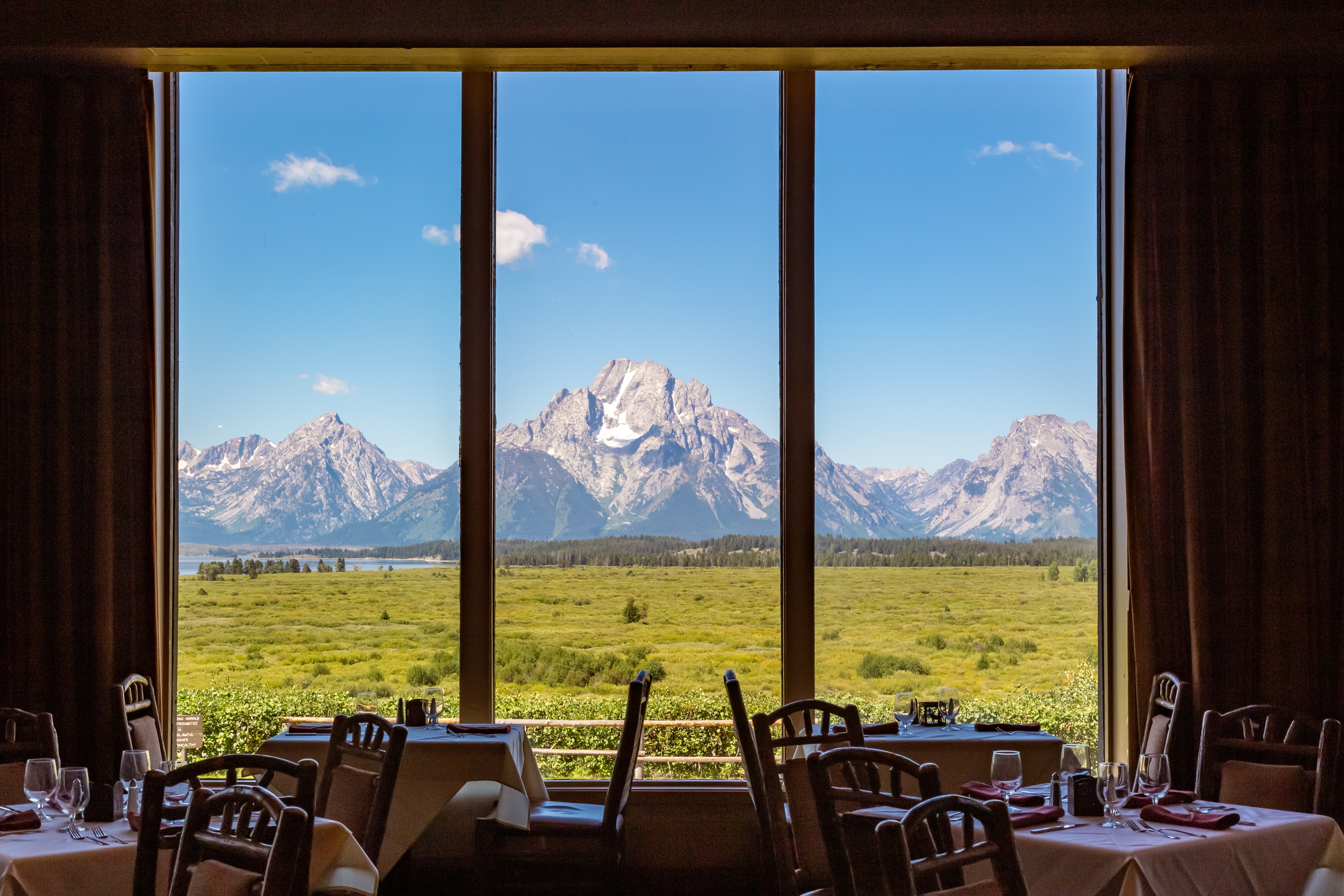 Wrap Up
There's really no wrong answer when it comes to choosing between Grand Teton and Yellowstone National Parks. Both offer natural splendor in spades. Each features its own brand of Rocky Mountain magic. So after all of this…which national park should you visit when vacationing in Wyoming? Our best answer is…both. After all, this is why they invented double-scoop ice cream cones. When it's too difficult to decide between two tantalizing flavors, as long as you have the appetite, treat yourself to both!