13 Must-Have Food Experiences in Jackson Hole
Will you try a Buffadilla, 307 Fries, or Pig Candy while you're here?
One of the best ways to experience a new place is through the local cuisine. When we talk with happy visitors and guests, they frequently report back that the food and dining experiences in Jackson are beyond compare!
Whether it's a casual family meal or a fine-dining experience, Jackson Hole is loaded with great options. Here is a list of 13 unique must-have food experiences while you're here:
1. Buffadilla
Ground buffalo, onion, peppers with spices and cheese in a flour tortilla, accompanied with salsa, guacamole, and sour cream.
Where to Get It: Alpenhof Bistro
2. 307 Fries
Braised Elk Gravy over pommes frites with Lark Meadow Farms cheddar cheese, and chives.
Where to Get It: Spur Restaurant & Bar
3. Top of the World Waffles
Try the Gateway waffle with peanut butter and bacon!
Where to Get It: Corbet's Cabin
4. Chuckwagon Dinner
Authentic cowboy cookin' with a show and music in Cache Creek Canyon.
Where to Get It: Bar T 5 Covered Wagon Cookout & Show
5. Pig Candy
Cooked in house daily, thick Applewood smoked bacon, coated with a blend of sugars and spices and baked low-and-slow for the perfect bite.
Where to Get It: Café Genevieve
6. Breakfast with a View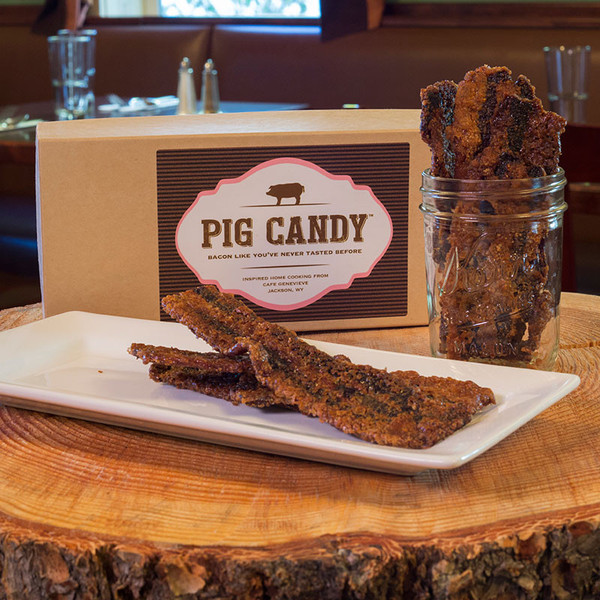 All you can eat pancakes at the Chuckwagon serving since 1948
Where to Get It: Dornans
7. Silver Dollar Burger
Half-pound ground beef patty, lettuce, tomato, onion mayonnaise, sesame seed bun.
Where to Get It: The Silver Dollar Bar
8. Elk Tenderloin
Filet of elk, Yukon mashed potato, blackberry-huckleberry tarragon jam, and Spring Creek coffee "red-eye" pan jus.
Where to Get It: The Granary
9. Bar Chicken
A local's favorite only available in the bar, hurry in because they sell out fast!
Where to get it: The Calico
10. Sweet Potato & Brussel Hash
Light up your taste buds on a brisk morning with this delicious warm dish in the beautiful Persephone Bakery.
Where: Persephone Bakery
11. 3 for $10 Tacos
Visit the oldest dive bar in the valley and you'll feel like you're going back in time. You're bound to run into a cowboy or two here! The tacos are excellent too!
Where: Streetfood at the Stage Coach
12. Buffalo Burger
All natural Montana-raised, you can't swing through town without making a pitstop and giving it a try!
Where: The Local
13. Tora Roll
Salmon, avocado, mango, Hamachi, jalapeno, yuzu and black salt. This roll is delicious and a must-try!
Where: King Sushi
If your mouth isn't watering by now, and you need even more culinary inspiration, then check out our restaurant page here!