When traveling, especially in tourist destinations such as Jackson Hole, a local's opinion can offer a refreshing and unique perspective. Here at Jackson Hole Central Reservations, we are lucky to live, work, and play in an area that is world-renowned for its natural beauty and unique culture. We have collaborated to highlight some of our favorite places in town, ones that you might not necessarily have heard about.
Breakfast
1. D.O.G.
D.O.G. or "Down on Glen," named aptly for its location on Glenwood Street, is one of Jackson's best-kept secrets. This hole in the wall pumps out the best breakfast burrito in Jackson. Get here early for a giant burrito that will fuel your whole day of adventure.

2. Pearl Street Bagels
A Jackson classic, Pearl Street Bagels has a cult following in town. They make their bagels fresh and continuously and time them so that the bagels on display will always be warm!
3. Persephone
A French-style bakery just one block from Town Square, Persephone may not be a "hidden" gem in Jackson, but their pastries and coffee are so good locals and tourists alike can't stay away. Combined with a chic atmosphere and a large outdoor patio, Persephone is a local favorite.
4. Cowboy Coffee
A cozy, warm café just off of Town Square, Cowboy Coffee is the perfect place to curl up with a good book, listen to chill music, and sip on one of their specialty beverages. Cowboy Coffee also sells beans, which are fresh roasted right here in Jackson Hole.
Hiking Spots
5. Josie's Ridge
Often dubbed the "after work hike," Josie's Ridge climbs steeply up to the top of Snow King Mountain. Often less crowded than the main Snow King trails, Josie's is not for the faint of heart! The reward? Stunning views of the town of Jackson and the Teton Range.
6. Death Canyon to Phelps Lake
Death Canyon may sound scary, but this 5-mile roundtrip hike is a favorite of locals and tourists alike. It's one of the few hikes in Grand Teton National Park that doesn't require you to go through an official park entrance, and offers a non-traditional view of the Teton range. Either turn around at the Phelps Lake Overlook, or continue down for a dip in the refreshing water.
Photo Opportunities
7. Snake River Overlook
Definitely not a secret (this spot was made famous by photographer Ansel Adams) the Snake River overlook is still a favorite place to go for that classic shot of the Tetons. Head out right before sunset to really enhance your picture!
8. Wedding Tree
Nestled in the Gros Ventre and requiring a short walk to get there, the Wedding Tree is easy to pass by if you aren't aware of it. A designated camp spot in the National Forest, not only can you get a gorgeous picture here, but bring a hammock and relax!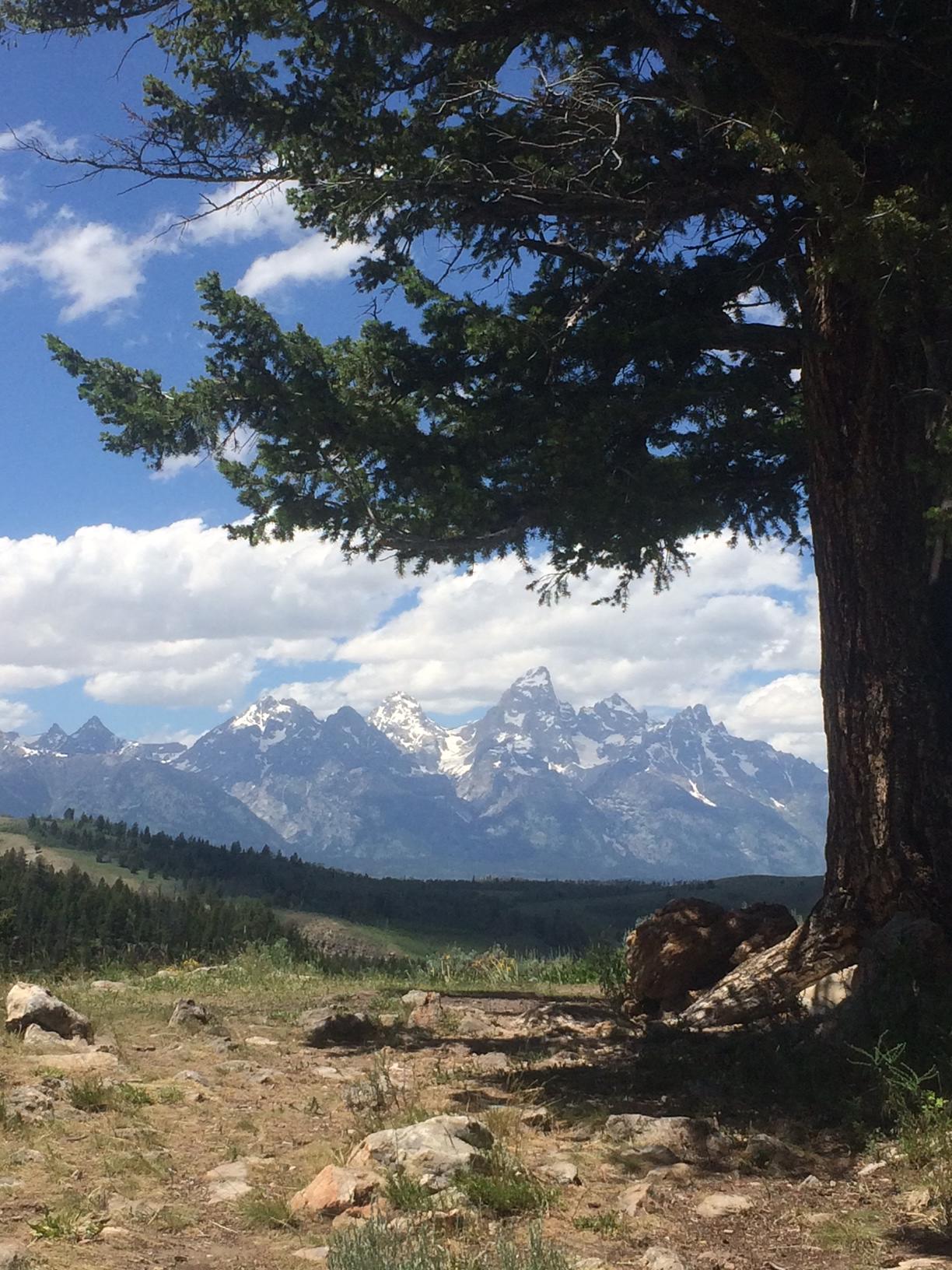 Swimming Spots
9. Phelps Lake Jumping Rock
After a long day hiking or exploring in Grand Teton National Park, there is no better spot to cool off than Phelps Lake. A large rock on the eastern shore offers the perfect place to jump in and get your adrenaline rush. The flat top of the rock is a popular space for locals to hang out and bask in the sun (and to warm up after a dip in the glacial waters!)

10. Granite Hot Springs
Hidden in the Gros Ventre range, Granite Hot Springs is the ultimate way to unwind after a long day. In addition to the naturally occurring hot spring, the Granite Creek campground also offers fishing, campsites, and a swimming pool.
Happy Hour
11. Bin 22
This cozy bottle shop and tapas restaurant has one of the best happy hours in town. Enjoy half price drinks from 4 to 6pm. After happy hour, choose from the store's extensive selection with no corking fee. The delicious small plates and outdoor patio make this place full to the brim with locals!
12. Hatch Taqueria & Tequila
This modern Mexican restaurant in downtown Jackson not only has some of the best outdoor seating in town, but also great happy hour deals. Sip on $6 margaritas and their specialty drinks "La Paloma," as well as beer specials and discounted nachos and tacos.
Patio Dining
13. The Deck at Piste
Located at the top of Bridger Gondola at Jackson Hole Mountain Resort, Piste offers some of the best views of the valley. Enjoy a free gondola ride up after 5pm (or hike if you are feeling adventurous) for a night on the deck.
14. Dornan's
With the best view in Jackson Hole, Dornan's is a local classic. During the Summer months, Dornans offers a range of services from The Spur Ranch Cabins, The Pizza & Pasta Co., The Chuckwagon-Grill, The Spur Bar, our Wine Shop with an outstanding wine selection, as well as a wide variety of alcohol and beer/microbrew options, The Trading Post Grocery Store/Deli, ATM, gasoline, the Coffee/Ice Cream Cart, Adventure Sports mountain bike, canoe and paddle board rentals and our Gift Shop.

15. The Bird
They say it themselves, they are "no-nonsense good eatin' and booze!" The Bird's family-style seating and delicious burgers make it a local favorite. The large, dog-friendly back porch is packed night after night with locals. Grab a seat and make some new friends! Disclaimer—these burgers offer a unique twist, instead of buns they are served on English muffins.
16. Local
The name says it all. Stop in for one of the best burgers in town sourced from livestock in the valley. Offering both a bar menu and a full service menu, Local has something for everyone. Don't miss their specialty cocktails and truffle fries with dipping sauce!
Live Music Spots
17. Silver Dollar Bar & Showroom
Just off Town Square, The Silver Dollar located in the Wort Hotel, is often referred to by Jackson residents as the "Wort," Tuesday nights are a local favorite. Swing by and catch One Ton Pig for some bluegrass tunes and good old-fashioned dancing.
18. Jackson Hole Live -Suspended for Summer 2021 due to new Gondola construction at Snow King Mtn - see you in 2022!
The arrival of summer in Jackson brings everyone's favorite event: Jackson Hole Live. This summer concert series is great for the whole family. You'll find our team at Central Reservations here when the office closes! Food and beverage trucks and great dancing and great music make these concerts a must-do
19. Cowboy Bar
While the Million Dollar Cowboy Bar may be one of Jackson's best known spots for nightlife, that doesn't make it any less appealing for those of us who live here. Free swing dance lessons on Thursday nights, live music, and the classic saddle barstools will never go out of style.
Romantic Meal
20. Wild Sage (CLOSED SUMMER 2021)
With only eight tables, Wild Sage is the perfect place to escape and enjoy the company of a loved one. Locals and visitors alike will be charmed by the welcoming and attentive staff and the rustic feel of the Rusty Parrot Lodge. The only restaurant in Jackson Hole to be given a AAA Four Diamond award, Wild Sage is a perfect choice for a romantic date or any special occasion.

21. The Granary (CLOSED SUMMER 2021)
With unmatched views of the Tetons, The Granary at Spring Creek Ranch is romantic in its own right. Add live jazz music on Fridays and a piano bar on Saturdays, and your romance will be taken to the next level!
Whether you are a first time visitor or a seasoned Jackson traveler, we can help customize your package so that you see our valley through the eyes of a local. Call our friendly team of experts today to begin planning your trip to Jackson Hole! (800) 838-6606