Were you in Jackson Hole on Monday August 21, 2017 when we experienced the first total solar eclipse viewable from within the United States since 1979?
To see the complete eclipse, stargazers traveled to strategic locations within the eclipse path. Jackson Hole, Wyoming was lucky enough to be directly in the path of the eclipse, making it one of the best places to observe this celestial rarity!
While partial eclipses are quite common, total solar eclipses are extremely rare and impossible to view fully without being directly in the eclipse's path. To give you an idea of how rare this event is, the last visible total solar eclipse in the Northwestern U.S. occurred thirty-eight years ago!
12 Amazing Photos of the Solar Eclipse in Jackson Hole:​
How Does a Total Solar Eclipse Happen?
A total solar eclipse occurs when the sun, moon and earth lineup, turning day into night for several minutes and revealing the night sky, a 360-degree sunset, and the sun's corona shining from behind the moon. With the proper solar viewing glasses and safety measures, viewers may even look directly at the sun. A total solar eclipse is a bucket list item for many nature enthusiasts, stargazers, and photographers and past viewers say it is one of the most thrilling things they have ever seen.
Did You See The 2017 Solar Eclipse in Jackson Hole?
Jackson and the southern part of Grand Teton National Park coincided perfectly with the eclipse path. Viewers in Wyoming saw two minutes and twenty seconds of total eclipse at about 11:35 a.m. local time. The image below shows the path of totality cutting across Wyoming, with Jackson and the southern areas in Grand Teton Natinoal Park directly in line with the best viewing.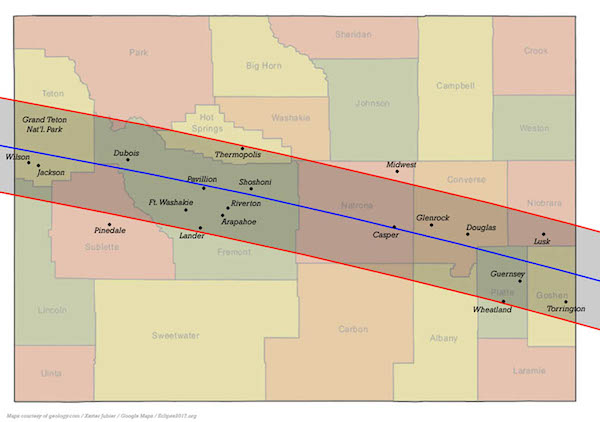 You'll have to wait seven years for the next opportunity to see a total solar eclipse in North America. Start planning now!