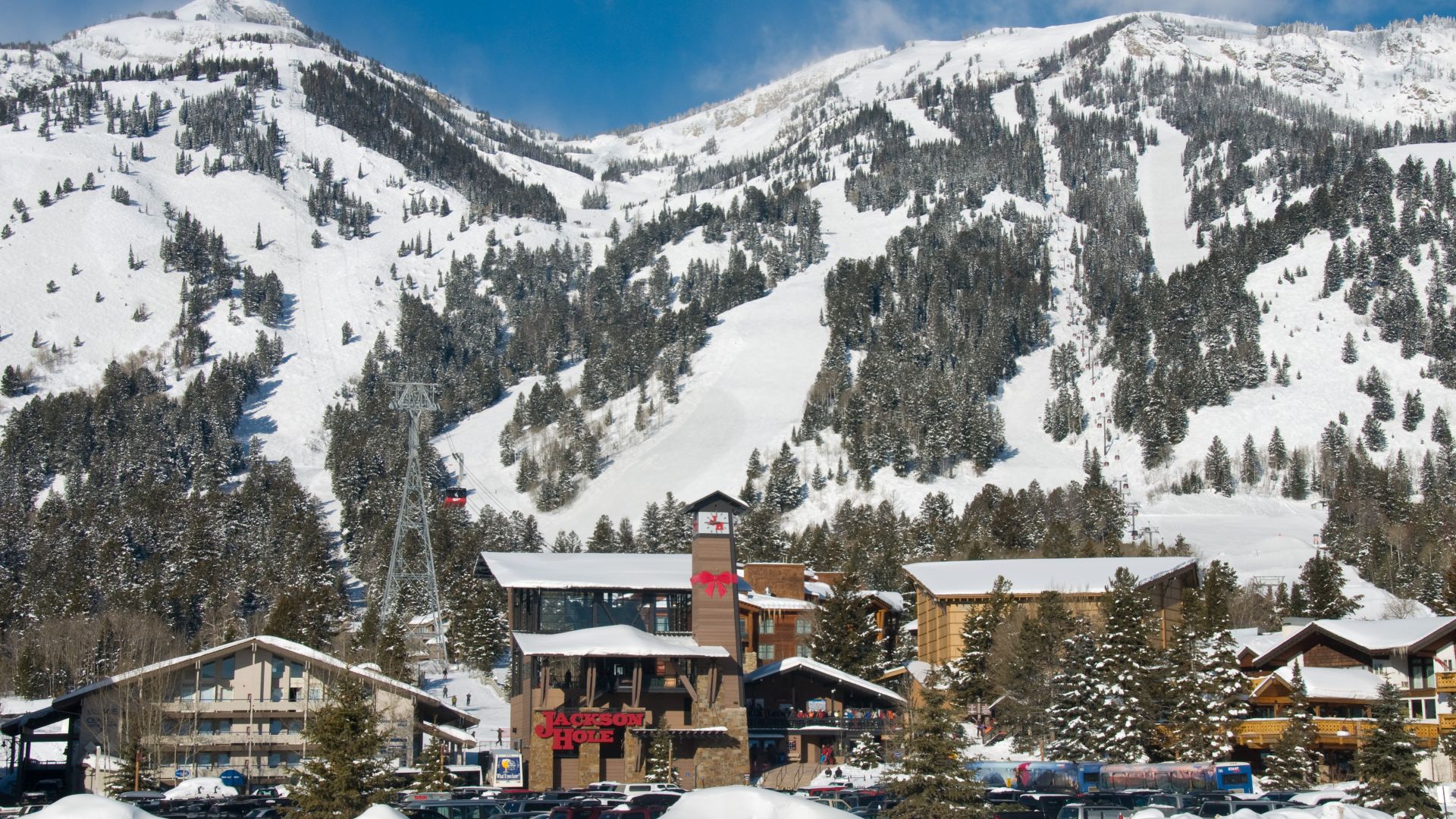 Jackson Hole Mountain Resort
It's a world-class resort with an old West attitude. Our buildings may change, but our spirit stays the same. Skiing and snowboarding in the winter, and mountain biking, hiking and aerial tram rides in the summer...this is truly, a year-round resort!
Winter Quick Facts:
Operating Hours: 9:00am - 4:00pm daily, half-day skiing begins at 12:30pm
Ski Area Acreage: 2,500 acres
Terrain Difficulty: 10% Beginner, 40% Intermediate, 50% Advanced/Expert
Lift System: 100 passenger Aerial Tram, 8-passenger Bridger Gondola, 2 High-Speed Quad Chairs, 4 Fixed Grip Quad Chairs, 2 Triple Chairs, 1 Double Chair, 1 Magic Carpet Lift, 1 Handle Tow
Longest Run: 4.5 miles
Vertical Rise: 4,139 continuous feet (1,261m)
Machine Groomed Terrain: 22 miles
Snowmaking: 195 Acres
Average Snowfall: 459"
Daily Ski Report: 888-DEEP SNO
Beginner, intermediate and advanced skiers and riders have a wide choice of programs from which to choose. Our novice programs, including Learn to Turn(TM) and Burton's Learn-To-Ride(TM) specialize in introducing newcomers to snow sports using equipment created specifically for the new enthusiast. We've created package deals that include lift tickets, ski or snowboard rentals and lessons.
Jackson Hole Mountain Resort Alpine Guides can show you secret stashes in-bounds or safely guide you through the backcountry. Our children's programs, available for ages six months through 14 years, include Daycare, Fort Wyoming, Sky-Cology, and Team Extreme to name a few. During the evening, treat yourself and your family to great apres, dinner and entertainment at one of the many restaurants and watering holes in Teton Village. And, although the entire mountain remains accessible via chairlift, Jackson Hole welcomed back "Big Red" in 2008. Visitors are now able to ride the 100-passenger aerial tram 4,139 vertical feet from top to bottom in just nine minutes!
Jackson Hole Mountain Resort Ski Map
Awards and Recognition:
Ranked #1 in Overall Satisfaction, Character, Variety, and Challenge by SKI magazine
Ranked #1 Ski Area in the United States by Forbes Magazine, Three Years in a Row
Summer Quick Facts:
Aerial Tram: May 18 - October 6, 9am - 5pm
Aerial Adventure Course: June 8th – September 2nd daily from 10:00am-6:00pm. The last group will be harnessed in at 5:00pm.
Bike Park: June 8th - Sept 2nd open 10 AM – 6 PM, Adults $37, Junior (0-17) $37
Tandem Paragliding: $395, meeting times start at 7:45, weather permitting.
Yoga on the Deck: July 6th - Aug 31st, Thursdays and Saturdays, Gondola loads at 9 am, class from 9:30 am-10:30 am. $30 per person.
The Deck @ Piste: Open June 14th-Sept 8th. FREE GONDOLA RIDES START AT 5 p.m. Be sure to check for event/weather closures.
Kids Ranch Summer Day Camp: ages 3-7. Price is $160. Open 6/17-8/30. Monday - Friday 9am – 4pm.
Teton Village offers many opportunities for summer adventure, shopping, and dining. Activities include tandem paragliding rides, horseback riding and happy hour at the top of the gondola. Kids will enjoy trampoline jumping and climbing the rock wall at the Kids Ranch Day Camp. And no visit to Teton Village is complete without an Aerial Tram ride and waffles at Corbet's Cabin!
Jackson Hole Mountain Resort Summer Hiking Map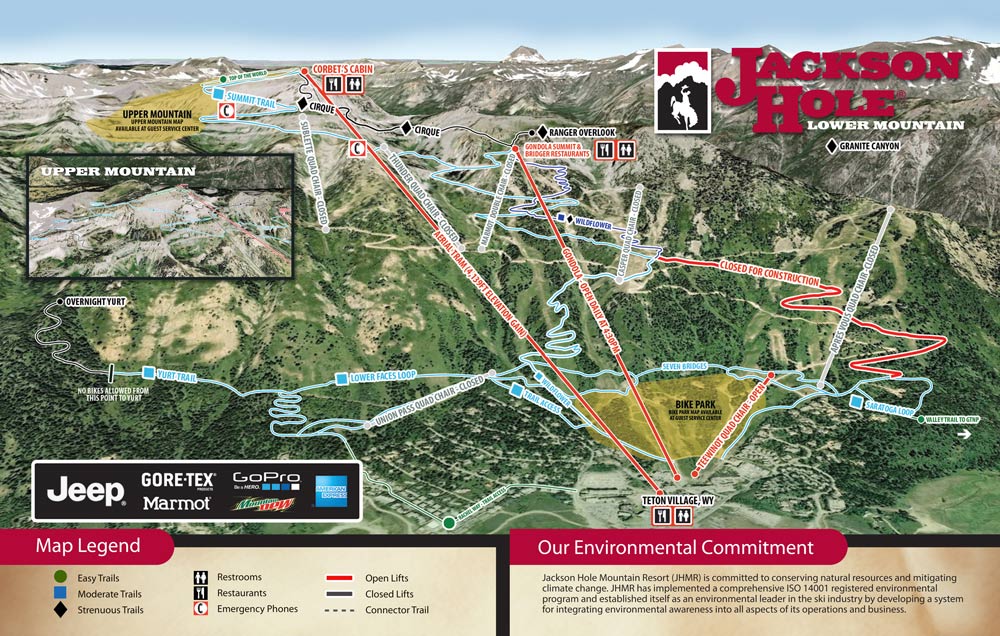 (Click map to enlarge.)
Featured Partners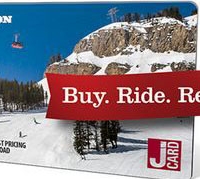 *lift tickets must be packaged with lodging. Please add lodging to your package before checking out. Purchases of lift…
Book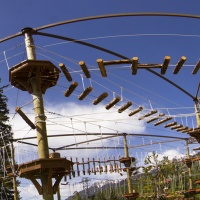 06/22/2018
The whole family will enjoy ropes courses, climbing walls, a mountain coaster and more!
More Info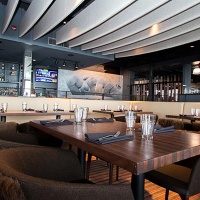 02/04/2020
Find the best places to eat while skiing the Tetons.
More Info
Book online and save up to $300 Per Person on Airfare
Receive up to $300 off your airfare per person when you book your roundtrip flights, lodging, and lift tickets or an equivalent winter activity.
Book Now