What It's Like to Try Shooting in Jackson Hole
Even if you are new to shooting, a day at the range is educational and fun!
At JH, we're always up for getting outdoors and learning something new. Recently, our team had an opportunity to spend the morning with Jackson Hole Shooting Experience. The shooting range is located just a short drive from downtown Jackson and Teton Village, and offers safe, fun, and educational experiences for any skill level. None of our team members had any significant prior experience in handling or shooting firearms - so we were all excited to get started and learn more!
When we arrived at JH Shooting Experience, we were met by the owners Shepard Humphries and Lynn Sherwood who were going to share their multi-gun pistol and rifle experience with us. The morning started a thorough explanation of range and gun safety. They put a huge emphasis on safety, but also explained as much as possible to make everyone comfortable and excited to begin shooting.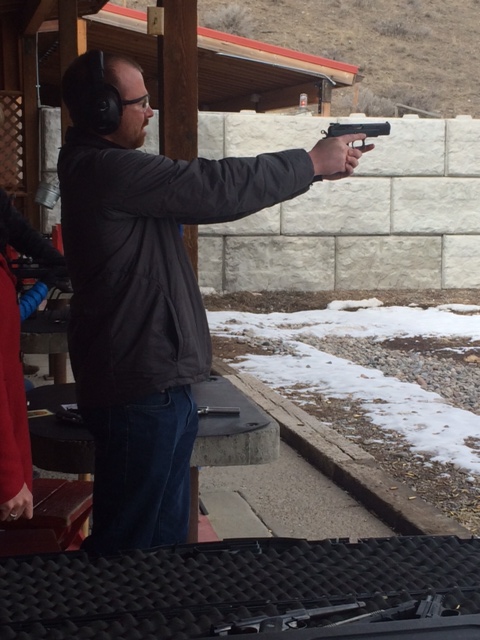 We broke into two groups, the first group shooting pistols with Lynn and the other shooting rifles with Shepard. Since our team had very little experience as a whole shooting guns, we began with smaller caliber options to get used to the action of the trigger and the recoil of the gun. It was surprisingly challenging to hit targets as close as 15 yards away with the hand guns. The rifles were a little easier to aim and the group easily hit the target 100 yards away.
After we got used to the smaller caliber guns, we tried more challenging targets and shooting multiple shots at several targets at a time. When we were all getting more comfortable and used to the experience, the big guns came out. We each got to shoot with guns ranging from the the .50 caliber Desert Eagle to the 45 magnum and the Remington M700 Sniper Rifle. The more powerful guns were really challenging!
After we were done shooting for the day we toured the rest of the range with Lynn who told us about all the other programs they offer, such as clay shooting and archery. Now we can't wait to go back and try these other activities! As we were preparing to leave, we were each given a personalized key chain made from a shell casing. Even if you're a beginner, a trip to Jackson Hole Shooting Experience is a great introduction to shooting.