8 Dog Friendly Hikes Around Jackson Hole
Here are 8 dog friendly adventures to enjoy with your four-legged friend!
One of Jackson Hole's biggest draws during the summer months is its close proximity to two of the country's most notable national parks, Grand Teton and Yellowstone. Unfortunately, dogs aren't permitted on any of the unpaved trails within either park. This might limit the day hikes and excursions those traveling vwith dogs can embark on while visiting the area. Almost everyone who works at JH has a dog, so we came up with our 8 favorite dog-friendly adventures that offer awesome alternatives to national park day hikes. Things we took into consideration to make these pup-friendly were access to water, mileage (long enough to get a workout but not so long you're dog will disown you) and of course, views.
Devils Staircase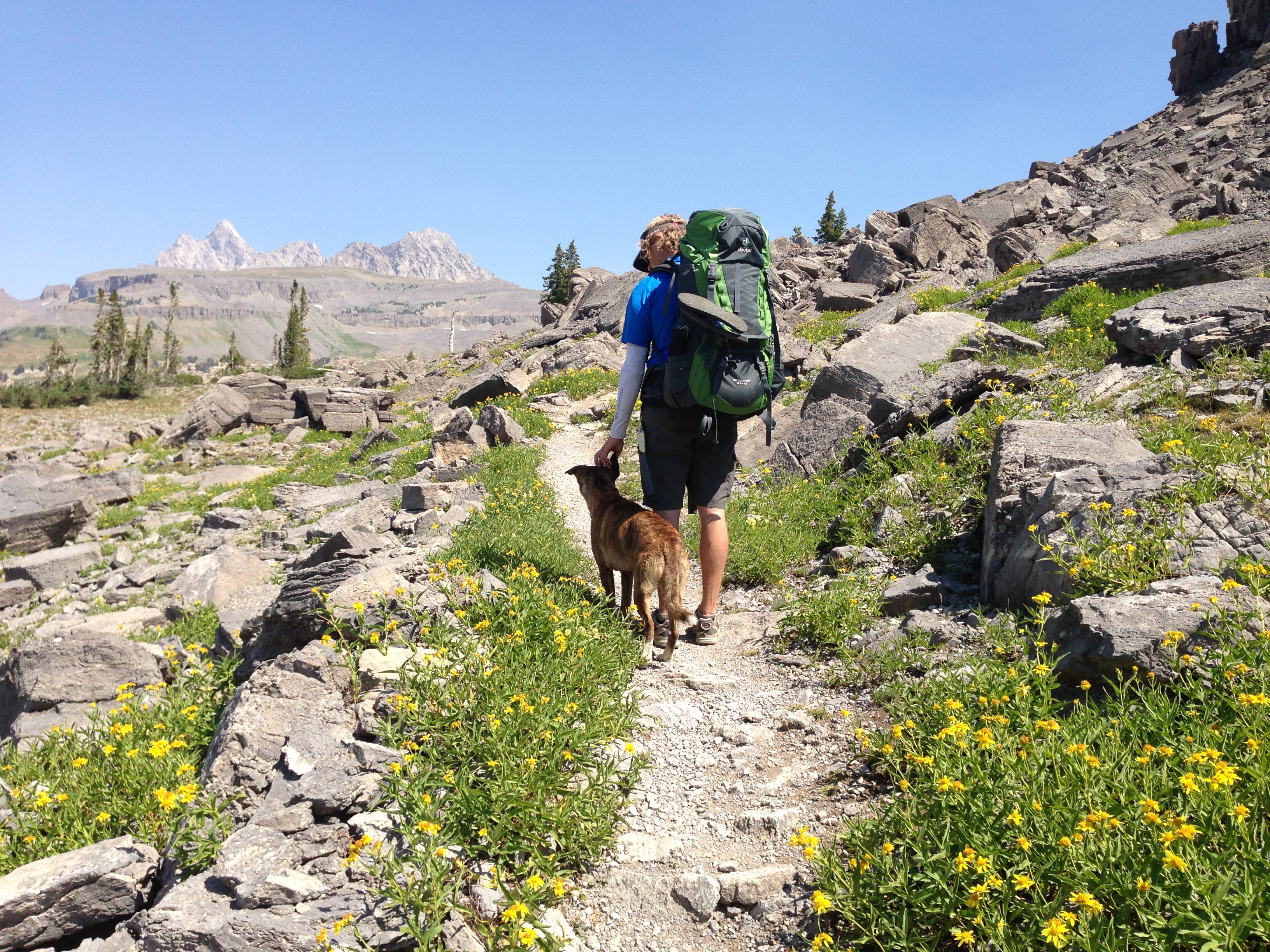 Bhoga and human Frederick are hitting the trail for the Alaska Basin. Check out those wildflowers in bloom!

Head east of Driggs, ID and park at the Teton Canyon bottom lot. Pick up the South Teton Canyon trail, which runs adjacent to the South Teton Creek for the first 3 miles, giving your dog plenty of opportunity to hydrate. At the junction, head right towards Devils Staircase. The strenuous climb switchbacks for about a mile before opening up into an alpine meadow, where the trail flattens out and cruises the ridge. In prime wildflower season (mid-late July), you'll be blown away by the bright color palate of these blooming fields. The cliffs on your right and views of the cathedral group to your left are incredible. Another creek follows about 3 of the 4.5 miles of this section of the hike, which dead-ends at the Teton Crest Trail. You and your dog can either turn around and go back down from here, head south to Mount Meek Pass and the Grand Teton National Park border, or venture north toward Alaska Basin. A couple of miles into Alaska Basin, you'll be able to pick up the South Teton Canyon trail back to the parking area. Approximate mileage: roundtrip 14 miles (out and back) 18 miles (with Alaska Basin detour)
Table Mountain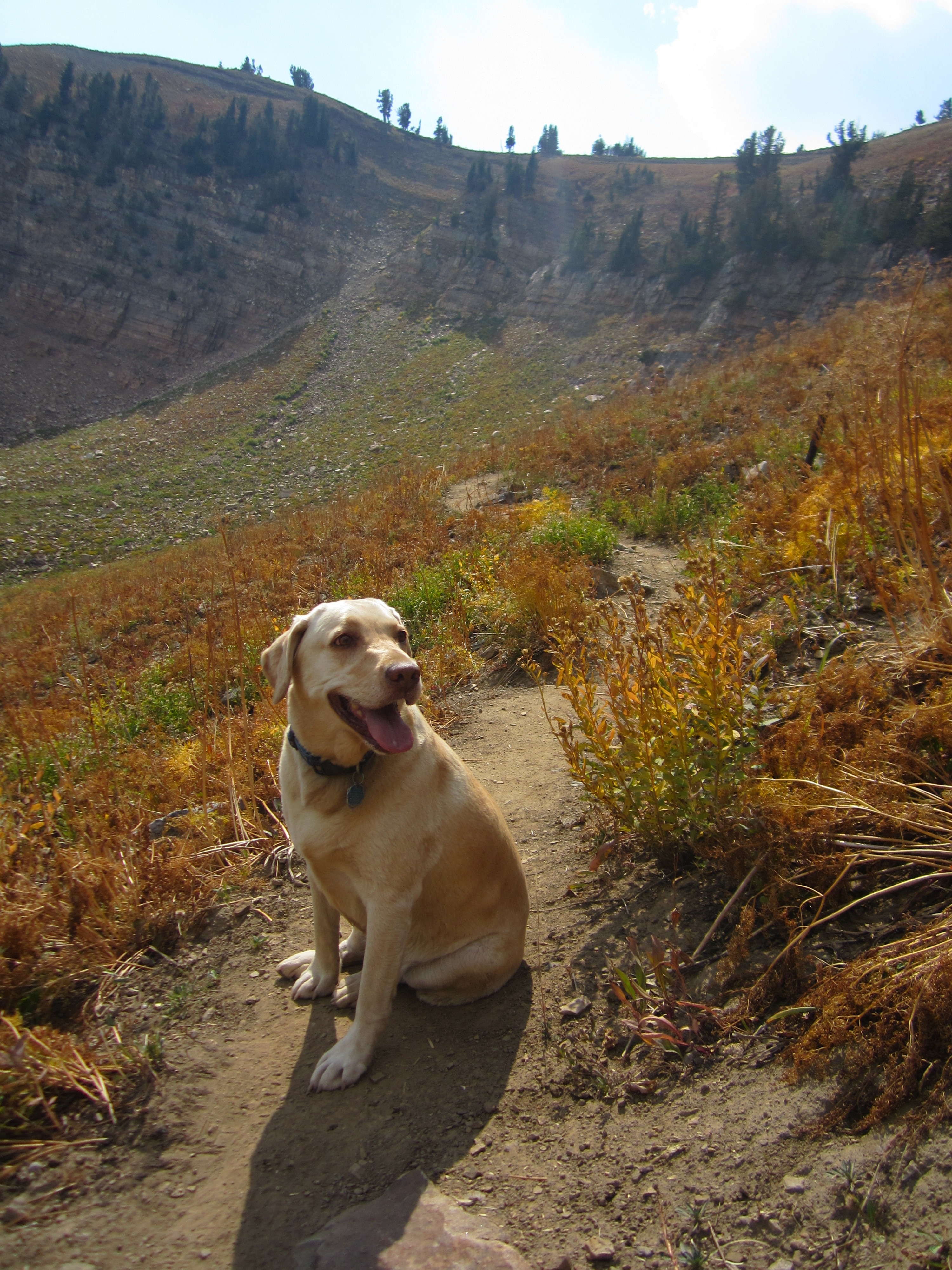 Just a dog enjoying a break, anxious for his human to hurry up!


You will also start this hike at the Teton Canyon parking area. Start from the upper lot and follow the North Teton Canyon trail, which parallels North Fork Teton Creek, for about 4.5 miles. Jump on the Face Trail for the last 1.4 miles to the summit. The final climb to the table top is pretty steep, but you and your furry friend will be rewarded with one of the most unique views of the Grand. For a fast track back, stay on the Face Trail. This saves a couple of miles, but there is a little less access to water for your pup. Approximate mileage: roundtrip 11 miles (out and back) 7 miles (Face Trail).
Jackson Peak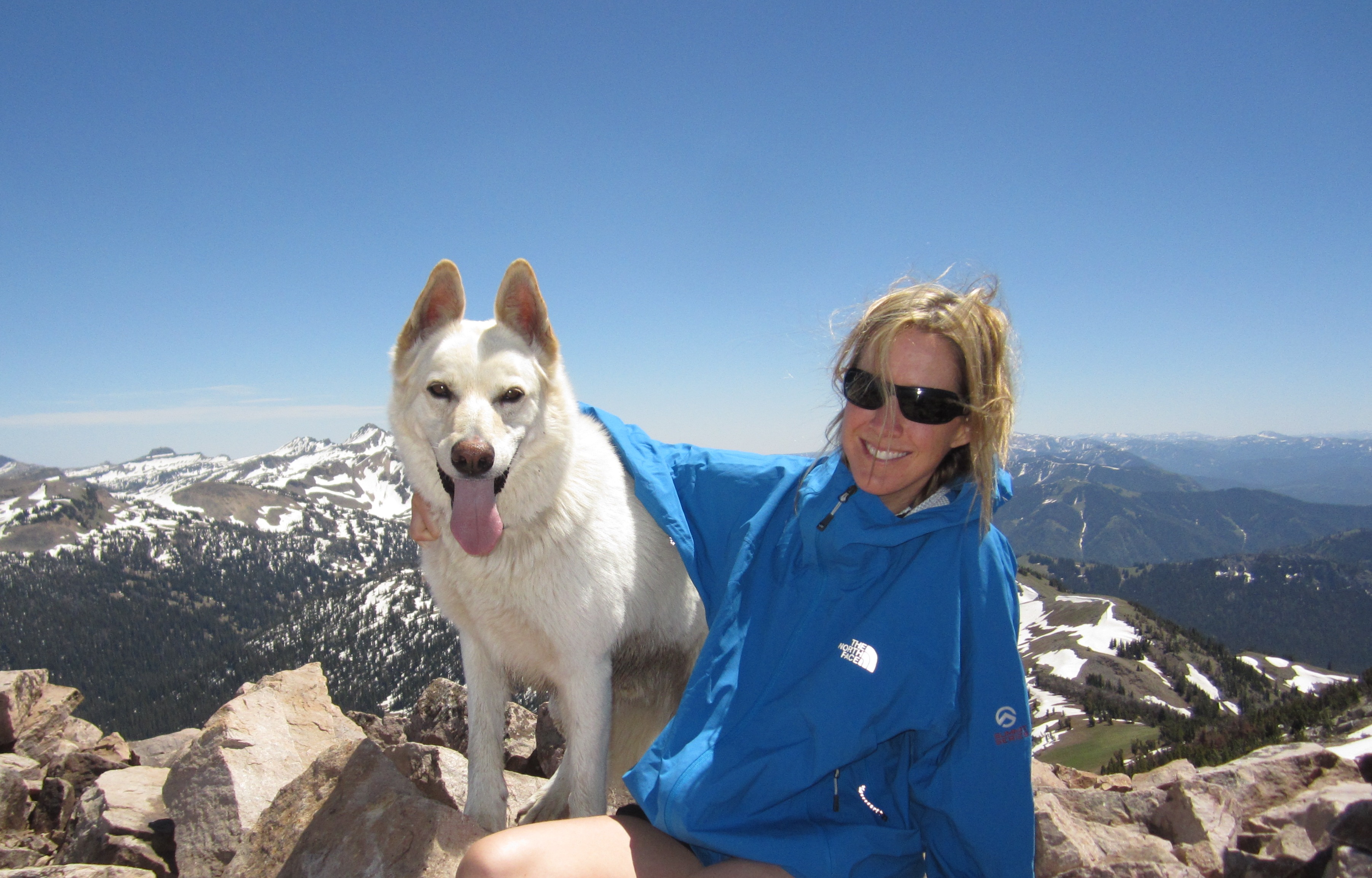 Racer taking in the views from Jackson Peak. He even brought his human!

The hike to Jackson Peak is popular among the Cenral Reservation staffers because of its convenient, close-to-town location. The trail starts at the Curtis Canyon parking area, which is about 9.5 miles down the Elk Refuge Road. What we like about this hike is the opportunity to stop at Goodwin Lake (3 miles from trailhead) to let the dogs swim and have lunch. The trail continues past the lake for another 2.5-3 miles to the summit of Jackson Peak. You'll get great views of the Gros Ventre, Tetons and Snake River valley. Approximate mileage: roundtrip 11 miles.
Sleeping Indian, on Sheep Mountain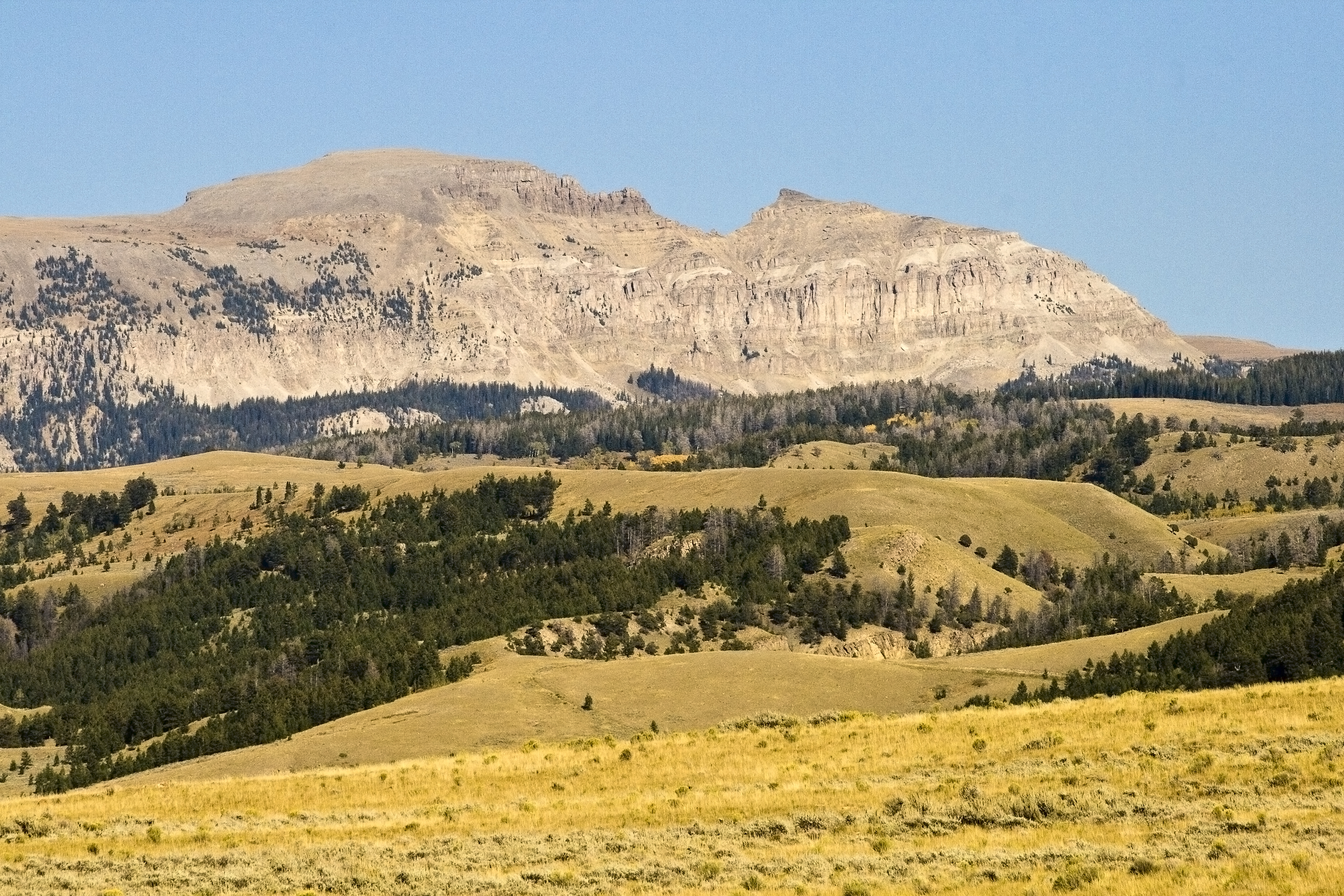 Stunning view of Sheep Mountain with the "Sleeping Indian" Formation.


This hike is relatively close to Jackson Peak and is one of the most well-known peaks in the valley outside of the Tetons. The elevation gain is pretty serious throughout, but the views make up for all the hard work you'll do! To get started, head to the end of Broadway in Jackson and turn left onto the Elk Refuge road. Go all the way to the East Parking Lot (don't turn right onto Curtis Canyon). About a mile or so beyond the East Parking Lot you will see a parking area for the trail. The trail runs for 14 miles and there are gorgeous wildflowers along the way. Just remember to pack water for your four-legged friend, as there is no water available along the trail.
Ski Lake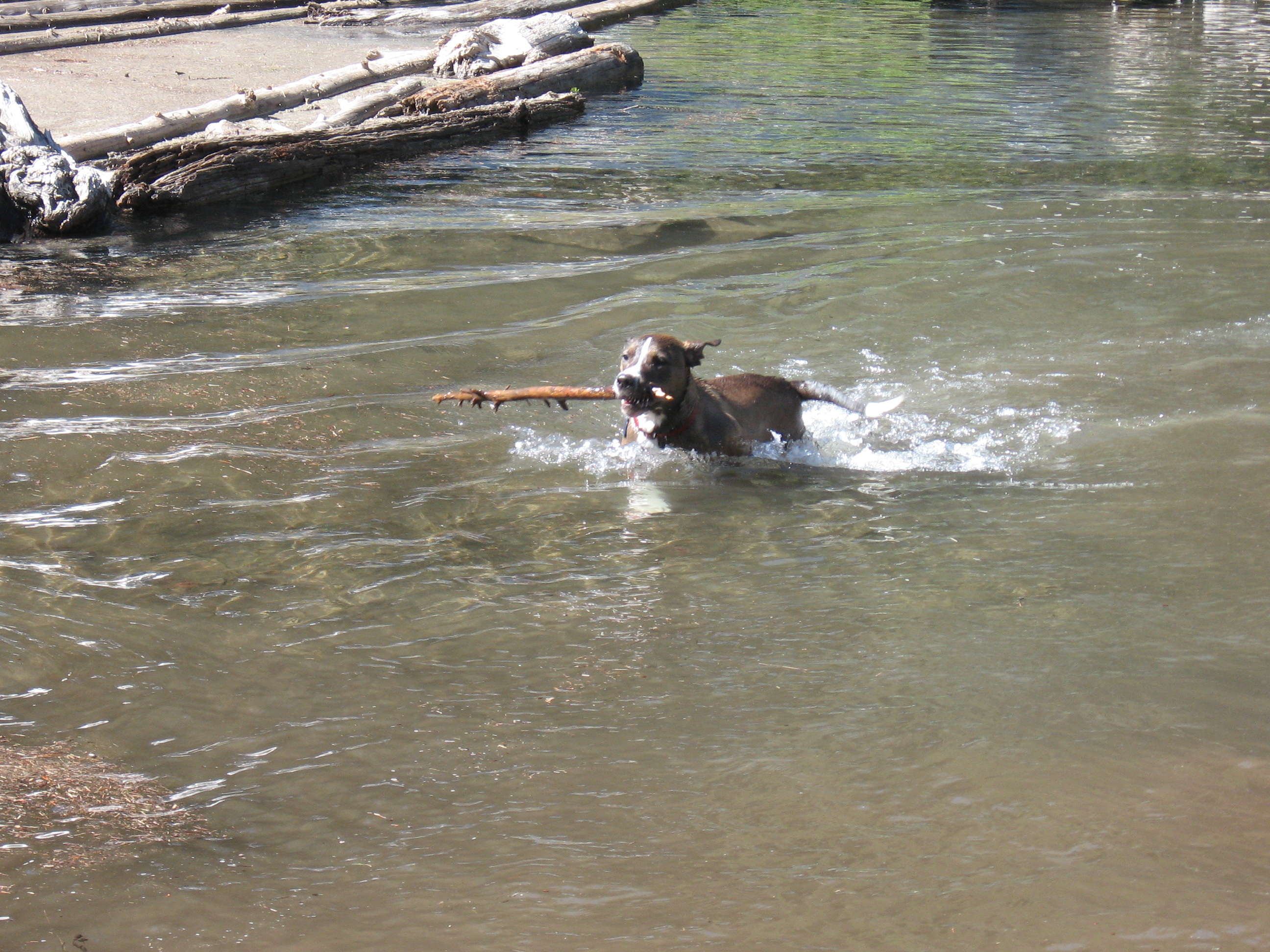 A water-happy dog plays an epic game of fetch on Ski Lake.
One of the most popular hikes in Jackson, Ski Lake is the perfect half day excursion for kids, and adults alike. And, best of all, it's fun for dogs! Ski Lake the most easily accesible alpine lake in the valley. That means it's a great spot to cool off after a hot day in the valley. From town, you can head toward Wilson and then up Teton Pass. The road bends sharply left and soon after you will reach a large parking lot, also on the left-hand side. Park here and cross the road following a sign for Phillips Canyon. The trail is well-marked and heavily trafficked. Follow this until you cross a bridge—then fork left. Roundtrip to Ski Lake is only 4 miles, and has little elevation gain. There is plenty of water along the trail for dogs, so don't worry about packing any!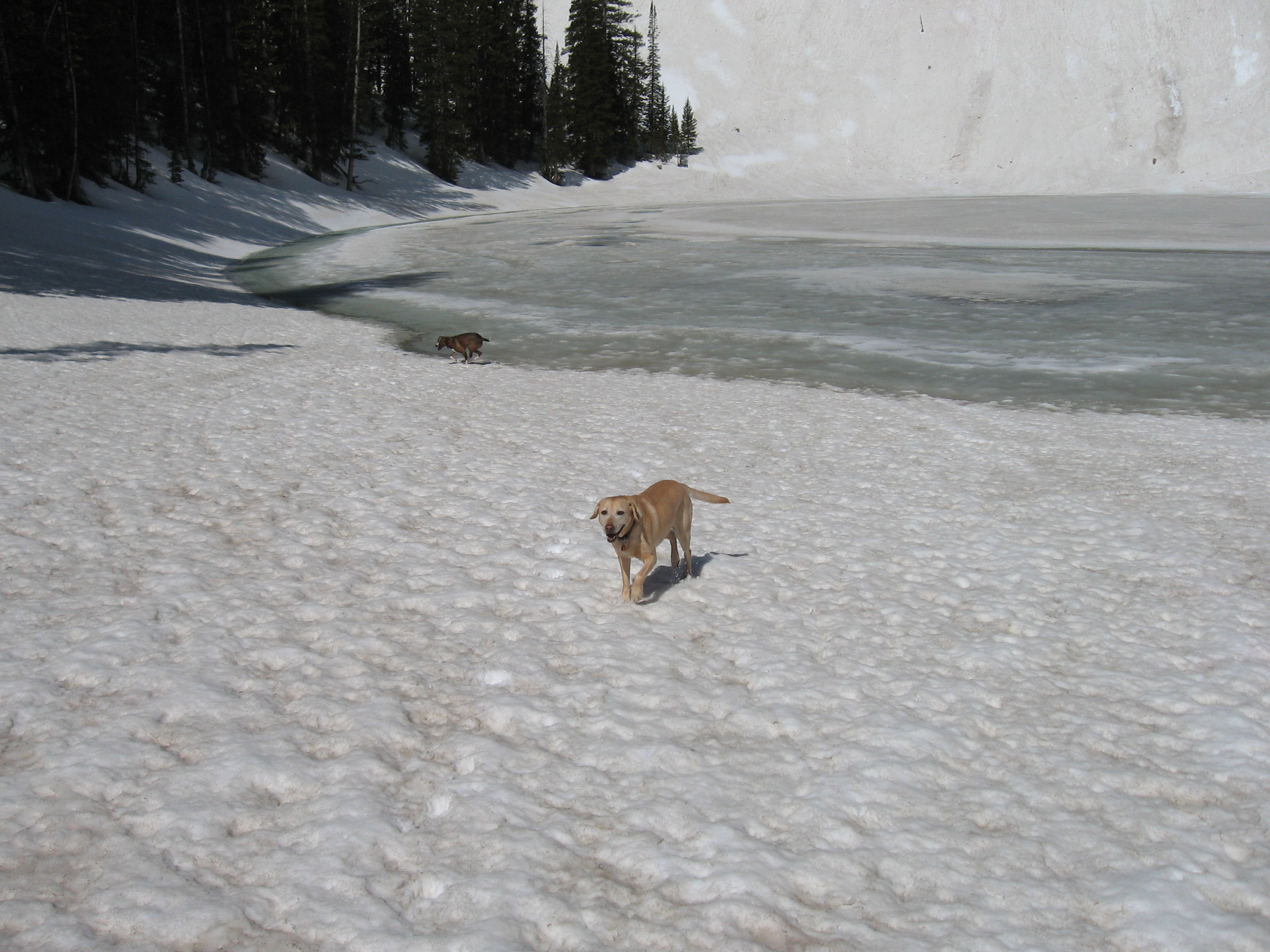 Two snow dogs, enjoying the snow pack on a crystal clear, winter's alpine day.
Cache Creek Trail
Another hiking spot loved by locals, the WY staff, and visitors to our region is Cache Creek Trail. Best of all, it's great for dogs on vacation as its a fairly easy trek. The trails -- including the Putt Putt Trail, Ferrin's Trail, and the Hagen -- are busy year-round. Sometimes the snow pack in winter is so traveled upo you may not need your snowshoes -- but be sure to pack them just in case! Best of all, the busy trails mean a great chance for you to socialize and your dog (or dogs) to make some new friends. It's a super quick drive from your accomodations in Jackson, just about 10 minutes from downtown in fact. So if you, or your active dog may need some R&R after only a short time the drive home won't wear you out.
Emily Stevens State Park
A great hike with your dog doesn't necessarily mean a 10 mile -- or more -- trek. For senior dogs, smaller dogs, or just dogs that like to chill, Emily Stevens is a great option. With only three miles of trail to explore, Emily Stevens is a low-pressure, super dog-friendly experience for you. Your dogs can run free while you admire the stunning views of the Grand Tetons. Your water-loving pooch will be happy to find the small lake or pond to take a dip in after running all around with his new-found canine pals.
Bonus: Shoshone National Forest
Ok, this one is a 3.5 hour drive. But, if you're visiting us in the Grand Tetons and Yellowstone area you may be on a road trip. This might be a great way to cap off or begin your journay to Jackson Hole. Shoshone offers 1,300 miles of dog-friendly treks! That's right! As long as you have your pooch leashed or know they repsond well to verbal commands you're welcome to let your dog roam. Explore rugged peaks, glistening glaciers, dog-ready streams, roaring rivers, peaceful plateaus, and more. Picnic areas, and four scenic byways traveling through this incredible natural attraction awaie you.