The unmarked trail head combined with an intense elevation gain makes this spot one of the best kept secrets of the park. Please proceed with caution, carry bear spray, and be prepared for a full-day hike that is not to be taken lightly. This is a moderate to difficult day hike.
Finding the Path
There are two ways to approach this hike. The most common way is to take the ferry across Jenny Lake and unload at the West Shore Boat Dock. From here, follow signs for String Lake, and about 100 feet after the second bridge crossing take the unmarked path on your left. Alternatively, you can start at the String Lake parking lot, cross the hikers' bridge, and follow the trail along the shore of Jenny Lake for about 1.5 miles. This is a flat section and at a good pace should take you about 30 minutes. Before reaching the boat dock, you will cross over several foot bridges. When you cross the bridge with a significant step down, take notice of the path on your right, directly south of a large fallen tree. This path is easy to miss; if you cross over another bridge you have gone too far. A small circle of rocks marks the beginning of the path.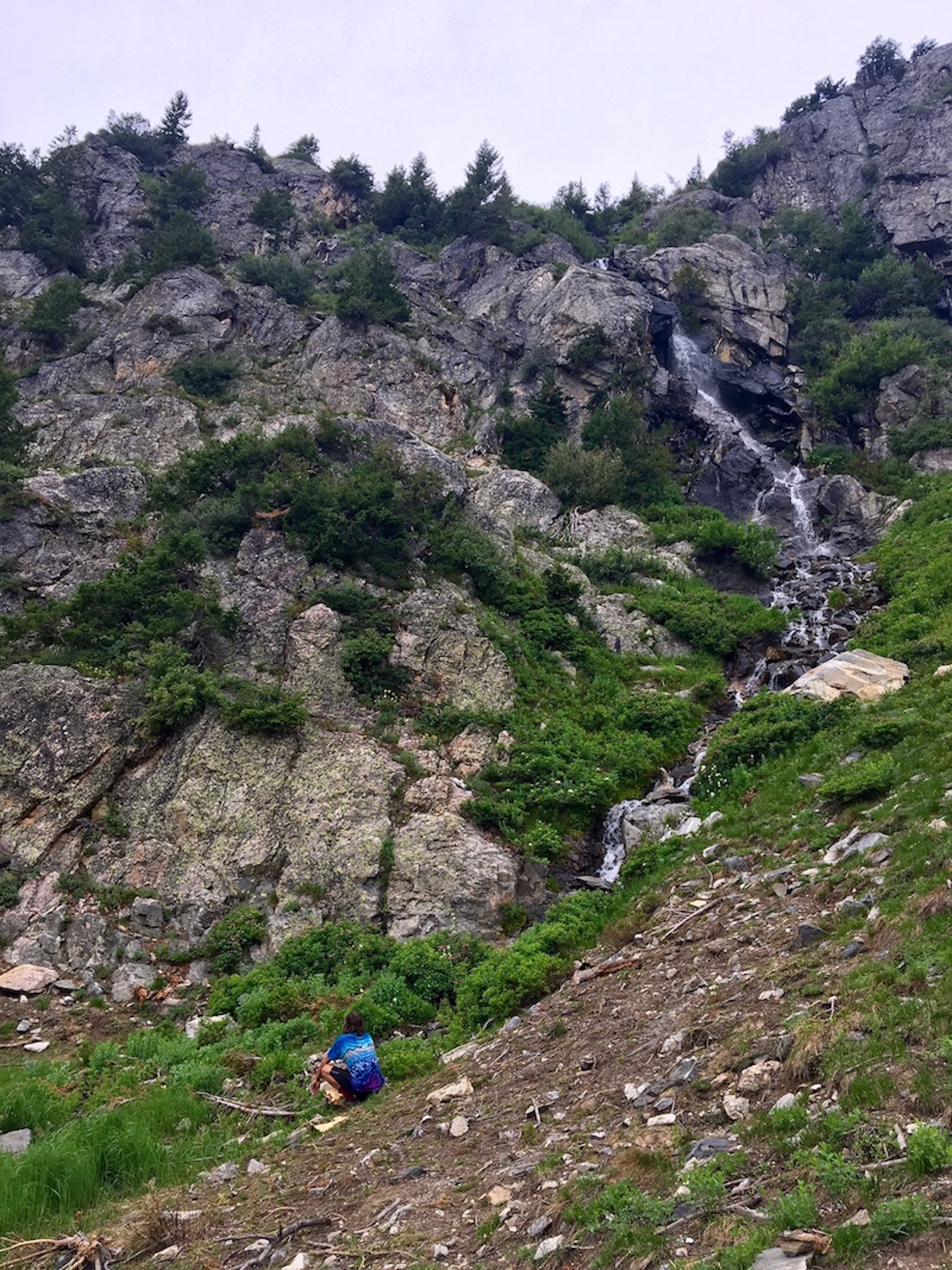 Bear Right
You will gain about 3,000 feet in elevation on this hike. The trail starts out rather mellow for the first third, switchbacking through meadows lush with wildflowers. The trail is quite narrow at times, and requires several scrambles over large fallen trees. Definitely have your bear spray at the ready for this first section, as it is prime bruin territory. Danger aside, the abundant flora and fauna is incredible on the first section of this hike. Eventually you will begin to switchback up at a steeper incline through an open facing meadow. Things begin to get more interesting once you are out of the meadow. Hike toward the waterfall, following the trail as best as possible. A good rule of thumb is to follow the water sources, as they are flowing from Lake of the Crags. When things get rocky, the trail disappears almost entirely. When you are facing uphill, stay farther right than left, following the stream.
Beyond Ramshead
Toward the top, the trail disappears altogether, so keep an eye peeled for cairns (handmade piles of sticks or small rocks left by previous hikers), which will mark the way from that point on. If you can't find those, just follow the water and you'll wind up at Ramshead Lake. It is easy to get confused and believe that the beautiful Ramshead is your final destination. Continue the climb up beyond Ramshead: a short scramble will bring you to the head of the canyon and Lake of the Crags.

This hike is best in late summer, as there can still be significant snow until late July.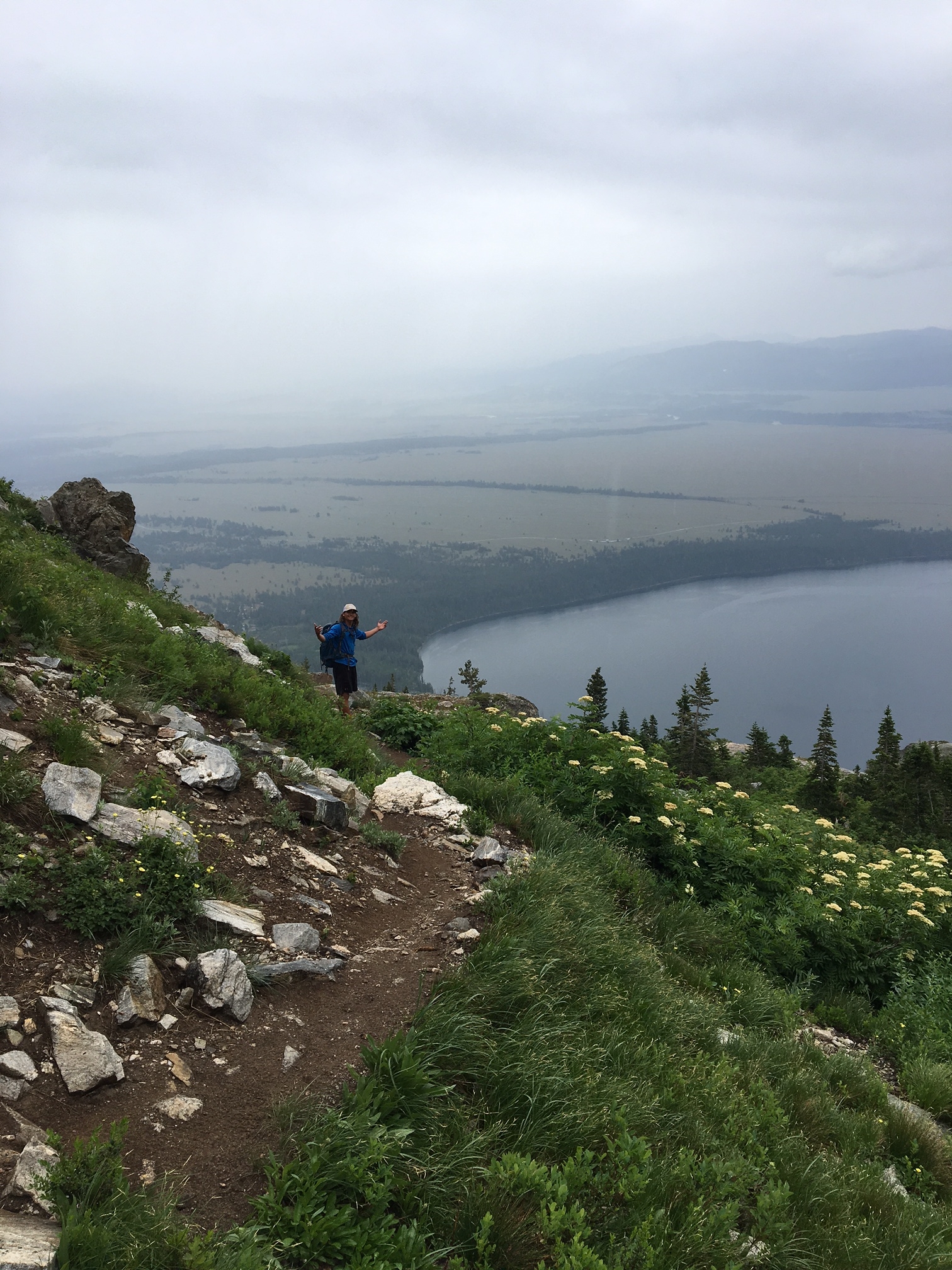 Distance from boat dock: about 6 miles RT. Distance from String Lake parking lot: about 8.5 miles RT. Elevation gain: about 3,000 vertical feet. Allow yourself 7-8 hours at a moderate pace.
If you have addditional questions about hiking or viewing wildlife in Jackson Hole, give our travel experts a call at (888) 838-6606.