A Pro's Tips and Favorite Locations for Photographing Jackson Hole
See how a professional photographer plans his trip and captures the beauty of Jackson Hole.
Please enjoy this guest post from Lowlight Images.
This summer, I had a special opportunity to travel to Jackson Hole, Wyoming and photograph some of the most beautiful landscapes and National Parks in the US! Before I dive in too far, I have a little back story to lead into why I was in Wyoming in the first place.
I have a sister who has lived out there since 2005 and she has started a family. Last August, my sister had her second child, little Tess. Tessa was born with Edwards Syndrome, basically, it's a condition similar to Downs Syndrome but affecting a different chromosome and it is extremely rare and terminal. Since she was not expected to live more than a few months, I try to take the opportunity to go visit her whenever I can. Once things began looking like she would make it to her first birthday, I started planning.
When I was planning the trip, I did a lot of research to figure out places where I wanted to shoot. I've been out to Wyoming several times, so I had an idea of where to go, but I did Google image searches and looked at Instagram and Twitter for inspiring photos. I also followed a few local Jackson Hole photographers, namely Trekking Photography and Christina Adele Photography. I narrowed down my list to just a few places and decided to also ask my sister and brother in-law about any hidden gems they knew of.
I made the trip from Minnesota through South Dakota overnight with a few rest breaks and arrived in Wyoming at sunrise. There was a lot of smoke in the air from the recent wildfires, which muted the sunrise, but also made it quite surreal. I got to Bondruant at about 3:30 in the afternoon. I got settled in and was happy to relax with the family.
Jackson Hole Rodeo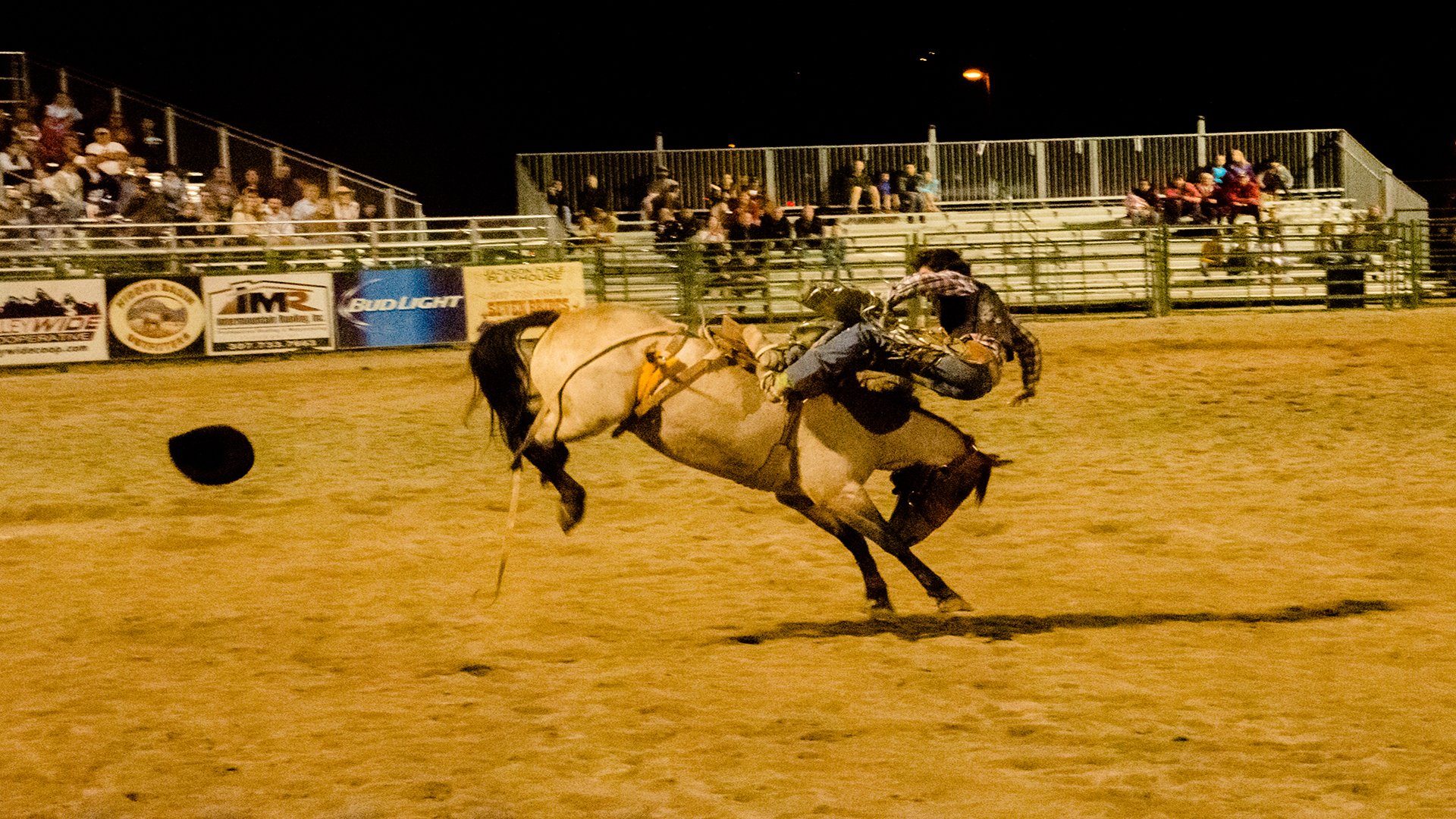 Soon after I arrived, someone mentioned heading into Jackson for the rodeo. All I wanted to do was rest, but I thought, "Hey, while I'm out here… Let's do this," So I grabbed my camera equipment to go. I don't really have a lot of experience photographing outdoor sporting events, so I had to figure it out on the fly. I fine-tuned my settings pretty quickly (f5.6, 70mm, 1/200 sec ISO 20000) and got to business. I loved the shots I was getting!
Schwabackers Landing & Mormon Row
On Sunday afternoon my family took a drive up to Schwabacker's Landing and Mormon Row for sunset. What an amazing experience! As the sun dropped behind the Tetons, the light was changing so quickly. I had to adjust settings on the fly to get gorgeous reflections and well-defined sunrays. It really was one of the most beautiful sunsets I've ever seen. Not bad, considering that it was supposed to be a "scouting" drive to make sure I knew where I wanted to shoot from. The image from this location is featured at the top of this blog post.
Granite Creek
On Monday, I slept in. It needed to happen after all of that driving! Later on Monday afternoon, I drove over to Granite Creek to capture the waterfalls. Little did I know that the sun would be shining directly on the mountain behind it called Open Door. Again, unbelievable. Awe inspiring.
Hoback River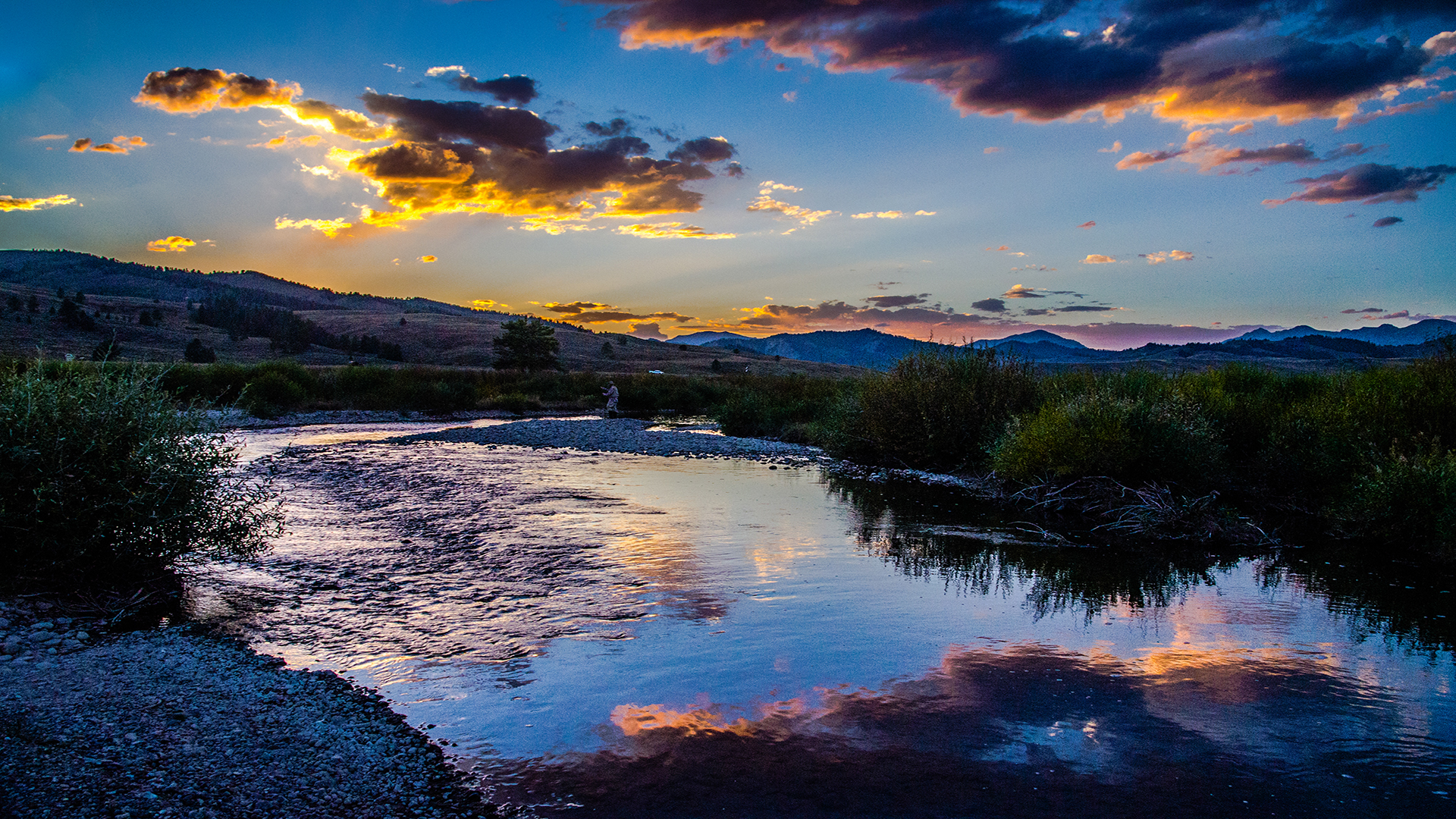 On Tuesday, my Brother in-law, nephew, and I went driving up the banks of the Hoback River near the headwaters. We shot photos of buffalo and the river and we went fishing. After receiving a crash course to remember how to fly fish, we walked the river hitting every hole we could find without much luck. That's why they call it fishing, not catching! Still, it was great spending the day outdoors with family.
Horses and Fall Colors
On Wednesday morning, I hiked the hill behind my sister's house with the dog to capture the sunrise and photograph the horses. While walking, I noticed some pockets of fall color starting to fill in, so I spent a few hours before the sun got too high in the sky to capture the beauty of early fall. I've found that one of the keys in photography is to avoid shooting in the harsh light in the middle of the day. Early mornings and late afternoon or evening are the best. The light is more interesting and the shadows give your landscapes more definition. I've always gone by the idea that if your shadow is taller than you are, you have good light.
Night Sky Photography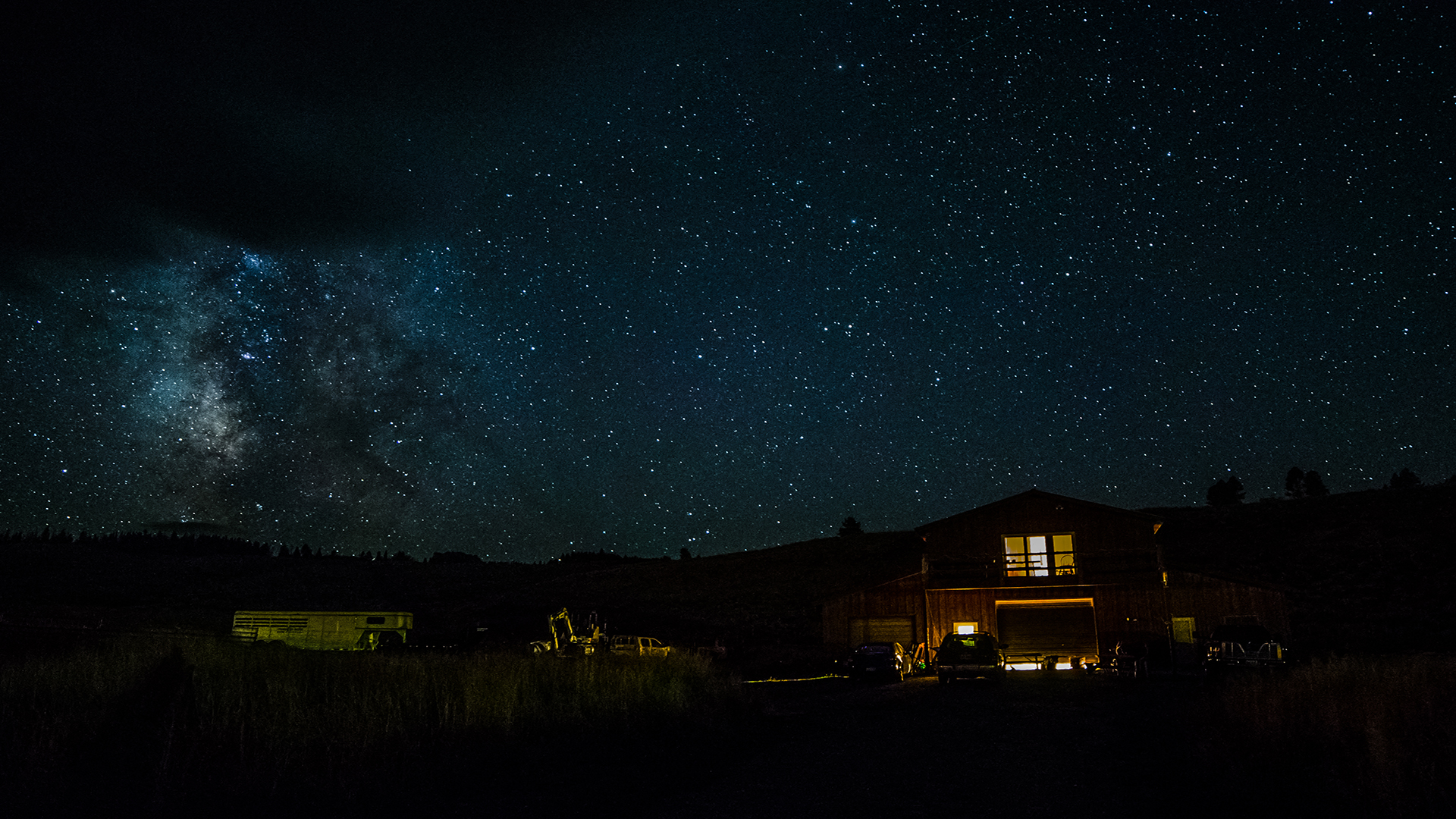 On Wednesday night as I was packing up my car, I saw the Milky Way behind my sister's house. I've never seen it so well defined in the sky so I couldn't resist a few shots! I shot a variety of angles and different length exposures. Then, I took one last photo of the Milky Way with the house in the foreground before the clouds moved in to obscure the stars. (f2.8, 18 Sec, ISO 6400, 14mm)
Yellowstone National Park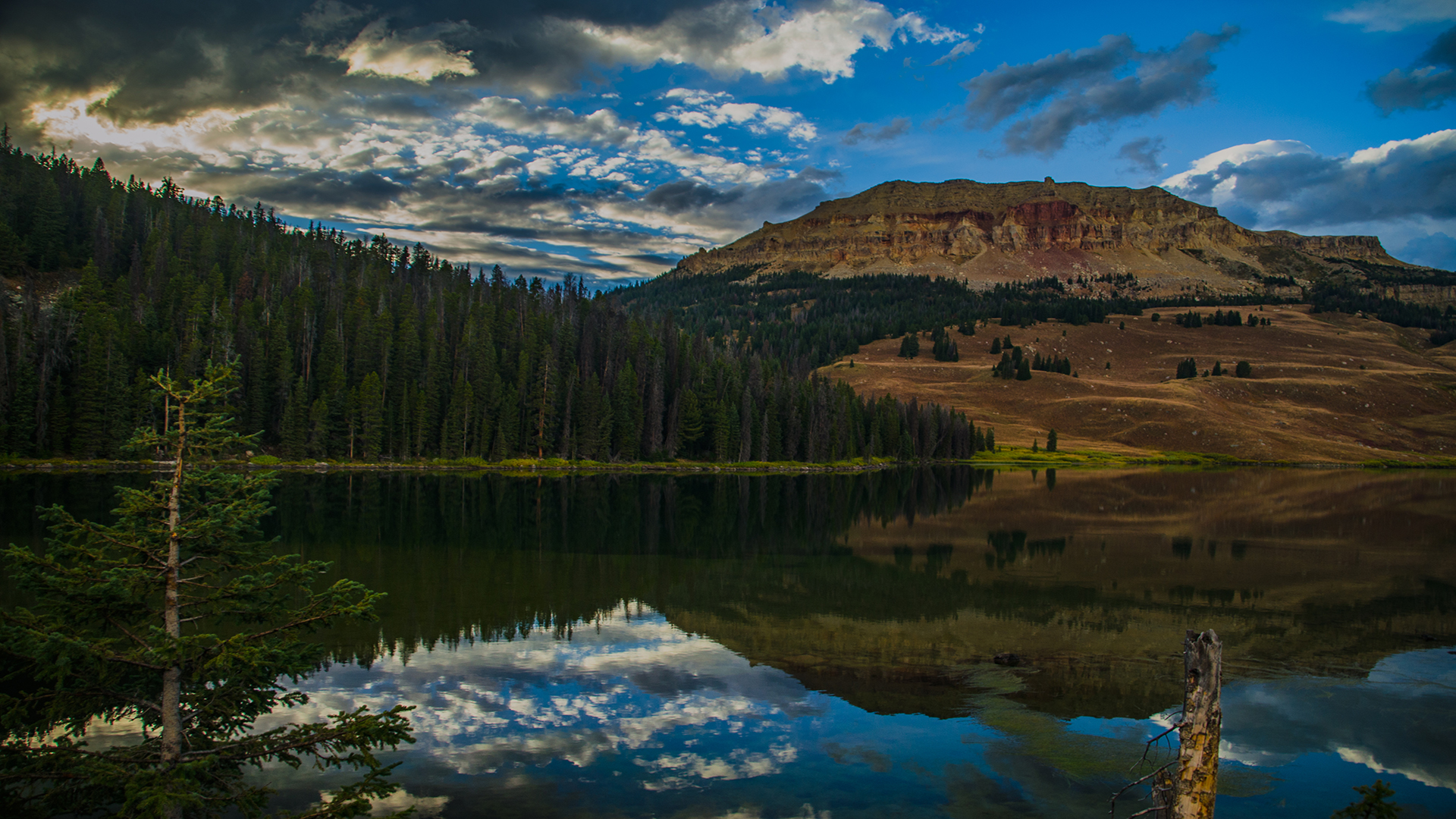 Thursday, I had to head out and make my way home through Yellowstone National Park. My best advice to fellow travelers is do not try to do Yellowstone all in one day. Take your time and plan your stops, even if you just try to hit the highlights, it's too much for one day. My favorite stops were Moose Falls, Lewis Falls, Old Faithful, and Beartooth Lake. I could've spent all day at Tower Falls, a spot that doesn't get too much fanfare but is really enjoyable.
All in all it was wonderful to see family and capture the beauty of Jackson Hole. I planned out my photo shoots well, had great guides, and most importantly I had a great time! I cannot wait to get back out again, maybe in a different season for more variety for my collection. Jackson, Wyoming and the surrounding area is a magical place with too much to offer for one visit. A little slice of perfection.
Special thanks to Lowlight Images for the guest post. All photographs are copyright of Lowlight Images.