Snow King Ski Area & Mountain Resort Scenic Chairlift Rides
Book This
Address
330 E. Snow King Avenue
Jackson, WY 83001
Overview
Summer at Snow King means nonstop fun! Ride the Cowboy Coaster and Alpine Slide. Get the best views of Jackson and the Tetons from the scenic chairlift. Go on an adventure through an alpine ropes course complete with a thrilling zipline.
To book your tickets, enter your dates above.
Snow King Cowboy Coaster
The Cowboy Coaster winds and loops its way through the forest of Snow King Mountain with uninterrupted views of the Tetons, the valley and the town of Jackson. The alpine coaster goes up to 25 mph, and gets as high as 23 feet off the ground. The coaster carries riders over 400 vertical feet up Snow King Mountain and then downhill on 3,295 feet of downhill track with 4 circles, and 6 bridges. The coaster is open in summer and winter.
Scenic Charlift Rides
Come ride the Snow King scenic chair lift to one of the most spectacular vistas in Jackson Hole. Amazing panoramic views of the Teton Range and the valley below can be seen from the summit! This is a must-do excursion on your visit, and located right in the heart of Jackson Hole, only a few blocks from Town Square. From the top of Snow King you can explore miles of hiking trails or relax with a summer lunch at the picnic area. You may choose to hike to the bottom or ride the lift back down.
Alpine Slide
The Alpine Slide is another unique Snow King attraction. After taking the Rafferty Lift up over 350 vertical feet pick out your sled and start winding down through 2,500 feet of forest and wildflowers on 2 side-by-side tracks with banked turns. The Alpine Slide offers fun for the whole family.
Treetop Adventure
After a safety briefing, you'll clip in and ride zip lines, shimmy over suspended bridges, scramble up nets, cross swinging logs, and even ride an aerial skateboard. Kids and adults' courses are available.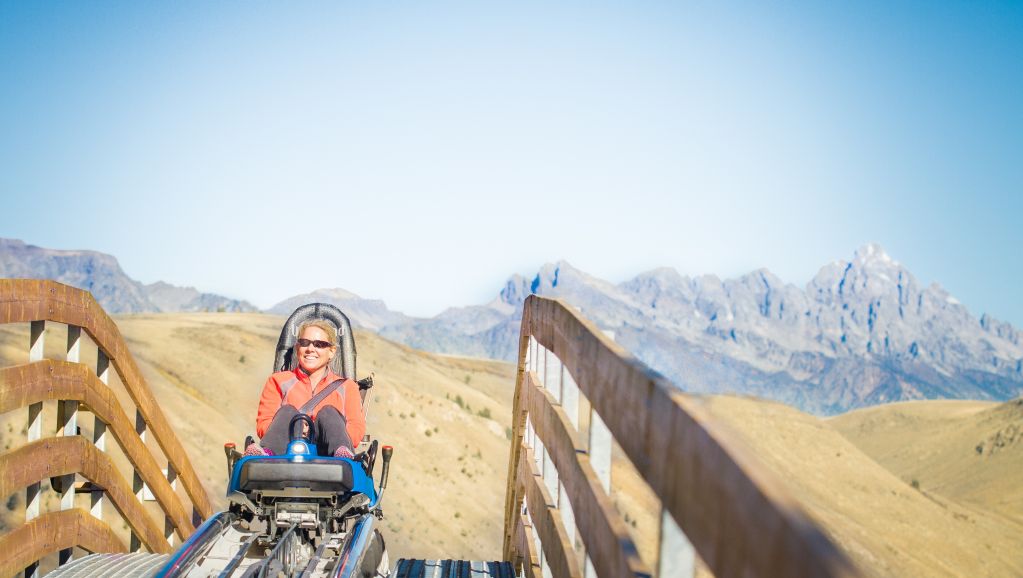 Photo Tour