How to Choose Between Whitewater Rafting and Scenic Float Trips
Spending time on Jackson Hole's Snake River is a local's favorite and a visitor's must-do.

Whether you are a thrill-seeking adventurer looking to go whitewater rafting or prefer to sit back and relax on a scenic river float, Jackson Hole offers opportunities for all. With many different outfitters and trips available, it can be difficult to choose which tour will work best for you and your family. Below we have put together a quick guide to the various trips to help you find the best option for your visit!
What is Whitewater Rafting Like?
Adventure awaits you! Whitewater rafting is a safe and exciting way to experience the river for the whole family. If you're looking for a rise in adrenalin without having to climb a mountain or go paragliding, this is for you. All whitewater rafting trips begin and end at the West Table and Sheep's Gulch boat ramps (a short drive from the town of Jackson, WY). Tours are 8 miles in length and last between 3 and 4 hours depending on the flow of the river, with 1 ½ hours spent on the river itself.
Age Requirement: 6 years old and above
Class of Rapids: II and III; between each set of rapids there are nice calm stretches to float in and to look for eagles flying overhead.
Boat Sizes:
An 8-person boat requires all persons to paddle; a great ride for the more adventurous type.
A 14-person boat has 8 spots for paddlers and a few interior seats, giving guests options; this is a fun option for families or groups with a mix of older and younger travelers.
What is A Scenic River Float Like?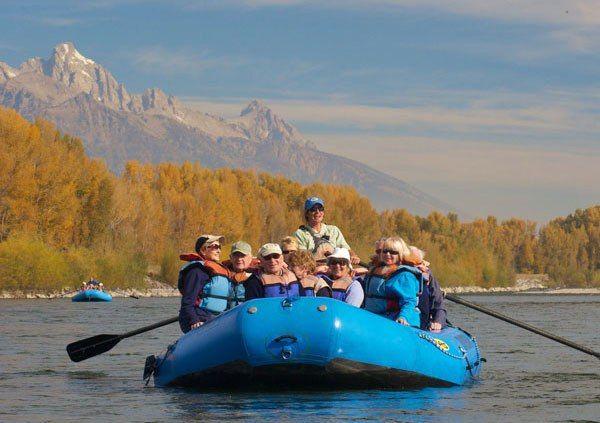 Teton Valley is vast and beautiful and we have scenic floats available that explore different areas of the valley along the Snake River. Scenic floats are peaceful, provide breathtaking views and opportunities to spot wildlife all while learning the history of the area from your knowledgeable guide. Photo opportunities are constant and a scenic float will stoke your excitement to continue exploring the valley on your own.
10-mile Trip: The 10-mile Grand Teton National Park river trip will bring you as close to the Teton Mountain range as you can be from the Snake River. This tour ranges from 2 ½ to 3 hours in duration and will leave you in awe of your surroundings.
13-mile Trip: Beginning just south of the Grand Teton National Park, these tours are located closer to the town of Jackson and run 3-4 hours in length. Providing you with views of the Teton and Snake River ranges, guides will bring you through remote areas of the river, where an array of wildlife are often spotted, including eagles soaring in the skies above.
Age Requirements: 10-mile Grand Teton National Park trip 6 years old and above . 13-mile trip 4 years old and above.
Combination Trips
If you are of the adventurous spirit but also want to experience the serenity of a float, we also have combination trips available. Whether you want to pack it into one day with a meal, we have the tour for you!
We have individual breakfast, lunch or dinner rafting and scenic trips available as well; ask one of our Vacation Specialists about this option if you're feeling hungry!
A trip to Jackson is not complete without spending time on the Snake River. Whether you choose a calm and relaxing float versus an exciting trip you are sure to discover amazing wildlife, views, and adventure on the Snake River.