(See all the photos from this wildlife tour on our Facebook page.)

This past weekend my parents came to Jackson to visit for the first time! I have lived here for about two years, but this was the first time my parents were getting to explore my new home. While planning the visit, my mother had one main request: she wanted to see animals in their snow-covered habitats!
Even though I am local to Jackson Hole, I decided to turn to the wildlife experts to show my family around. I wanted my folks to receive the most accurate information about the wildlife that surrounds the Greater Yellowstone area.
We decided on a Sunrise tour with Jackson Hole Wildlife Safaris. On the day of our tour, we gathered in the lobby of my family's hotel in downtown Jackson, the Rusty Parrot Lodge & Spa. Our guide Dave was already waiting for us with a toasty warm van. Considering it was below zero outside, we were incredibly thankful for the door-to-door service.
Right from the start Dave made sure we were comfortable and well fed! We stopped at Creekside Deli (a local favorite) and picked up breakfast sandwiches, breakfast burritos, coffee, and donuts. We were definitely not going to go hungry. In addition to our hot breakfast, the van was chock full of snacks like granola bars, fruit, nuts, orange juice, and water.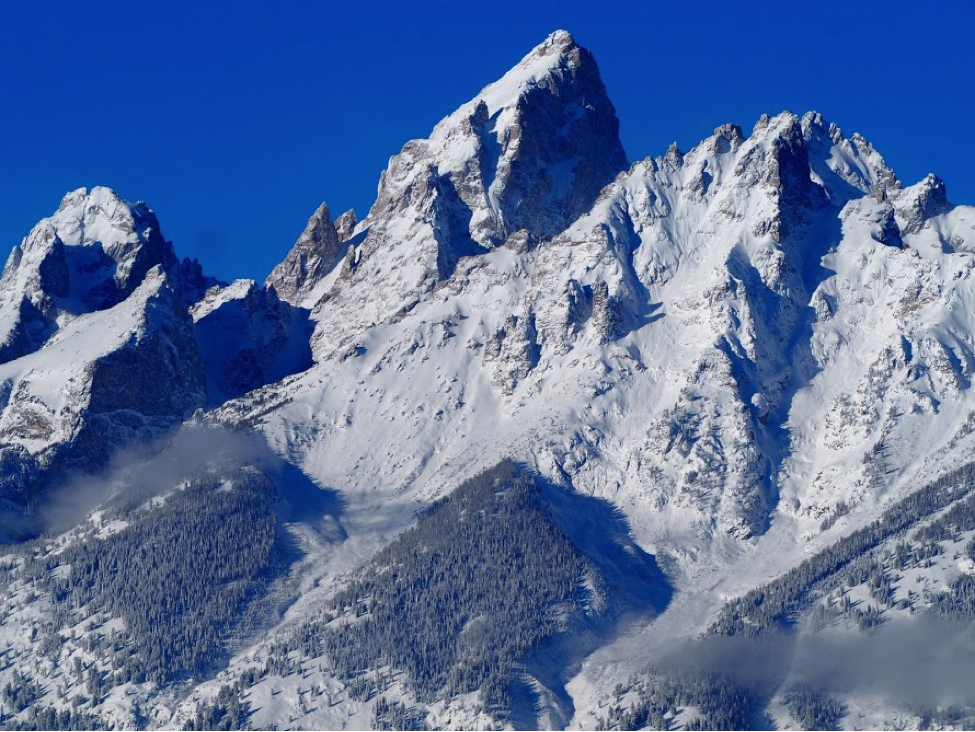 We started our journey by heading out towards the national parks while Dave chatted with us to get a feel for our personalities and what we were most interested in seeing and learning about. Having been a guide in the valley for more than 20 years, Dave has a wealth of knowledge. Not only did he explain various geological features as we drove, he also explained the history of Jackson Hole and the National Parks. As we rounded the corner and caught our first glimpse of the mountains, my mother audibly gasped. The day was beautiful and crisp and the morning sun hit the Tetons perfectly. The orange alpenglow set the stage for a wonderful morning.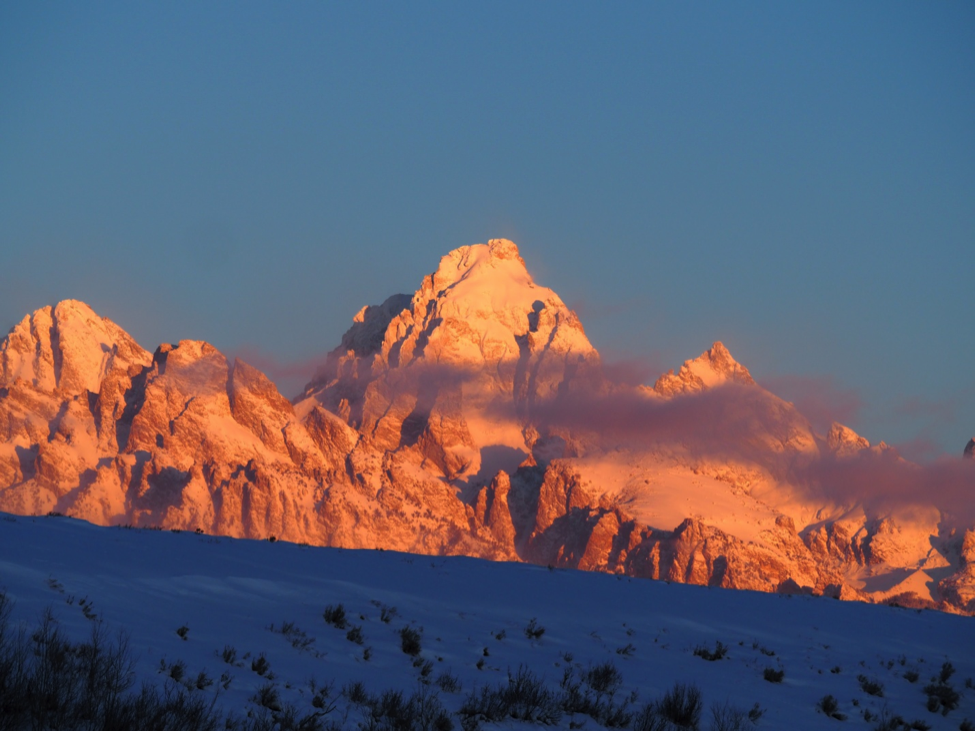 Dave took us out into the Gros Ventre wilderness, where we saw our first wildlife. A herd of bison were crossing the road in front of us and Dave explained the herd mentality behind this! From the comfort of the car we were about 20 feet from the herd, and we could watch them safely while still being able to admire their languid beauty. While we were sitting and marveling at the bison, Dave spotted something out the corner of his eye: three bull moose crossing the tundra! It was incredible how easily he could spot and acknowledge something that I would have thought was just a black dot. We set up the viewing scope and were able to watch the moose grazing in the snow.
As soon as the bison traffic had cleared, we began driving further into the Gros Ventre where we were able to see Trumpeter swans taking a hot tub in the Kelly warm springs, a coyote searching for mice in a snow field, three more moose, and another herd of bison.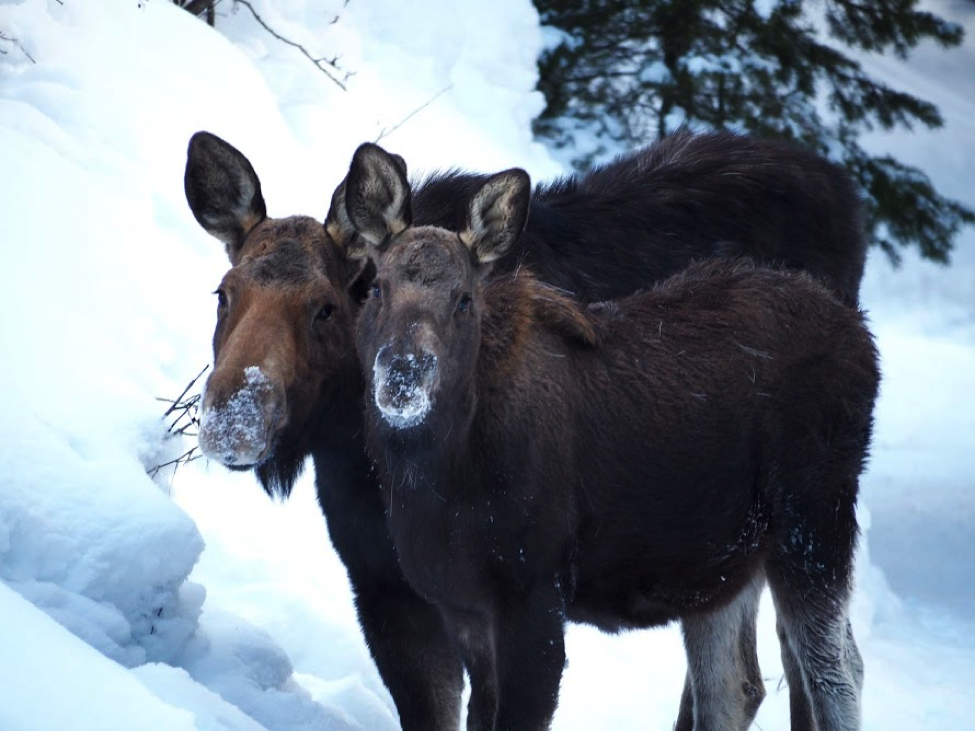 As we drove, Dave kept us very entertained with his knowledge of the surrounding area. As a former raft guide and self-proclaimed "true local," Dave knew about almost every aspect of Jackson Hole, not just the wildlife. He took us to several spots where famous movies had been filmed, told us about the management of the ecosystem, and told us about his life in Jackson.
Dave had heard from some of the other guides that there was a fox sighting and several moose in Grand Teton, so we began our drive north towards the Moran entrance of Grand Teton National Park. Dave knew that my mother was an avid photographer so along the way he stopped at beautiful vistas so that she could capture the full spectrum of the valley. My favorite place that we stopped was at the Snake River overlook, where Ansel Adams took his famous picture of the Tetons.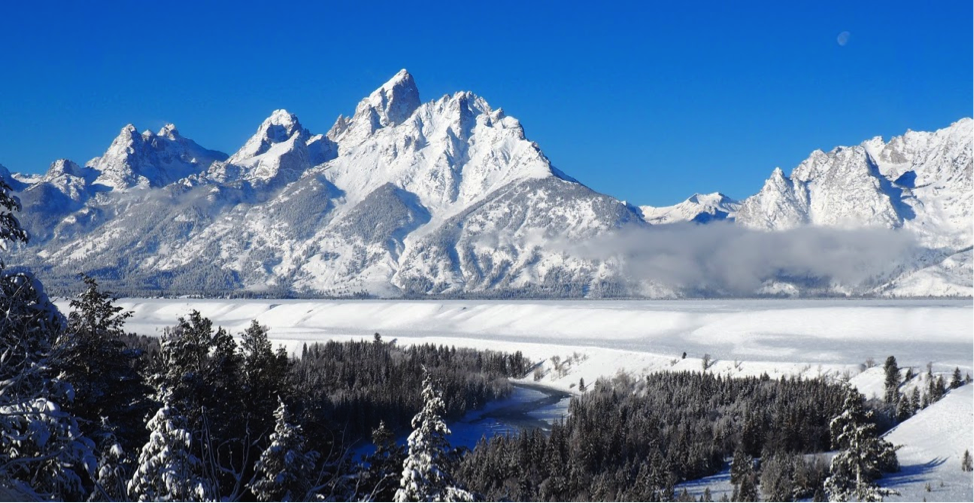 The day was warming up and we were so happy and comfortable in the car. We each had individual heat controls to ensure we stayed at the perfect temperature. When we entered the National Park, we were greeted by two female moose taking a rest in a snow bank. We were able to get out of the car and take pictures of them, as well as watch them eat twigs up close with our binoculars. As we continued through the park, we were all blown away by the stillness and calm. The trees hung heavy with snow and we were the only people on the road. We drove all the way up to Colter Bay, a bustling campground in the summer, and were able to admire the mighty Jackson Lake surrounded by snow. The fox we had been searching for didn't show up, however several moose on a long hike up a butte were an incredible sight.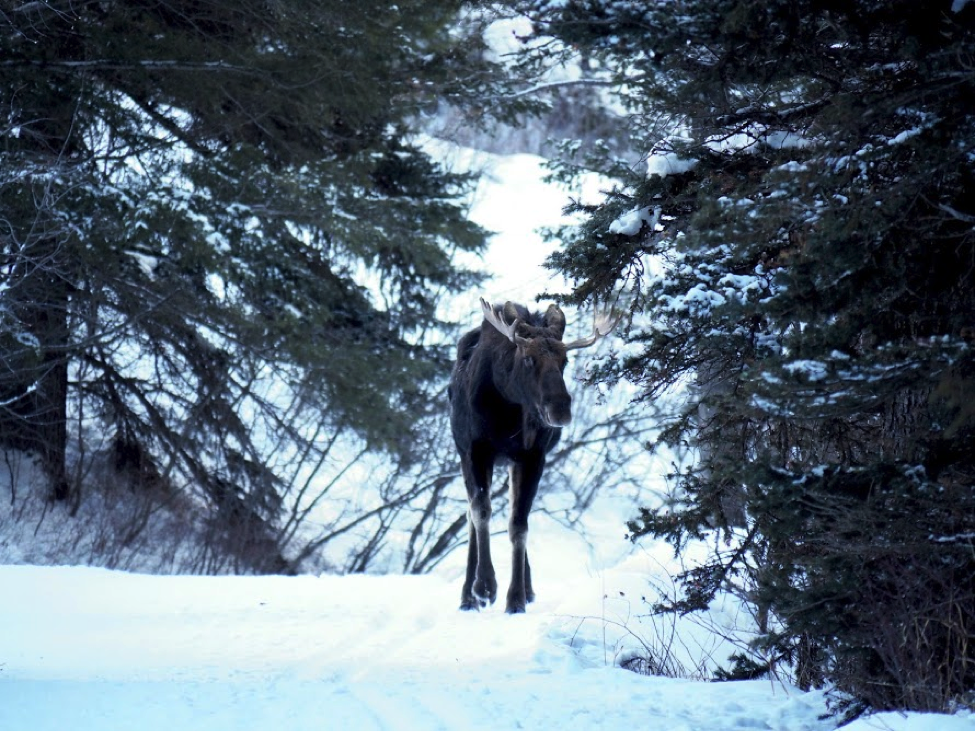 On our way back to town, Dave insisted that we check out the National Elk Refuge. The elk migrate each winter to this location, and there were thousands of elk hanging out. He took us on a lesser-known road behind the refuge where we were able to see big horn sheep. The sheep were very curious about the van, and came right up to us to see what was going on! We were able to see them in such exquisite detail and it was fascinating to hear all about the mating habits of these animals.
Our tour took about five hours total and Dave was willing to extend the tour slightly so that we would have the opportunity to see the sheep. Overall, our safari was an incredible experience. I got to see more animals in a few hours than I had seen in my full two years living in Jackson. My parents were thrilled; they have lived in New England and Texas respectively for the past 20 years and haven't seen any moose, and in their one weekend in Jackson they were able to see 18! I know that I will definitely be recommending Jackson Hole Wildlife Safaris in the future. What an incredible experience!

If you'd like to see wildlife in the winter landscape, then plan a trip out to Jackson Hole. I work alongside other friendly locals who will help you find the best activities, lodging, and transportation for your dream trip. Give us a call at (888) 838-6606.