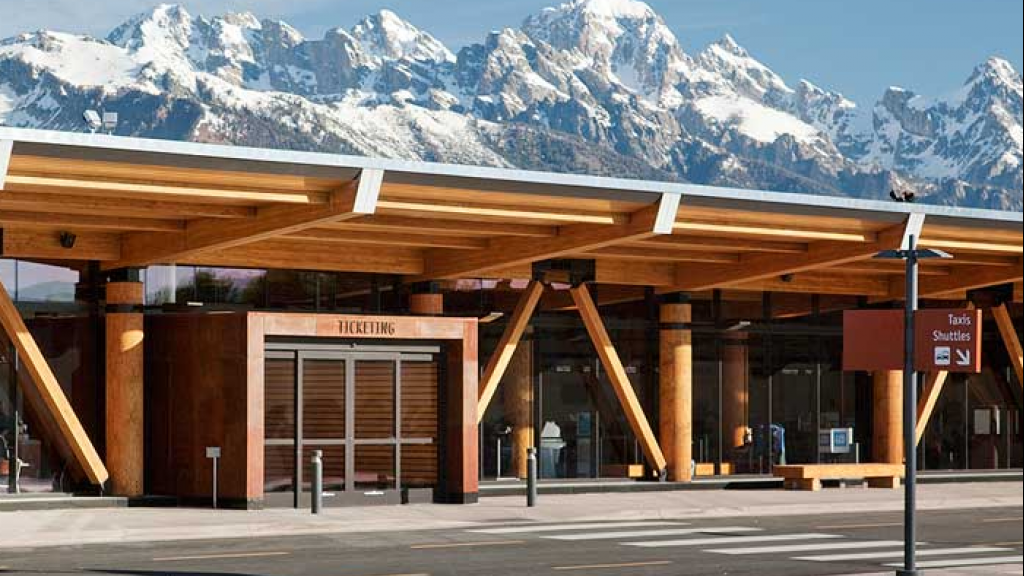 Air-inclusive Jackson Hole Vacations
Plan your entire Jackson Hole vacation with one easy phone call, 888-838-6606.
Air Inclusive Packages
This season, make sure you get the best deal on your airfare by calling Jackson Hole Central Reservations. We'll help you book your air travel and create the ultimate Jackson Hole vacation for you and your family, including things to do, lodging, ski lift tickets and more! Although our air-inclusive vacation packages list specific airports, our agents are able to include customized airfare from most airports in the country.
Call Now to Book
Call (888) 838-6606 to speak with a Jackson Hole Central Reservations agent.
Winter Inbound Non-Stop Jet Service
| City | Airline | Plane | Departs | Arrives | Frequency | Start Date | End Date |
| --- | --- | --- | --- | --- | --- | --- | --- |
| Atlanta | Delta | 757 | 9:40am | 12:00pm | Daily | 12/22/2012 | 1/6/2013 |
| Atlanta | Delta | 757 | 9:40am | 12:00pm | Sat | 1/12/2013 | 3/30/2013 |
| Atlanta | Delta | 757 | 5:30pm | 7:55pm | Fri | 2/15/2013 | 3/29/2013 |
| Chicago | United | 752 | 9:50am | 12:12pm | Daily* | 12/19/2012 | 4/8/2013 |
| Dallas | American | 757 | 5:50pm | 7:40pm | Daily | 12/15/2012 | 4/1/2013 |
| Denver | Frontier | 319 | 12:30pm | 2:00pm | Wed/Sun | 2/13/2013 | 4/17/2013 |
| Denver | United Express | CRJ-700 | 11:15am | 12:48pm | Daily | 11/4/2012 | 12/18/2012 |
| Denver | United | 319 | 11:15am | 12:47pm | Daily | 12/19/2012 | 4/8/2013 |
| Denver | United Express | CRJ-700 | 3:05pm | 4:29pm | Daily | 12/19/2012 | 4/8/2013 |
| Denver | United Express | CRJ-700 | 7:05pm | 8:35pm | Daily | 10/3/2012 | 4/8/2013 |
| Newark | United | 737 | 8:55am | 11:41am | Daily | 12/19/2012 | 1/2/2013 |
| Newark | United | 737 | 8:55am | 11:41am | Sat | 2/9/2013 | 3/30/13 |
| Los Angeles | United Express | CRJ-700 | 12:05pm | 3:32pm | Daily | 12/19/2012 | 3/4/2013 |
| Minneapolis | Delta | 319 | 11:15am | 12:45pm | Daily | 12/22/2012 | 1/5/2013 |
| Minneapolis | Delta | 319 | 11:15am | 12:45pm | Sat | 2/16/2012 | 3/30/2013 |
| Salt Lake City | Delta | 319 | 11:05am | 12:07pm | Daily | 2/15/2012 | 4/8/2013 |
| Salt Lake City | Delta | 319 | 1:45pm | 2:49pm | Daily | 12/15/2012 | 1/6/2013 |
| Salt Lake City | Delta Connection | CRJ-700 | 1:45pm | 2:49pm | Daily | 1/7/2013 | 4/8/2013 |
| Salt Lake City | Delta | 319 | 8:10pm | 9:20pm | Daily | 12/15/2012 | 1/6/2013 |
| Salt Lake City | Delta Connection | CRJ-700 | 8:10pm | 9:20pm | Daily | 1/7/2013 | 2/13/2013 |
| Salt Lake City | Delta | 319 | 8:10pm | 9:20pm | Daily | 2/14/2013 | 4/7/2013 |
| San Francisco | United | 319 | 12:59pm | 4:16pm | Daily | 12/19/2012 | 1/16/2013 |
| San Francisco | United | 319 | 12:59pm | 4:16pm | Daily** | 12/19/2012 | 3/4/2013 |
Winter Outbound Non-Stop Jet Service
| City | Airline | Plane | Departs | Arrives | Frequency | Start Date | End Date |
| --- | --- | --- | --- | --- | --- | --- | --- |
| Atlanta | Delta | 757 | 8:00am | 1:35pm | Sun | 2/17/2013 | 3/31/2013 |
| Atlanta | Delta | 757 | 12:50pm | 6:27pm | Daily | 12/22/2012 | 1/6/2013 |
| Atlanta | Delta | 757 | 12:50pm | 6:27pm | Sat | 1/12/2013 | 3/30/2013 |
| Chicago | United | 752 | 1:01pm | 5:04pm | Daily* | 12/19/2012 | 4/8/2013 |
| Dallas | American | 757 | 8:10am | 12:10pm | Daily | 12/13/2012 | 4/1/2013 |
| Denver | Frontier | 319 | 2:40pm | 4:10pm | Wed/Sun | 2/13/2013 | 4/7/2013 |
| Denver | United Express | CRJ-700 | 7:15am | 8:42am | Daily | 10/3/2012 | 4/8/2013 |
| Denver | United Express | CRJ-700 | 1:20pm | 2:33pm | Daily | 11/4/2012 | 12/18/2012 |
| Denver | United | 319 | 1:27pm | 2:55pm | Daily | 12/19/2012 | 4/8/2013 |
| Denver | United Express | CRJ-700 | 5:00pm | 6:13pm | Daily | 12/19/2012 | 4/8/2013 |
| Newark | United | 737 | 12:30pm | 6:25pm | Daily | 12/19/2012 | 1/2/2013 |
| Newark | United | 737 | 12:30pm | 6:25pm | Sat | 2/9/2013 | 3/30/2013 |
| Los Angeles | United Express | CRJ-700 | 4:02pm | 5:32pm | Daily | 12/19/2012 | 3/4/2013 |
| Minneapolis | Delta | 319 | 1:30pm | 4:45pm | Daily | 12/22/2012 | 1/5/2013 |
| Minneapolis | Delta | 319 | 1:30pm | 4:45pm | Sat | 2/16/2012 | 3/30/2013 |
| Salt Lake City | Delta | CRJ-700 | 7:00am | 7:58am | Daily | 11/24/2012 | 12/14/2012 |
| Salt Lake City | Delta Connection | 319 | 7:00am | 7:58am | Daily | 12/15/2012 | 4/7/2013 |
| Salt Lake City | Delta | 319 | 1:15pm | 2:15pm | Daily | 12/15/2012 | 4/7/2013 |
| Salt Lake City | Delta | 319 | 3:20pm | 4:20pm | Daily | 12/15/2012 | 1/6/2013 |
| Salt Lake City | Delta Connection | CRJ-700 | 3:20pm | 4:20pm | Daily | 1/7/2013 | 4/8/2013 |
| San Francisco | United | 319 | 12:40pm | 2:11pm | Daily | 12/19/2012 | 1/6/2013 |
| San Francisco | United | 319 | 12:40pm | 2:11pm | Daily** | 1/7/2013 | 3/4/2013 |