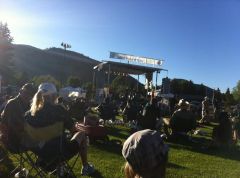 JacksonHole Live!
Starts: Tuesday, June 25, 2013 at 12:00 am
Time: 67 day(s), 0 hour(s)
Free summer concerts at Snow King!
JacksonHole Live! is a FREE, all-ages, outdoor summer concert series that takes place at the baseball field at Snow King Resort throughout the summer. For more information, visit jacksonholelivemusic.com.
4th of July Lineup:
The July 4th JacksonHoleLive event will feature Old Crow Medicine Show, The Young Dubliners, Parker Millsap, and the Grand Teton Music Festival Orchestra performing live via simulcast from Walk Festival Hall.

The rest of this summer's lineup will be announced soon!

Call Now to Book
Call (888) 838-6606 to speak with a Jackson Hole Central Reservations agent.