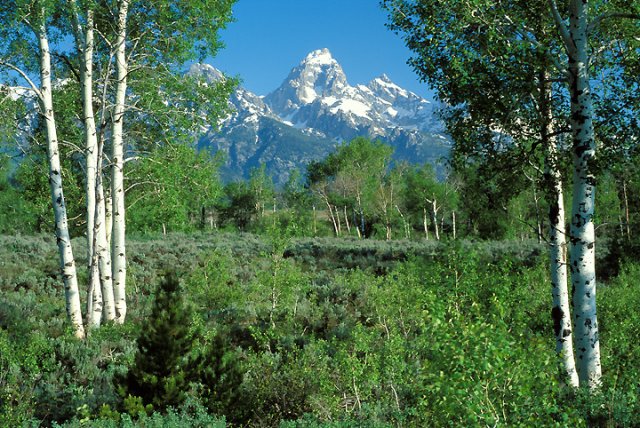 Spring in Jackson Hole: 5 Things to Do
Spring is a great time of year to take advantage of all Jackson Hole has to offer. From biking and skiing to shopping and rejuvenating, Jackson Hole is truly a year-round destination. Take advantage of great spring savings, by calling Jackson Hole Central Reservations at 888-838-6606 and let our travel experts customize a vacation package to fit your budget!
1. Go Crust and Corn Skiing

The cycles of melting and refreezing that occur during the spring cause a firm, upper crust to form on top of the snow pack. The best place to experience skate skiing or cross country skiing this time of year is in Grand Teton National Park. If you head out early in the morning, before temperatures rise, you can ski on top of this crust. You're no longer confined to the groomed road and can head off trail to explore parts of the park inaccessible during the winter. As the day starts to warm up, something called "corn snow" forms. This happens as the snow starts to soften, but hasn't yet become slushy. This is a great time for some downhill "corn" skiing. Bright blue, Jackson Hole skies, sunshine, warm temperature and favorable snow conditions...it doesn't get much better!
2. Take a Bike Ride in Grand Teton National Park

Many locals consider the highlight of spring to be the plowing of Grand Teton National Park's inner road. After a long winter, there is nothing like dusting off the bikes and heading into the park for a day of cruising. The road closes to motorized vehicles at the Bradley and Taggart Lake trail-head parking lot and is currently plowed all the way to Signal Mountain Lodge. Pack a picnic lunch (and your bear spray!) and enjoy the best view of the Tetons.
3. Enjoy 2 for 1 Promotions

Spring is a great time of year to save on dining, lodging & spa treatments. Enjoy deep, spring savings with 2 for 1 dinner specials, spa packages and lodging discounts. Town quiets down, the wildlife starts to emerge and it is a beautiful time of year to come relax and enjoy some affordable, western hospitality.
4. Shop the Spring Sales!

Ski shops and outdoor gear stores discount their winter merchandise to make space for summer inventory. This is a great opportunity to purchase demo skis and stock up on outerwear and gear for next season.
5. Visit the National Museum of Wildlife Art

When area ski resorts close for the season, the National Museum of Wildlife Art stays open, offering it's educational programming, events and fine art collections for visitors of all ages. Upcoming events include Young at Art, Mix'd Media: Drawing on Instinct and a preview of a new exhibit, Rugged Impressionism.