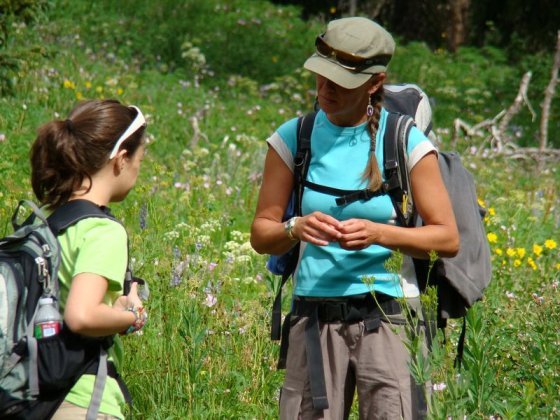 April Nature News
This past winter we received about 375 inches of snow at 9000 feet so below average. However, water conditions are near normal in this northwest corner of the state. The rest of Wyoming is experiencing a mild drought. We had some good rain last night but the month had been much drier than last year. Trails are beginning to open.
Bert Raynes, a local naturalist, pointed out that an early spring makes plants mature early. Birds migrate and nest based on their internal clock. If their food is already gone by the time to feed chicks it could compromise our bird populations. A noteworthy situation so keeping bird feeders stocked could be a big help. Spring flowers are emerging in all their glory. Snow buttercups follow the melting snow. Yellow bell lilies and spring beauties are close behind. If you see these two flowers, look for steershead which is a true spring find. They only bloom for a short time, about an inch high and look just like a steers' head. In the sage flats, I have seen phlox and bluebells. The leaves of bluebells taste like the ocean. Truly.
The famous grizzlies with cubs, 399 and 699, have left their winter dens and can be found near Jackson Lake and Oxbow Bend. They have already delighted many. A problem grizzly was euthanized in Victor, Idaho. She had knocked over bee hives and killed two piglets. She was very close to homes. The white female wolf was also euthanized in Jackson. She was seen near homes but never miss behaved. She seemed to be claiming her territory and was too close to town. I would never want an injury to occur but it still hurts my heart. May all species be free. Our spring & summer hiking season has begun. The Aspen trees now have leaves and Cottonwoods are close behind.
I left the valley on 4/20 and when I returned on 4/25, the green hue of spring dotted the hillsides. New leaves are a vibrant green and contrast nicely with the snow and brown vegetation. Throughout the winter many trails are closed to protect wintering wildlife so opening day, May 1, creates a valley frenzy. Locals scour the hills in search of antlers. Boy scouts also gather antlers on the elk refuge. The Elk Antler Auction is May 19 on the town square so boy scouts make money for the care and feeding of the elk and the lucky antler hunter can sell his bounty. Town is still quiet but locals are preparing for the upcoming summer season. Bike tires are filled with air. Kayaks brought from storage. My hiking boots are waterproofed. Here's to a glorious summer!
What's in the woods:
4/1-4/7- Hilton Head Island- night heron, great blue heron, egrets, turtles, alligators. Sandpipers, dowitchers, gulls, terns
4/7- ospreys have returned and on nesting sites!
4/9- snow almost melted in southern end of Grand Teton Park
4/10- high school butte- mourning cloak butterfly, lots of walkers
4/12- rain in valley, snow in mountains
4/14- Gros Ventre Road- moose, elk, bison, big horn sheep, ravens, magpies, juncos,
4/16- snow in valley
4/16- mosquito creek- two moose, sandhill cranes, male and female mountain bluebird
4/20-4/25- Ketchum, Idaho- Perkin's Lake- osprey, pine marten, mountain bluebirds, sandhill cranes, snow melting, leaves budded on Aspens while I was gone
4/28-high school butte- blooming phlox and bluebells
Tour Suggestion: Options change daily. Snow is still an issue anywhere above the valley floor. Cache Creek is open near town but a bit muddy. It is easy to make a nice loop. You can walk up the old pass road to Crater Lake. High School Butte has been dry. The Gros Ventre Range will have dry trails sooner than the Tetons. If you are coming this month, shoot me an email and I will give you an update. Have fun! Call Jackson Hole Central Reservations at 888-838-6606 to add a hiking tour to your summer itinerary!